We find it absolutely ridiculous that Teva Pharmaceutical (NYSE:TEVA) should be trading at an adjusted 2012 PE of 7.75X earnings. Despite its stumbles under the previous CEO, Teva is still the industry leader in the generic drug segment and it is emerging as a major branded pharmaceuticals company in its own right. We also don't believe that it was coincidence that about one month after Teva's legendary former CEO Eli Hurvitz died, Teva's new Chairman Philip Frost allowed Teva's former CEO Shlomo Yanai to "retire" and picked Dr. Jeremy Levin of Bristol-Myers Squibb (NYSE:BMY) to replace Yanai. We believe that eliminated a huge hole in the CEO's office as Yanai was a career Army man with no health care experience and a mediocre record of performance as CEO of MAI while Levin was a well-respected senior executive with Bristol-Myers Squibb. We believe that Dr. Jeremy Levin will help find a cure for Teva's ailments. Despite Teva's stumbles, it has still generated $2.15B in reported profits over the last 12 months even with $1.7B in asset impairment and legal cost write-offs. Teva still earned more net profits in the last 12 months than its four biggest competitors (Perrigo, (NASDAQ:PRGO), Forest Labs (NYSE:FRX), Mylan (NASDAQ:MYL) and Watson Pharmaceuticals (WPI)) put together and yet is trading at an adjusted PE ratio well below those companies.
In Q2, the U.S. District Court for the Southern District of New York found in favor of Teva in its patent infringement lawsuit against Momenta Pharmaceuticals, Inc./Sandoz Inc. and Mylan Laboratories Inc./Natco Pharmaceuticals regarding Copaxone. The decision covers several patents, the last of which expires on September 1, 2015. In August, Teva was one of three companies to get FDA approval to make generic versions of the asthma and allergy drug Singulair and it initiated its third Phase III trial for its oral Laquinimod treatment for relapsing remitting multiple sclerosis. Two previous trials have produced positive results. The FDA also accepted Teva's New Drug Application for Quartette, the first ascending-dose, extended regimen oral contraceptive. Teva also took a $670M loss contingency provision relating to pending patent litigation concerning Teva's generic pantoprazole and had to deal with an inquiry from the DOJ requesting information regarding possible violations of the Foreign Corrupt Practice Act in Latin America. Considering the DOJ's recent activities in Latin America, we find it ironic that the DOJ is inquiring about Teva's actions in Latin America. We think that to solve this, Teva's CEO Dr. Jeremy Levin should have a Beer Summit with Attorney General Eric Holder and ask if "Is there anything we can do for your people in order to settle this?"
Despite the fact that Teva's Q3 results met expectations, its sales missed expectations and this has resulted in the company's shares being taken down by 3.3% since August 1. The company saw its Q2 2012 revenues increase by 19% due to the inclusion of Cephalon's revenues, higher sales of U.S. generics and a 13% increase in Copaxone revenues. Part of the reason why Teva missed revenues was due to currency headwinds from a stronger US Dollar (Teva's reporting and functional currency). The stronger dollar resulted in a negative impact to revenues of $202M, or 4% and had a significant impact on Teva's reported growth rates versus its non-GAAP constant currency growth rates for its Non-US geographic market operations. Teva also generated $2.3B in free cash flows for the first nine months of 2012 and used that cash to buy back $643M shares of stock, pay $641M in debt, pay down $660M of debt and bolster its cash position by $336M.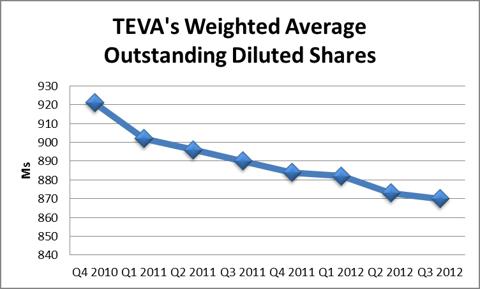 Source: Morningstar Direct
Copaxone's quarterly revenue reached $1B during the quarter and $2.94B during the first nine months of 2012. Copaxone generated $2.09B in revenue over the first nine months of 2012 in the US and the US accounted for 71% of Copaxone's revenue during the first nine months of 2012. Copaxone's market share is still above 40% and we agree with Teva's management that it should maintain its global market leadership position due to its established and clinical experience in treating RRMS patients. Teva continues to consider and develop ways to enhance patient experience with Copaxone through a very vigorous life cycle management program.
Adjusted EPS for the Q2 2012 period was $1.28, which beat analyst expectations by $.03 and was 2.4% higher than the comparable period last year. In addition to the $670M litigation provision, the company took $461M in other intangible asset impairments relating to in-process R&D acquired from the Cephalon acquisition. The pipeline products that were part of the impairment included obatoclax for the treatment of small cell lung cancer and CEP-37247 anti-tumor necrosis factor for the treatment of sciatica. Teva also impaired armodafinil (Nuvigil) for the treatment of bi-polar disorder to reflect a settlement agreement with Mylan.
Levin narrowed the guidance for FY 2012 from expected adjusted EPS of $5.30-$5.40 to $5.32-$5.38. Levin also narrowed the revenue guidance from $20B-$21B to $20.1B-$20.7B. Teva launched 12 products with $17 billion in brand value in the first half of the year and launched 9 new products in the third quarter with brand value of $8.3B. Teva also announced in September it was selling its Animal Health business to Bayer for up to $145M. Teva is facing a negative combination of headwinds in Europe due to the weak macroeconomic environment as well as the weakness in European currencies such as the Euro, the Hungarian Forint and the Russian Ruble and as such it is prudently shifting away from a growth at any price model to one focused on sustainable growth and profits.
Teva recently celebrated the one-year anniversary of its over-the-consumer health care products joint venture partnership with Procter & Gamble (NYSE:PG) and net revenues in Q3 2012 were $252M, an increase of 38%, or 46% in local currency terms, compared to $183M in the third quarter of 2011, primarily due to sales of OTC products in the U.S. to Procter & Gamble pursuant to a manufacturing agreement which commenced in the fourth quarter of 2011 and growth in sales in Latin America, Europe and in Russia. Teva has an Investor Day on December 11th and the CEO Jeremy Levin will discuss Teva's strategy and operations.
In conclusion, we at Saibus Research added to our long position in Teva in Q2 2012 due to its dirt-cheap price relative to its intrinsic value as well as relief from its patent-infringement victory on Saturday, June 23. While we were not happy to see $1.1B in impairment charges taken in Q3 2012, we believe that the company is taking steps to restore its culture of operational excellence. In our August 14th report, we saw that it had a lower PE than the largest major pharmaceutical companies and it had better growth prospects. We think that less than 7.5X 2012 adjusted EPS is an insanely dirt-cheap price for the industry leader in generic pharmaceuticals, especially when said industry leader upgrades its executive leadership team. Teva generated $3B in average annual free cash flows from 2009 to 2011 despite possessing poor management. Teva also repurchased $1.5B in stock over the last 7 quarters. Teva also announced a 3 year, $3B share repurchase program last December and has repurchased $643M year to date net of employee option issuance. We also like to say that while Teva has not restored the excellence in execution we saw under Hurvitz and Israel Makov, at least it isn't Forest Laboratories. The last item that attracts us to Teva is that it is one of only two generic drug makers paying a dividend, and its dividend yield is nine times higher than of Perrigo, a company we believe is overvalued relative to Teva.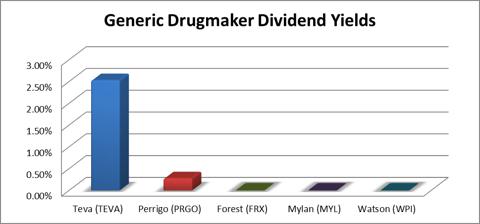 Source: Bloomberg LP
Disclosure: I am long TEVA. I wrote this article myself, and it expresses my own opinions. I am not receiving compensation for it (other than from Seeking Alpha). I have no business relationship with any company whose stock is mentioned in this article.
Additional disclosure: This article was written by an analyst at Saibus Research. Saibus Research has not received compensation directly or indirectly for expressing the recommendation in this article. We have no business relationship with any company whose stock is mentioned in this article. Under no circumstances must this report be considered an offer to buy, sell, subscribe for or trade securities or other instruments.