Despite the weak U.S. recovery and a global economic slow-down, Dunkin' Brands (NASDAQ:DNKN) delivered strong results for Q3 2012. The company generated $27.7 million in free cash flow in Q3 2012, repurchased $450M worth of its shares from its former private equity owners, raised $390M in new debt and ended the quarter with $165.6 million in cash. Comparing Q3 2012 financial results with Q3 2011, revenue increased by 9.8%; adjusted operating income increased by 14%; and adjusted net income increased by 63%. Diluted Adjusted EPS for Q3 2012 was $.35 versus $0.33 for Q2 2012 and represented a 32% increase from $0.28 for Q3 2011. The company exhibited solid performance in all four segments in H1 2012. All of DNKN's segments had positive comparable store sales growth in Q3 2012. With the exception of Baskin Robbins US, all DNKN's segments had positive systemwide sales growth during the quarter.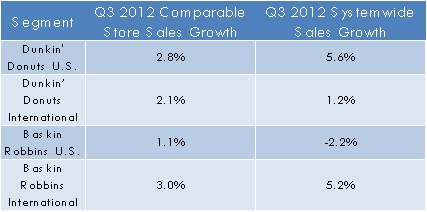 Source: Dunkin' Brands's Q3 2012 Earnings Release
We like the long-term prospects of Dunkin' Brands. In its core New England footprint, Dunkin' Brands is more than just a coffee and donut shop. Dunkin' Brands (or Dunkies as it is colorfully referred to here in Boston) is a New England business institution. Because we are located in Boston, MA, we are also acquainted with the story behind Dunkin' Donuts (Dunkin' Brands's largest subsidiary). Dunkin' Donuts was founded in 1950 by William Rosenberg, a local entrepreneur in Quincy, MA. In 1990, Dunkin' Donuts was sold to the British conglomerate Allied Lyons, which created Allied Lyons Retailing USA in 1993 and merged Dunkin's operations with Baskin-Robbins. Allied Lyons became Allied Domecq when it merged with Pedro Domecq in 1994 and sold Dunkin' Brands to a private equity consortium two years after Allied Domecq was acquired by Pernod Ricard SA.
Dunkin' Brands is compensated as a percent of franchisee top-line and it bears basically no store operating costs itself. With only 36 company- owned points of distribution out of a total of 17,016 as of June 30, 2012, the company is less affected by store level costs and profitability and fluctuations in commodity costs than many other QSR operators. Dunkin' Brands has a long-term relationship with Sovereign Bank (Boston, MA's largest chartered commercial banking company and a subsidiary of Santander) and Sovereign has a dedicated team within its commercial banking unit out in its Downtown Worcester, MA office that is dedicated to the financing needs of Dunkin Brands's franchisees.
Dunkin' Brands continues its strong unit growth globally. The company added 187 net new restaurants in Q3 2012, passing the 17,200 restaurant milestone; and it expects to add 620 to 710 new units in FY 2012, including 280 to 300 Dunkin' U.S. restaurants.
Although the majority of Dunkin' Brands' revenue and net income comes from the U.S. market (shown in the chart below), the company has strong presence in several foreign markets. As of September 30, 2012, Dunkin' Donuts International had 3,126 points of distribution, and Baskin-Robbins International had 4,428 points of distribution. We like the company's current international allocations and its future growth potential. No individual foreign country accounted for more than 10% of the company's total revenues for FY2011. And with European exposure of less than 1% of the company's total EBITDA, the company is not directly affected by the ongoing Eurozone recession. Furthermore, this lack of presence in Eurozone presents tremendous potential long-term opportunities.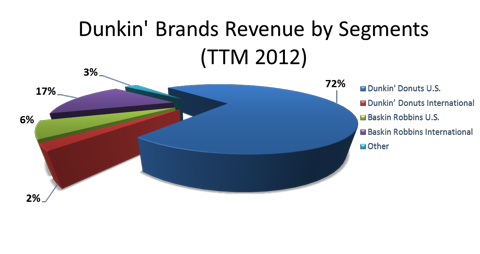 Sources: Dunkin' Brands 2011 Annual Report and Q3 2012 Report
With Dunkin' U.S. accounting for 72% of company-wide revenue and 80% of company-wide operating income, it is no surprise that management's main focus is to sustain domestic growth and seek new opportunities.
Dunkin' U.S. is divided into four geographical regions: core, established, emerging, and west. The brand has significant penetration in the northeastern part of the country as well as Florida (core and established). Moving westward from core and the established regions, Dunkin' U.S. has very little to no penetration in emerging and west regions. In the most recent quarter, the company opened 29 stores in its Core regional footprint, 35 in its Established regional footprint, 10 in its Emerging regional footprint and 4 in its Western footprint.

Source: Dunkin' Brands Investor Presentation Q3 2012
In conclusion, we can see why the Dunkin' Brands IPO was able to brew up a lot of interest on the part of investors. Dunkin' Brands has a fantastic business model in that it has two well-known, well-respected consumer brands in the quick-serve restaurant business and this helps it generate a fantastic level of free cash flows on its equity capital base. Even when you take into account the high level of debt that has been piled onto the company thanks to the financial engineering of its previous owners, it still generates a pre-tax ROIC of at least 10% annually. We're glad that the company's shares have simmered down from its all-time high of $37.02 achieved on June 19th because the shares are a much better value at $30.92, especially since the private equity owners have completely cashed out and won't be around to lard up DNKN's balance sheet with anymore debt. We believe that Dunkin' Brands' asset-light business model, new initiatives, low-risk expansion strategy, and tremendous growth opportunities both domestically and internationally make the company a great candidate for long-term investment and we will be investing our time in adding this company to our coverage list.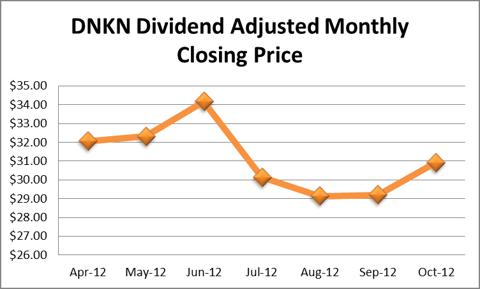 Source: Morningstar Direct
Disclosure: I have no positions in any stocks mentioned, and no plans to initiate any positions within the next 72 hours. I wrote this article myself, and it expresses my own opinions. I am not receiving compensation for it (other than from Seeking Alpha). I have no business relationship with any company whose stock is mentioned in this article.
Additional disclosure: This article was written by an analyst at Saibus Research. Saibus Research has not received compensation directly or indirectly for expressing the recommendation in this article. We have no business relationship with any company whose stock is mentioned in this article. Under no circumstances must this report be considered an offer to buy, sell, subscribe for or trade securities or other instruments.