I am believer in the long-term bull thesis for intermodal container lessors. In my July 20, 2012 Seeking Alpha piece entitled "Textainer is a Buy Even at an All-time High," I outlined the central thesis for this sector's growth case:
Many investors are wary of investing in the shipping space due to overcapacity, excess leverage, and poor pricing power among the shippers. The chart below of the Baltic Dry Index, which represents the cost of transporting goods by sea, shows the difficult environment for shippers. TGH and the other container lessors are the beneficiaries of this turmoil. The shipping companies have been increasingly unable to fund the long-term capital expense of buying containers, so they lease the containers from TGH and its competitors.
The current strength of this sector's business model has not gone unnoticed. The trailing twelve month total returns for the four lessors I follow compared to the S&P 500 are depicted on the chart below.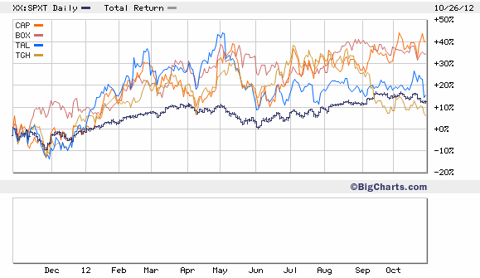 (Source: bigcharts.com)
Despite the recent appreciation, this sector remains undervalued. The S&P 500 Index's current P/E ratio is 16.44 and the Dow Transportation Index's is 18.31 (source). The following chart shows the P/E for the four intermodal container lessors:
P/E Ratios
| | |
| --- | --- |
| TGH | 7.63 |
| TAL | 8.66 |
| CAP | 7.32 |
| BOX | 8.44 |
The S&P 500 Index's current dividend yield is 2.10%. The following chart shows the yield of TGH, TAL, CAP, and BOX-OLD.
Yield
| | |
| --- | --- |
| TGH | 5.61% |
| TAL | 7.44% |
| CAP | 0.00% |
| BOX | 6.33% |
CAP and BOX are both sub-$500 million market capitalization companies. I shall focus the rest of this brief article on TGH ($1.7B market cap) and TAL ($1.1B market cap).
TGH and TAL have both recently experienced weakness. TGH is 23.9% off it its YTD high of $39.34 on July 5. TAL is 20.6% off its YTD high of $42.00 on May 3. TGH has been punished for an equity offering and TAL for a soft forecast in its earnings report last week.
Dividends
As mentioned above, TGH is currently yielding 5.61% and TAL is yielding 7.44%. Both companies are currently distributing 42% of their pre-tax income. TGH has increased its dividend from $0.23/quarter to $0.42/quarter over the last four years. TAL has increased its dividend from $0.4125/quarter to $0.62/quarter over the same period. TGH never decreased its dividend over the four years, while TAL temporarily reduced its dividend to $0.01/quarter in 2009.
Revenue Growth
Below is a comparison of the last five reported quarters for each company (revenue listed in millions).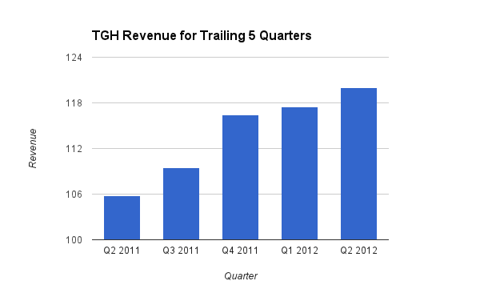 According to Yahoo Finance, the consensus estimates for each company's 2013 revenue are as follows: TGH $536.12M (10.3% increase over 2012 consensus) and TAL $640.99M (8.6% increase over 2012 consensus).
Earnings Growth
The consensus earnings estimates for each company are listed in the table below.
Consensus Earnings Estimates
| | | |
| --- | --- | --- |
| Year | TGH | TAL |
| 2012 | 3.83 | 3.98 |
| 2013 | 4.01 | 4.19 |
| 2014 | 4.61 | 4.05 |
TGH is currently trading at 6.5x 2014 earnings and TAL is currently trading at 8.2x 2014 earnings.
Summary
Albert_A, a contributor on this site, recently stumped Jim Cramer with a question on TGH (skip to 4:18 on this video). Cramer said he initially wanted to avoid TGH's "space" when it had its initial public offering (2007). Cramer conceded, however, that the dividend yield makes the stock worth looking at. He said that he would do his homework and get back to Albert on it.
I've done my homework and I continue to be a buyer of this space. As discussed above, TAL currently has a significantly higher dividend yield than TGH; however, TGH is trading at a lower multiple and has better revenue, earnings, and dividend growth.
I own TGH and TAL, but my much larger position is in TGH. I suggest watching for any weakness in TGH following its earnings release on November 6. You may get an excellent opportunity to add a high yielder with solid growth to your portfolio.
Disclosure: I am long TGH, TAL. I wrote this article myself, and it expresses my own opinions. I am not receiving compensation for it (other than from Seeking Alpha). I have no business relationship with any company whose stock is mentioned in this article.