by Fani Kelesidou
Since the introduction of Apple's (NASDAQ:AAPL) iPhone in 2007, Nokia (NYSE:NOK) has lost about 90 percent of its market share in the smart phone segment.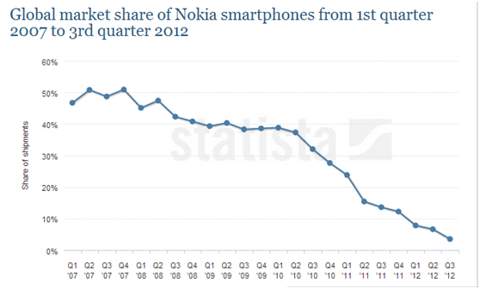 Source: Statista
At the same time, Nokia has taken a long-term downward trail by losing about 90 percent of its value. Its five-year chart is the definition of a falling knife. Two years ago, having realized that there is no room for inertia, Nokia decided to go "all in." The company changed management and established a partnership with Microsoft (NASDAQ:MSFT) in an effort to regain some of its past fortunes. Where does Nokia stand now?
The Good News
Over the past two years, Nokia has spent scads of cash in Research and Development to rebuild its market share. According to a report by Booz & Co., Nokia was among the top 20 R&D spenders for 2011. Have these investments paid off? Well, not to the extent that Nokia's shareholders would expect. However, for Q3 2012, Nokia reported a significant decrease in quarterly losses. From total operating loss of $1.7 billion for Q1 2012, Nokia's loss was narrowed to $754 million. Also, non-IFRS figures revealed even a 1.1 percent operating profit margin. Q4 2012 financial results will be a catalyst in the company's struggle for a successful comeback. If Nokia ends the year with a stronger position compared to the beginning of 2012, we can hope for a turnaround.
During the third quarter of 2012, shipments of smart phones were down for Nokia. A reason for this slip could be the company's restriction of Windows Phone 8 to the new devices. No Nokia phone based on Windows Phone 7 can be upgraded to Windows Phone 8.
Nokia's new Lumia phones, operating Windows Phone 8 platform, are about to hit the stores. Pre-orders have already begun in Europe, and the phones are selling like crazy. Lumia 920 is topping the charts all over Europe. In Italy, the reserved devices are already sold out. I looked for one in France, but I was told that there is no guarantee to get one even if I register my name on the pre-order list. Lumia's pre-orders on PhoneHouse in France are beating the iPhone 5. The yellow and the black version of the phone are ranking first among Expansy stop pre-orders in the U.K. The handsets are going on sale in Europe at the weekend, and worldwide during November. If the new Lumia phones continue to receive such high market acceptance, it is going to be a "make it" moment for Nokia.
The Bad News
First the company considers selling its headquarters in Finland in order to raise cash. Then it announced the sale of Vertu, a leading luxury mobile phones manufacturer founded by Nokia in 1998. On July, Nokia said it plans to lay off 10.000 employees on top of the 14.000 job cuts it made last year. All these are components of a broader management strategy to balance the company's accounts. This strategy may have fruitful results in the long-term. However, in the short-term it has caused great skepticism over the company's financial state.
The worst case scenario for Nokia will come true if Microsoft decides to diversify into the smart phone area by making its own phone. There are rumors going on about Microsoft launching its first Windows Phone in 2013. Rumors come and go in the tech world. However, Microsoft has not confirmed nor denied this speculation. In case Microsoft did create its own smart phone devices, then this could signal a serious step back for the struggling Finnish manufacturer.
Nokia's Technical and Fundamental State
Nokia is trading 62 percent below its 52-week range of $7.20. With a beta of 1.54 close to the industry's median, the stock's price has been relatively resilient to extreme fluctuations. Technically, the stock is beaten down. Year-to-date stock returns are negative by 45 percent. The latest closing price was 16 percent down from the SMA200.
Fundamentally, Nokia has some positives. Nokia is trading for approximately 75 percent discount to sales and 0.99 times book value. EPS for the next year is estimated to grow by 81.10 percent, suggesting a rather optimistic outlook for the stock's future performance. Overall, its current valuation metrics may indicate a value opportunity. However, the most disappointing part is the company's margins. Nokia's net margin is way below the peers' median of 6.1 percent. If Nokia wants to improve its competitive position, it really needs to strengthen its profitability prospects. ROE figures are discouraging suggesting that the company has a long way to go before returning to its past glory. Currently, analysts are neutral about Nokia. Out of 23 analysts tracked by nasdaq.com, 12 indicate a "hold" rating while 1 suggests a "strong buy."
Summary
As I mentioned in a previous article, Nokia is applying a transition strategy that requires time in order to pay off. The company has placed a bet on WP8 devices hoping to achieve desirable yields. It signed a two-year contract with Verizon (NYSE:VZ) for its Lumia 820 series trying to target the tough U.S. market. In Europe, sales volumes are robust. Moreover, the company is moving aggressively to emerging markets, such as India, Indonesia, and Latin America, where smart phone penetration is not yet matured. If Q4 2012 financial results show an improved position, then we can expect upward trends in Nokia's chart.
Disclosure: I have no positions in any stocks mentioned, and no plans to initiate any positions within the next 72 hours.
Business relationship disclosure: EfsInvestment is a team of analysts. This article was written by Fani Kelesidou, one of our equity researchers. We did not receive compensation for this article (other than from Seeking Alpha), and we have no business relationship with any company whose stock is mentioned in this article.