Ben Graham, author of Security Analysis, wrote:
An investment operation is one which, upon thorough analysis promises safety of principal and adequate return. Operations not meeting these requirements are speculative.
Graham wrote that the owner of equity stocks should regard them first and foremost as conferring part ownership of a business. With that perspective in mind, the stock owner should not be too concerned with erratic fluctuations in stock prices, since in the short term, the stock market behaves like a voting machine, but in the long term, it acts like a weighing machine (i.e. its true value will in the long run be reflected in its stock price).
In the case of Essex Property Trust (NYSE:ESS), I have often viewed the west-coast multi-family REIT as an "intelligent REIT" choice as I wrote in a recent article,
Essex Property Trust has excelled at sustaining its differentiation over time and accordingly this "intelligent" REIT provides investors with one of the strongest sources of differentiation in the multifamily sector. Because of the company's focus on investing in high-quality west coast properties, Essex is considered one of the most successful REITs as measured by its repeatable track record of paying and increasing dividends for 19 years and running…..
Even more recently, Kapitall (another Seeking Alpha author) wrote,
Essex Property has a strong balance sheet with $141 million in cash and marketable securities, and $270 million , available for borrowings under its credit facilities. As of June 30th, 2012, total leverage is 30 percent, and the company is in compliant with all its debt covenants. Total leverage is a significant improvement from 2008, when leverage was 40 percent.
Essex, What Are You Up To Lately?
As SNL's Jack Mooney reported,
Tensions rose during Essex Property Trust Inc's Nov. 1 conference call to discuss its third-quarter earnings, as analysts prodded company executives to discuss an investment of roughly $70 million that Essex made in the common stock of an undisclosed second company.

President and CEO Mike Schall refused throughout the call to provide details on the purchase, which he said would be disclosed generally on the company's forthcoming 10-Q report. Essex's investment in common stock at cost increased to $72.7 million from $42.9 million last quarter, Schall said, adding under questioning that "the vast majority" of the total sum was in one position.
As Essex's CEO, Mike Schall said,
The problem with this whole topic is, without revealing the nature of what we're doing and how we're going to do it, I can't answer the questions. I'm kind of in a difficult spot with respect to this question and other related questions. I understand the market would like to understand what we're doing, but let's keep in mind that it's a relatively small investment to the size of the company, and we will disclose what we can. … We just can't do it right now, because who knows how that will impact what we're trying to accomplish.
Andrew McCulloch, an analyst from Green Street Advisors, sought to tie the stock purchase, and analysts' uneasiness about it, to Essex's recent issuances of common stock. As McCulloch said,
When you issue common stock to buy common stock in another company, unless it's another apartment REIT, that's pure speculation. I guess my question is, why would investors want Essex issuing common stock to make purely speculative investments in other common stock?
Schall responded,
You know, I don't necessarily agree with your characterization. I mean, we're issuing common stock, and we've got a very robust acquisition and development pipeline, so I don't think you really know that that's exactly what we're doing. Having said that, I think you know who we are, we have a 20-year track record, and I don't think we have too many crazy things that we've done over that period of time.
Near the end of the call, analyst Ross Nussbaum of UBS Securities confronted the issue directly by saying,
While you've been on the phone, your stock's down a dollar. Stock of BRE Properties Inc. (NYSE:BRE) was up a dollar. So I don't know why everybody is beating around the bush here. Can you at least tell us what this is not, as opposed to what this is? If this is BRE, …are you buying BRE stock? Do you have any intent of merging with BRE? Are you in discussions with BRE?
Schall replied:
Ross, you know I can't answer those questions.
Nussbaum continued:
Well, if I asked you if you had any intent of merging with IBM, you'd answer the question. So I guess you guys opened the door by making a strategic investment. You've told us nothing about it. You won't tell us if you're going to be buying the entity, selling the position, and I guess maybe the question then becomes how long do you plan on keeping us in the dark for on this?
Schall replied:
Well, I would argue that you're not really in the dark. We have disclosures that we have made and you know the relative size of the investment, and you can judge that relative to the size of the company, and the laws that concern other disclosures that are out there. And so, again, I can't say anything more.
What Could This All Be About?
Companies will invest in other companies for a variety of reasons, but perhaps the most notable is to secure future earnings. Companies will invest in other companies to expand operations, reduce competition, increase market share, create partnerships, and to form relationships with vendors relating to their products and/or services.
When a company invests in another - especially REITs - it is usually a strategic attempt to gain specific assets. Examples of this may include gaining distribution relationships, or perhaps gaining a partnership with a company that has rights to specific technologies that are beneficial to the investor.
But what it all comes down to is making more money. Often companies invest in other firms to increase their earnings or at the very least their earning potential. The more assets that a company possesses will obviously make the company more valuable and more favorable to new investors. So for most companies, building, growing, expanding, etc., is not just an option, but a necessity.
So as Jeffrey J. Donnelly, CFA, Senior Analyst with Wells Fargo explains,
Essex announced 'strategic investment' of ~$29MM in the common stock of another company and the increase in interest income leads us to suspect it is most likely a dividend paying REIT. Management would not elaborate on the remark out of concern it might comprise what they are 'trying to accomplish'
Donnelly offered a few thoughts and probabilities on who might be the beneficiary of Essex's common stock investment (in an Equity Research Report):
• BRE PROPERIES -65%. BRE is a West Coast focused multifamily REIT but unlike Essex, BRE has historically has placed a greater focus on development, ''Class A'' ownership, and markets that are arguably not ''in-fill'' - Arizona, Inland Empire, etc. BRE has underperformed ESS over time due to poor capital allocation decisions. We suspect investors will conclude BRE is the most logical recipient of the investment.

• HOME PROPERTIES (NYSE:HME)-25%. Management has stated in the past they feel East Coast markets are less volatile than the West Coast and Essex could reduce the beta of their portfolio with a bi-coastal presence. Management previously told us they would prefer to purchase a platform rather than assemble a portfolio on the East Coast. In our view, Home Properties is a small platform with several qualities that resemble Essex - a focus on redevelopment of older assets in high-barrier in-fill, urban/suburban markets . We think this is a plausible recipient not likely on the investment community's short list.

• POST (NYSE:PPS)-5%. In 2006 ESS bid on Town & Country Trust (Mid-Atlantic/Southeast portfolio) which leads us to assume there could be a slight chance that Post (Atlanta, Dallas, Washington, DC, Tampa) could be the beneficiary.

• HOME BUILDER?-5%. Essex has historically shown great prowess in West Coast housing markets. There could be a scenario where Essex has made an investment in a homebuilder simply to participate in a recovery in for-sale housing and NOT as a step towards outright ownership of a builder.
What Really Matters
To me, what really matters the most is that shareholders are being protected and their investment is deemed to be safe. Remember, Essex is a twenty year old company and just only one of three multifamily REITs have had positive growth in distributions over the past 10 years, and did not decrease dividends along the way in 2009. Of these three, only Essex has maintained the consistency of paying increased cash dividends for 19 years. This incredible record of consistency makes Essex one of just a handful of REITs that have never cut dividends - even in the worst recession since the great depression.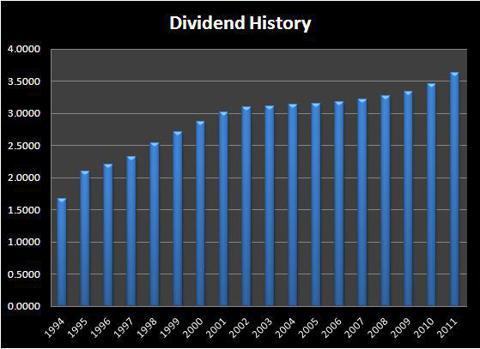 Also, keep in mind that Essex joins other select REITs that have also maintained the same extraordinary dividend performance history, including Federal Realty (NYSE:FRT), HCP, Inc. (NYSE:HCP), Universal Health Realty (NYSE:UHT), National Retail Properties (NYSE:NNN), Tanger Factory Outlets (NYSE:SKT), Realty Income (NYSE:O), Urstadt Biddle Properties (NYSE:UBA), Omega Healthcare Investors (NYSE:OHI), and National Health Investors (NYSE:NHI).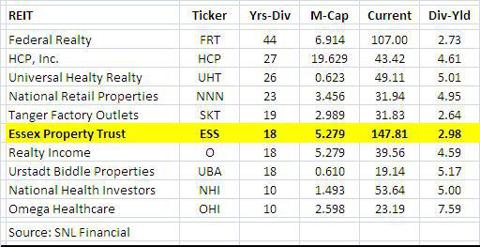 Also, keep in mind that Essex is not the only REIT that has invested in other REITs. Monmouth REIT (NYSE:MNR) owns around $45 million in REIT securities. In a recent interview with Monmouth's CEO, Eugene Landy, he explains his company's strategy for investing in other REITs:
Our program of "REITs investing in REITs" continues to be successful. It is based on the simple premise that, when REIT shares sell at a discount from net asset value, they become excellent investments. There is an improvement in the yield and there is improvement in the safety of the investment. Investors invest for current yield plus appreciation. Appreciation is the future increase in value of the properties over an extended period of time. When you purchase REIT shares at a discount to asset value, appreciation can be both future gain and the realization of the current discount. We buy securities for yield spread investing, appreciation and liquidity. Liquidity is paramount to operating a REIT through multiple business cycles.
For now, I suppose investors will have to patiently wait for Essex to disclose the company's investments; however, the fundamentals remain strong (quarter-end was 96.1 percent, same-property NOI increased 9.5 percent year over year, FFO totaled $63.4 million, or $1.67 per share, compared to $50.5 million, or $1.43 per share, in the year-ago quarter).
Essex closed Thursday at $147.81 per share with a market cap of $5.279 billion. The dividend yield is 2.98 percent and the three year total return is 118.69 percent.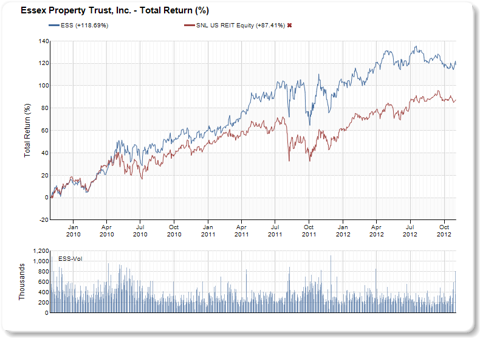 Source: SNL Financial, Wells Fargo Securities, Essex Property Trust Q3-1 Earnings Call
Disclosure: I have no positions in any stocks mentioned, and no plans to initiate any positions within the next 72 hours. I wrote this article myself, and it expresses my own opinions. I am not receiving compensation for it (other than from Seeking Alpha). I have no business relationship with any company whose stock is mentioned in this article.