Earnings momentum for Omnicell Inc. (OMCL) has jumped in the past seven days, since this provider of end-to-end automation solutions released strong third-quarter results last week. Shares of this Zacks #2 Rank (Buy) are up 10% since the announcement. The company has now delivered positive earnings surprises for seven consecutive quarters with an average beat of 61.7%.
Strong Third Quarter
On October 25, Omnicell reported third-quarter adjusted earnings per share of 22 cents, beating the Zacks Consensus Estimate of 13 cents by 69.2% and the year-ago earnings of 9 cents by 144.4%.
Revenue (including the May 2012 acquisition of MTS Medication Technologies) increased a robust 30.9% year over year to $84.3 million. Product revenue, contributing 79.9% to total revenue, climbed 35.3% to $67.4 million in the quarter, while the revenue from Services and Others (contributing the rest) witnessed an upside of 15.8% to $16.9 million.
Margin contraction over the last few quarters prompted the company to implement a number of cost-saving measures. These strategies benefited Omnicell in the reported quarter in the form of a 114 basis points (bps) expansion of gross margin to 54.6%. Despite higher research and development (up 8.5% to $5.5 million) and selling, general and administrative expenses (up 24.2% to $29.3 million), operating margin during the quarter expanded a significant 586 bps to 13.3%.
Omnicell has been taking a number of strategic steps to align its assets while expanding its footprint worldwide. A three-pronged strategy consists of domestic expansion, selective acquisitions and targeted international expansion.
The recent MTS acquisition marked Omnicell's entry into the huge and under-penetrated non-acute care market. In the third quarter, profit generated from this segment sailed past the company's projections.
Moreover, several new contracts have recently enabled the company to better compete in acute care settings. Given that the international market is less than 1% penetrated, Omnicell is currently working on expanding its international footprint, especially in the growing Chinese and Middle East markets.
Earnings Estimates on the Rise
Over the past seven days, the Zacks Consensus Estimate for 2012 has gained 20.5% to 47 cents per share, aided by upward revisions from all four estimates. This represents year-over-year growth of about 46.1%. Meanwhile, the Zacks Consensus Estimate for 2013 is up 14.3% to 72 cents on increased revisions from 2 of 4 estimates. This indicates growth of about 52.9% year over year.
Attractive Valuation
Valuation of Omnicell looks attractive with respect to most valuation metrics. The company is trading at a forward P/E of 31.19x, a 15.8% discount to the peer group average of 36.86x.
The price-to-book ratio of 1.6x is also substantially lower than the peer group average of 3.9x. Similarly, the price-to-sales ratio of 1.7x is at a 36.5% discount to the peer group average of 2.66x.
Omnicell's return on investment (NYSE:ROI) of 7.1% is at a slight discount to the peer group average of 7.9%. This implies that the company reinvests its earnings almost as efficiently as its peer group.
Chart Reflects Strength
Omnicell's price performance has been trending higher following the release of its third quarter results. The price and consensus chart shows that estimates for the next two years are on the rise with the stock price moving right along. Moreover, the stock price remains below the 2013 and 2014 earnings estimate lines, suggesting that the stock is still undervalued.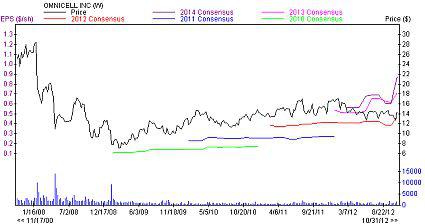 Omnicell develops and markets end-to-end automation solutions for the medication-use process. These automation solutions enable healthcare facilities to acquire, manage, dispense and deliver pharmaceuticals and medical supplies, as well as enhance patient safety, reduce medication errors, improve workflow and increase operational efficiency. The company provides procurement and inventory management systems to more than 1,600 hospitals, integrated delivery networks, and specialty healthcare facilities, including nursing homes, outpatient surgery centers, catheterization labs and clinics. With the MTS acquisition, Omnicell currently reports under two operating segments: Acute Care and Non-Acute Care. Omnicell has a market capitalization of $485.5 million.
Read the full analyst report on OMCL (email registration required)