In our last two articles, we unearthed hot dividend stocks that were still undervalued. This week, we've found a large-cap Dividend Aristocrat that is clearly oversold and looks undervalued on a discounted future earnings basis. (S&P's Dividend Aristocrats are companies which have increased their dividends for at least the past consecutive 25 years.)
Company Profile

V.F. Corporation (NYSE:VFC) is a highly diversified, branded lifestyle apparel, footwear, and related products company with 35 brands, including Lee, Wrangler, North Face, Nautica, Timberland, Vans, and many others. It also has licensing deals with the NFL and Major League Baseball.
Founded in 1899, VFC has multiple channels of distribution and geographies organized by five distinct coalitions: Outdoor and Actions Sports, Jeanswear, Imagewear, Sportswear, and Contemporary Brands. VFC had sales of $9.5 billion in 2011, via wholesale partners and owned retail, and acquisitions. (Source: VFC website.)
VFC had quite a run from mid-summer into October, but since then has declined in price:
Click to enlarge images.
Earnings Growth

Although VFC is estimated to grow its EPS an average of over 17% in 2012, its 2012 PEG ratio sits at 1.00 (fair value), and its 2013 PEG of 1.28 is higher still.

VF had strong quarterly sales growth (up 14.48%) and very strong EPS growth (up 27.92%) in the quarter ended Sept. 30, 2012, and is estimated to have EPS growth of 11.87% for the next five years. This gives it a high five-year PEG of 1.46, but indicates that it is still undervalued on a discounted future earnings basis with an estimated value of $190.97:

Dividends

VFC just declared a big 21% increase in its quarterly dividend, raising it to $0.87 from $0.72. It now has a 30% five-year dividend growth rate as a result: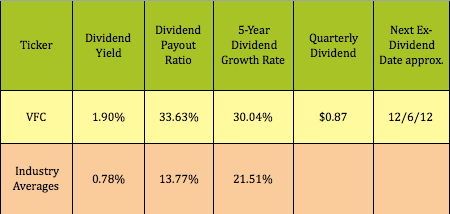 Options

Even though VFC's dividend yield is only 1.90%, you can raise your payout substantially via selling covered calls. The trade below is from our free Covered Call Table, which lists over 30 other high-yield trades. Note how this call option outpays VFC's dividend by more than eight times:
Cash Secured Puts

Given the mixed valuation picture and the big gains VFC has made since July, another approach would be to sell cash secured put options at a strike price below VFC's stock price. This strategy would give you a $148.70 breakeven, which is 6.9% below VFC's $159.69 stock price. As with the call option above, this put option's payout dwarfs the dividend payout.
You can find more info on this and over 30 other high-yield trades in our free Cash Secured Puts Table:

Financials

VFC's efficiency, margin, and interest coverage ratios are clearly better than the industry averages: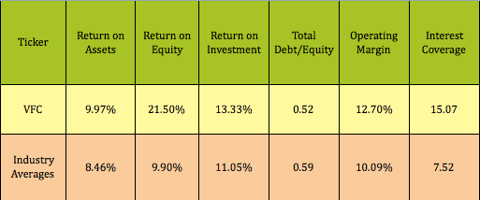 Disclosure: I have no positions in any stocks mentioned, but may initiate a long position in VFC over the next 72 hours. I wrote this article myself, and it expresses my own opinions. I am not receiving compensation for it (other than from Seeking Alpha). I have no business relationship with any company whose stock is mentioned in this article.
Disclaimer: This article is written for informational purposes only and isn't intended as investment advice.