ZAGG (NASDAQ:ZAGG) is an extremely interesting company as both a trade on what is likely to be a huge third quarter and as a potential longer term investment based on what could be a monopoly on a niche product for electronic devices like the iPhone and Blackberry.
The company has one primary product called the Invisible Shield, which is a clear plastic wrap only a couple millimeters thick that can be permanently affixed to the surface of electronic devices to render them virtually impervious to scratches dings and chips. The company touts the fact that this is a material originally designed by the military to protect helicopter blades.
ZAGG offers over 2000 different designs to cover everything from laptops to the new iPhone 3g. The best way to understand the appeal of the InvisibleShield is to understand the fanatical love people have for their gadgets. I have heard iPhones referred to as "my precious" by more than one person referencing the obsession of Gollum in the Lord of the Rings trilogy. For many users the idea of scratches in their device from keys, coins or general wear and tear is somewhere between unacceptable and horrifying.
The company has leveraged this zealous affection for gadgets into a quickly growing business. For the most recent quarter ZAGG turned in revenues of 2.7 million up over 200% year over year. Revenues were down slightly from the previous quarter during what is generally a bit of a dead retail season but there are numerous reasons to believe the upcoming quarter is going to show huge growth. My rough estimate is for it to show somewhere close to 100% sequential growth.
What's pushing that growth:
First, the company is just starting its push into big box stores. At the very end of last quarter it began shipping to Carphone Warehouse, a large European retailer. CPW only accounted for about $80,000 in revenues during the quarter as shipments didn't start until June. The company has stated it expects CPW to ship $100,000 in product every 2-3 weeks. If this turns out to be accurate it should ship somewhere between $400,000 and $600,000 this quarter.
Second, subsequent to the end of Q2 the company began shipping product to 300 best buy stores. Right now, Best Buy (NYSE:BBY) is carrying 3 SKUs but could increase that in the future. I have been in the process of doing some surveys of Best Buy stores and am getting feedback suggesting stores are selling somewhere between 30 and 50 units a week. Doing the math on that and assuming a 100% markup on a $20 retail price I am guessing revenue to Best Buy could account for $1 to $1.5 million this quarter. I also believe its possible they have now penetrated more than the original 300 stores as I have not been able to find a store so far that does not carry the product.
Third, it is expanding its mall kiosk program at a pace of a couple new locations a week. The kiosk model assesses an initial licensing fee on operators who are then required to carry only ZAGG products. I like this business model as kiosks are frequently offering install services and one of the negatives of the product is the install requires patience and it can be difficult for some people to get the film aligned just right.
Fourth, and probably most important, is the impact of the release of the iPhone 3g. ZAGG announced presales of 100,000 units for the iPhone 3g. Some of these presales are going to be to retail outlets like Best Buy, but typically over half its revenue comes as retail sales from its website. If this holds true in the current quarter, presales of the iPhone shields alone could account for another 1.5 million in revenue.
All of this prospective revenue should bode well for the bottom line in the current quarter. Margins are exceedingly high at over 70%. Those margins will likely slip some with more sales to the likes of Best Buy. However, I am estimating those big box margins are still likely in the 50-60% range partially because shipping costs will be lower than they are for direct retail sales. The other thing that is encouraging is the company has been decreasing SGA consistently as a percentage of sales. The last 4 quarters below show this relationship (most recent first in thousands)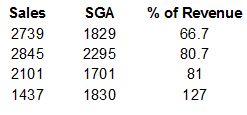 It actually had lower SGA expenses in the most recent quarter than it did 3 quarters ago despite a near doubling in revenue. This recent attention to SGA allowed it to turn a profitable quarter of .01 a share in its most recent quarter. It has also recently begun reducing costs by outsourcing its fulfillment services. All of this bodes well for better earnings leverage on what should be much higher sales. I don't think EPS of .05/share is out of the realm of possibility in the upcoming quarter, which makes the company an excellent candidate for an earnings trade given its share price around a buck.
Longer term, the picture is more interesting. The company has had solid competitors pop up with products like BSE and Bodyguardz. ZAGG does have some specific advantages in that it has already developed brand recognition and is the first to penetrate big box stores. In addition, as I alluded to before, it has the prospect of monopoly protection on this type of product. It applied for a patent on this concept over a year ago. If that patent goes through as the company believes it will, it will be the only choice in this space, cementing those fat margins for the long term.
Regardless of whether this happens or not, the company has plenty of room left to penetrate high volume sales channels. It is currently carried on the Wal-Mart (NYSE:WMT) website but has the prospect of moving into its retail stores. Most other big boxes are still open opportunities. It recently added a board member, Larry Harmer, whose expertise is in getting companies into big boxes. That very well may translate into more deals.
The company even posts a respectable balance sheet with a current ratio of over 5 to 1 and cash roughly equal to all current liabilities. The company has indicated the cash flow issues that would be associated with the rapid growth it expects might lead it to seek financing, which is something I don't generally like, but if you have to have a problem, seeking financing due to rapid growth is not the worst problem to have. If it does so hopefully it will be at a higher stock price and on favorable terms.
In the end, this looks like a two pronged play. It's a great trade on what should be a blowout third quarter and if the company continues to solidify its market position and especially if its patent goes through, it could be a great long term buy as well.