Weyerhaeuser Co. (NYSE:WY) approved a 13.0% increase to its quarterly dividend rate in its impressive third-quarter report. This forest products company also announced a positive earnings surprise of nearly 30% for the quarter. A solid five-year average dividend yield of 3.2% and current yield of 2.5% make this Zacks No. 2 Rank (Buy) a good pick for investors seeking both growth and income.
Driving Catalysts
Weyerhaeuser posted solid third-quarter results on Oct. 26, with earnings per share increasing 83.3% year over year to 22 cents. The result also surpassed the Zacks Consensus Estimate of 17 cents by 29.4%.
Revenue grew 12.9% to $1,772 million on the back of a solid revenue performance in three out of four business segments; the exception was an 8.7% revenue decline for Cellulose Fibers. The company announced a 13% increase in its dividend, which sends its earlier quarterly rate of 15 cents up to 17 cents.
Earnings Momentum Moves Higher
There have been 10 upward revisions to 2012 earnings estimates over the past 30 days, out of 13 total estimates. As a result, the Zacks Consensus Estimate has advanced 17.5% to 47 cents. Similarly, the Zacks Consensus Estimate for 2013 is up 6.0% to 89 cents as nine of 14 estimates moved higher. These estimates represent year-over-year growth of 43.0% for 2012 and 89% for 2013.
Valuation
Weyerhaeuser is currently trading at a forward P/E of 58.8 times compared with 40.1 times for the peer group. The company's ROE stands at 5.9% compared with the peer group average of 4.9%.
As can be observed from the chart below, the company has been performing well with shares and volumes trending higher.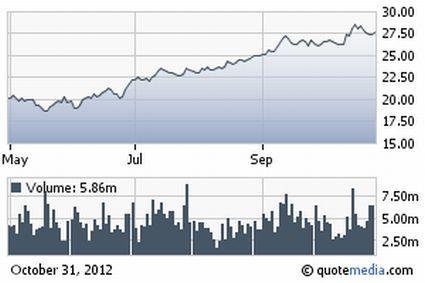 Its commitment to dividend increases and its solid quarterly results with bright future prospects bode well for Weyerhaeuser, and make it an attractive investment option.
Weyerhaeuser is one of the leading U.S. forest product companies, primarily engaged in growing and harvesting timber, in the manufacture, distribution, and sale of forest products, and in real estate development and construction. The company was founded in 1900 and is headquartered in Federal Way, Wash. Currently, it has a market capitalization of $14.9 billion.
Read the full analyst report on WY (email registration required).