As mentioned in previous articles, Barrick Gold (NYSE:ABX) has been a complete disappointment over the past five years and yesterday's third quarter report was not any different. The company continued to increase capital cost estimates for its Pascua-Lama project (on top of the excessive increases it announced in July), as well as reduce its 2012 gold production guidance. Investors showed their pessimism in the past two days by sending Barrick's shares tumbling to a point that it is now the world's second largest gold company by market capitalization after Gold Corp (NYSE:GG).
Well it seems the New Gold (NYSEMKT:NGD) technical team (in addition to Yamana Gold's team (NYSE:AUY), see here) can teach the Barrick Gold team a couple of lessons in mine construction budgeting and production guidance.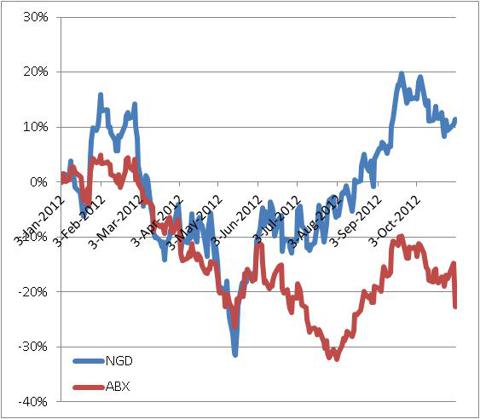 New Gold reported its third quarter results on November 1 and those were the exact opposite of Barrick's. Gold production soared to 104,577 ounces, a 16 percent increase over Q3-2011, primarily due to the New Afton mine successfully transitioning into production.
The British Colombia based operation illustrates the company's operational expertise and prudence in guiding investors, as the operation reached full mill throughput over a month ahead of schedule. This is a feature the New Gold team has shown in the past; prudence in guiding the street and good sense when using capital for growth.
Investors can expect production growth to continue as the New Afton operation only commenced full production in the past quarter and will contribute to a year-over-year production growth in the coming quarters.
New Gold Quarterly Gold Production: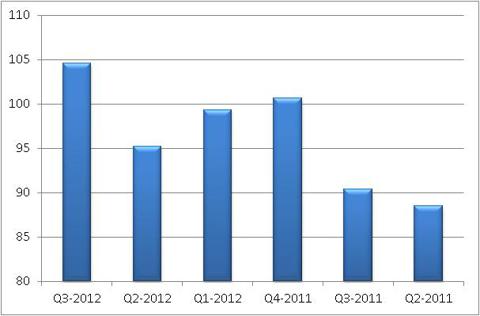 Operationally, the company reached a cost of $443 per ounce produced (net of by-products), which contributed to a record margin of $1,100 per ounce, despite a lower gold price on a year-over-year basis.
In the third quarter New Gold demonstrated to its shareholders that its team poses the operational expertise in bringing on a mine into production within its guided limits and within its announced costs. Unlike Barrick's, New Gold's shareholders can take comfort in the fact that their company's management is creating shareholder value through prudent capital spending and conservative guidance.
Disclosure: I have no positions in any stocks mentioned, and no plans to initiate any positions within the next 72 hours. I wrote this article myself, and it expresses my own opinions. I am not receiving compensation for it (other than from Seeking Alpha). I have no business relationship with any company whose stock is mentioned in this article.