In the latest example of data fudging gone wild, ADP re-revised its September jobs number Thursday morning. Recall that ADP, a payrolls processor whose jobs report is meant to show trends in private sector employment, recently partnered with Moody's to change the formula it uses to calculate its jobs number. This was done in an effort to eliminate large disparities between the ADP report and the Bureau of Labor Statistics' non-farm payrolls report. According to ADP:
...the new methodology includes a larger sample size of ADP clients..., a larger population of employees..., five company-size classes and five industries. This larger data set is expected to help enable the ADP National Employment Report to more closely match the final, revised job numbers published by the BLS.
While the new methodology may be more accurate in terms of aligning the ADP report with the BLS report, it also has the rather unfortunate side effect of effectively eliminating some 365,000 U.S. jobs supposedly "created" in 2012. The following graphic shows the cumulative difference between the number of jobs created under the old ADP methodology and those created under the new methodology:
Click to enlarge image.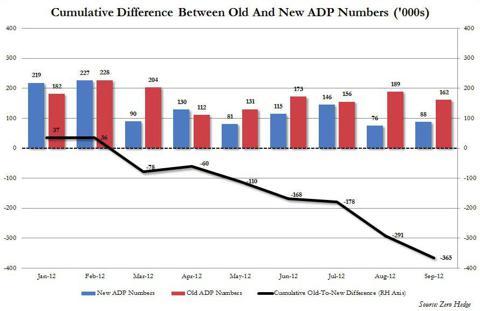 Source: ZeroHedge.
Obviously, this is a rather disconcerting revelation. You can see from the chart -- and this was also discussed in a MarketWatch article dated Oct. 24 -- ADP originally reported that the U.S. added 162,000 jobs in September, but later said that under the new methodology that number was revised down to 88,000.
The question here is whether there is any point in sticking to revised numbers once it becomes clear the market really dislikes this massive cumulative downward revision. After all, one whole methodology was just thrown out, so why not simply revise the revised figures? Thursday morning we got the answer. ADP re-revised its September jobs number back up to 114,000, which, happily, was right in line with the 114,000 number reported by the BLS.
What this means is that, as CNBC's Rick Santelli noted Thursday morning, these numbers are largely meaningless. Another good example is the September retail sales number, which was widely celebrated as showing that the American consumer was "coming back." What wasn't mentioned was that the Census Bureau used the lowest September seasonal adjustment factor dating back at least 20 years to come up with the 1.1% increase. On an unadjusted basis, retail sales fell from August to September by a whopping $32 billion.
Be wary of these reports. They serve a purpose, but investors shouldn't rely on them to indicate turning points in the economy. The most telling statistics are the reports on capex, which show that business spending and business sentiment are still at depressed levels. Remain short this market (NYSEARCA:SPY) until there are clear signs of a recovery, and do not trust "squishy" data, to quote Santelli.
Disclosure: I have no positions in any stocks mentioned, and no plans to initiate any positions within the next 72 hours. I wrote this article myself, and it expresses my own opinions. I am not receiving compensation for it (other than from Seeking Alpha). I have no business relationship with any company whose stock is mentioned in this article.