I have to admit that I very rarely go out shopping for electronics. I prefer to buy most of my electronics online at Amazon (NASDAQ:AMZN) or Newegg, as the prices there are usually much more competitive than anything I would find at a traditional retail store such as Best Buy (NYSE:BBY). However, this past weekend, my father and I decided to take a trip to the Microsoft (NASDAQ:MSFT) store that had just opened up.
To put it simply: I was amazed. For the first time in what seems like years, I am legitimately and utterly convinced that Microsoft and its partners in the PC and tablet ecosystems will become so cohesive and compelling that Apple (NASDAQ:AAPL) now has some serious competition. I urge any and all potential investors/consumers to go see one of these stores first hand as soon as possible.
From an investment standpoint, I believe that this new-found ecosystem and marketing strength opens up an opportunity to buy Microsoft now while it still trades at roughly 10 times past earnings (excluding the one-time aQuantive charge) and has a very strong balance sheet with ~$62 billion in cash and only $13 billion in long-term debt.
Windows 8 Innovates
The friendly sales clerk made it perfectly clear that everything in the store was "meant to be touched." And he was right. Every device -- including Ultrabooks, desktops, all-in-ones, and TVs -- was touch-enabled. While Microsoft's Windows 8 works wonderfully on non-touch devices (the desktop that I am writing this on is running Windows 8), it really does shine when the user can actually interact with the screen.
I believe that this will serve to reinvigorate the traditional PC space. While Windows-based PCs are obviously still quite popular by market share, the last few years have basically been about market share bleed to Apple. In fact, Apple now has 13.6% of the overall PC market. Furthermore, if we count "tablets" as PCs, then Apple's gargantuan lead in this space gives it a significantly beefier total share of computing products.
Windows 8 will finally change all that. The new UI is very clean, touch-enabled (and encouraged), and fast. Apple's only touch-enabled products are its iPad and iPhone, while its MacBook Pro and Air products have chosen to be innovative by increasing screen resolution. This is where I believe Microsoft has a fundamental advantage -- it adds a brand new capability to a familiar form factor while the competition improves on an existing capability.
In addition to the UI, many Apple customers have frequently voiced that the main reason they enjoy using MacOS is that the OS comes built in with a number of useful applications such as calendars, video/audio recording, and so on. Microsoft has typically been lean on the pre-installed software side, opting to let third-party vendors fill the void. However with Windows 8, there are quite a few very well-designed built-in applications to make the user experience better, as shown here:
Click to enlarge image.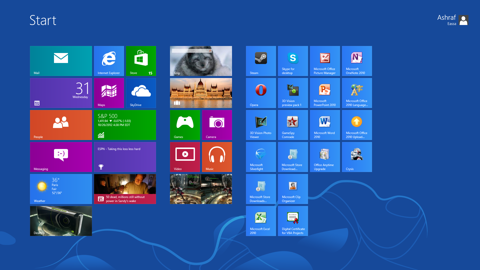 Bing Maps
Camera
Messenger
Music
Gaming
Finance/Stocks
Video
Weather
Calendar
News
App store
Microsoft Stores -- Getting Personal With the Customer
While Apple has traditionally fostered a strong relationship with the customer with its stores, Microsoft has typically been a more detached entity that simply acts as an OS dealer to the PC OEMs. This is no longer the case. Microsoft now wants a direct relationship with the consumer, allowing her/him to get a more personal feel for the PCs, tablets, phones, and/or game consoles that she/he is buying. Strong customer service -- as Apple as demonstrated -- is the No. 1 way to build customer loyalty. Microsoft has finally stepped up to the plate big time here.
If you can, actually check one of these stores out -- they're absolutely gorgeous, colorful, and lively. The one I went to was packed and made the adjacent Apple store look a little pale in comparison. That said, this was just one sample, and Apple stores still vastly outnumber Microsoft stores.
Investment Opportunity
Microsoft's more aggressive push of the Windows PC platform as a real, complete, and user-friendly platform is likely to help win back market share in the PC space. This will be a boon for all of the PC-levered names that are trading in deep value territory. Everything in the PC ecosystem is on sale, and the very best-of-breed has been thrown out with the trash. If you believe that Windows 8 will reinvigorate the PC, especially with the increasingly thinner and lighter Ultrabooks and the tablets based on both Windows RT and Windows 8, then Microsoft is likely to see some significant upside as it gains share in tablets from Android and iOS and share in the PC space from MacOS.
Conclusion
Microsoft is serious about protecting its turf as the premier provider of operating systems for the broad variety of computing devices. Its leadership in the Windows PC space has eroded slightly due to the adoption of MacOS, and its presence in tablets and smartphones is currently limited. However, I believe with Windows 8/Windows RT, it can establish a leadership position in tablets while gaining back share in the traditional PC space.
The jury is still out on Windows Phone 8. While Microsoft can bring its vast software ecosystem from the PC to bear in Windows 8, Windows Phone 8 is a fundamentally different platform that is still quite barren when it comes to apps. Whether developers will embrace the platform and bring to it the richness that Windows 8 will provide is still an open question, but for now PC and tablet growth, thanks to the strong Windows 8 platform as well as the new Microsoft stores, should be enough to make Microsoft worth buying on any pullbacks.
Disclosure: I have no positions in any stocks mentioned, but may initiate a long position in MSFT over the next 72 hours. I wrote this article myself, and it expresses my own opinions. I am not receiving compensation for it (other than from Seeking Alpha). I have no business relationship with any company whose stock is mentioned in this article.