Okay, so here we go again with an examination of numbers that sometimes just make no sense. Skullcandy (NASDAQ:SKUL) is a designer, marketer, and distributor of audio and gaming headphones and related audio accessories. There is an extreme short interest in this stock as discussed in numerous other articles such as here and here.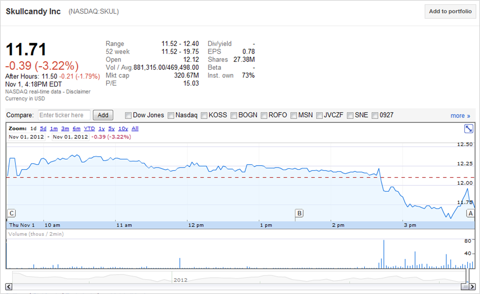 Debate has raged on and on about how the shorts are right and eventually they will win this battle, dragging the company's stock to zero as they walk away smiling. The fundamentals tell a different story, because after all, the only thing they do is make money quarter after quarter. So here are the numbers...
In comparison to Q3 of last year, SKUL saw an increase of 17.1% in net sales, and an increase of 18.5% in gross profit. Gross profit as a percentage of net sales continued to increase, and the company's efforts at improving efficiency resulted in decrease in the ratio of general expenses to net sales. These are all very respectable numbers.
Net income was right on target at 23 cents per share, and the company narrowed the full-year outlook to $290-300 million, maintaining the upper target, but increasing the lower target by $10 million. The company did provide a downward revision in the fully diluted earnings per share outlook for 2012, now targeting $1.00 to $1.04.
I find this revision curious despite the explanation of taking caution in the European market and the shift towards higher-end products producing lower margins. We do know that the headphone market in general has seen an increase in higher end and noise-canceling headphones.
Skullcandy can be viewed as sort of a fringe player in this segment, but really their target is not the true audiophile. They are actively marketed more towards the youth gamer and extreme sports segment, which still has fewer competitors. Not many people are going to wear a $200 set of headphones while skateboarding home if it is going to rain. Now a $20 set of durable earbuds? These lower-end headphones do provide a higher margin, which appears to be borne out in the quarterly report.
I found the sudden drop in share price to a 52-week low and unusual increase in volume the last couple hours of today to be suspicious, and I wondered if there were rumors of an earnings miss. That clearly was not the case, although there will certainly be no shortage of detractors tomorrow just based upon the revised 2012 outlook.
I believe that the fundamentals are still solid despite the increasing competition. Revising estimates downward now will make it easier to surpass them after the Christmas season -- not that any company has ever been known to do that. This could get interesting...
Disclosure: I am long SKUL. I wrote this article myself, and it expresses my own opinions. I am not receiving compensation for it (other than from Seeking Alpha). I have no business relationship with any company whose stock is mentioned in this article.