In the last decade, the print media and newspaper industry have suffered tremendously from the onslaught of free online content that besieged the music industry. Not only did the proliferation of free online news outlets hit newspaper circulation, it also introduced a new form of advertising media that successfully competed against the industry for advertising revenue. Furthermore, the advent of cable television and its successful draw on both viewers and advertisers alike meant valuations of newspaper properties on the market have taken a substantial hit.
However, recent moves by famous investors to pick up shares of publicly-listed newspaper companies have raised a few eyebrows. In November 2011, Warren Buffett's Berkshire Hathaway (NYSE:BRK.A) (NYSE:BRK.B) bought the Omaha World-Herald Company for $150 million - giving the famed value investor ownership of the World-Herald, six daily newspapers and several other weekly newspapers in Nebraska and Iowa. The move was surprising especially after Warren Buffett said in 2009 at Berkshire's annual shareholding meeting that "we would not buy them [newspapers] at any price." More recently, Buffett doubled down on his bet on the industry as he reached a deal with Media General Inc. to acquired 25 daily newspapers for another $142 million in May 2012.
Is the market undervaluing the print media industry? Are publicly-listed newspaper companies poised to increase in value? And more importantly, can opportunities in digital media stoke growth in the industry again? This article aims to shed some light on the current dynamics of the industry - its risks and its opportunities.
Briefly, the U.S. newspaper publishing industry includes more than 5,000 companies that make annual revenues of around $35 billion. The industry is highly concentrated, with the top 50 companies controlling close to 80 percent of the market. Major companies include Gannett (NYSE:GCI), McClatchy (NYSEMKT:MNI) , the Tribune Company and The New York Times Company (NYSE:NYT). Because newspapers were traditionally largely funded by advertisers rather than the sale of its product, the general health of the economy is a key driver in generating revenue from the industry.
In advertising, newspapers have done horribly in either attracting or maintaining traditional revenue streams. In 2000, advertising spending on the internet and mobile devices made up only five percent of the domestic market while newspapers held a commanding share of 30 percent ($49 billion) in the same category. 11 years later, newspapers' share of advertising spending has plummeted to 12 percent ($21 billion) while internet and mobile devices grew three-fold and captured an 18 percent share. This decreasing share of newspaper advertising revenue is a concern especially because the advertising market in general has improved during the same time period.
To compound the bad news, newspaper circulation has also declined rapidly. Newspaper readers are finding new sources of information through the internet and cable television while the increase in newsstand prices and the reduction of circulation areas have also not helped its cause. The latest Audit Bureau of Circulations report released for the six months ending September 30, found that daily circulation for all 613 U.S. newspapers decreased by another 0.2 percent. The national daily, USA Today, saw its total average circulation decrease another 3.9 percent from the same period last year, while the Washington Post saw a steeper 8.9 percent decrease in the same category.
Amidst all the doom and gloom, a bright spot in paid digital models has emerged. As more newspaper outlets explore the idea of an online pay wall, there is the potential for companies to earn more revenue from circulation rather than depend on advertisers. Business dailies such as The Wall Street Journal and the Financial Times have had pay walls in place for some time and have been marginally successful in charging its relatively wealthier clientele for digital access.

In recent months, general newspapers have also caught up in establishing similar pay models. The New York Times started the ball rolling last year as it began a paid access model for the first time - signing up 100,000 digital subscriptions in the first month. A year after the launch, the paper has had a mildly successful campaign with over 450,000 unique digital subscribers (excludes print subscribers that also receive digital access for free). As a result, circulation revenue at The New York Times is now larger than advertising revenue for the first time in its storied history.
Unfortunately, not all digital pay walls work and the advent of digital media will substantially decimate news outlets that do not have a strong following or a unique reporting niche (such as business news). For example, the Boston Globe has had a less successful attempt in charging readers for its reporting as it has only attracted 19,000 unique digital subscribers in the first three months of its paid access launch. The Gannett Company, a major publisher with multiple newspapers in its stable, has also began to roll out its paid subscription in 23 markets and the results will be out very soon.
In conclusion, it seems that the industry is going through a consolidation cycle where only the fittest newspapers will survive. The ability to attract online readers to pay for quality reporting will be essential to newspapers that want to adapt to the new business landscape. Furthermore, newspapers that have a reporting niche such as business news or local news of tight knitted communities will continue to survive due to the lack of free alternative in the digital space.
Compare average analyst ratings for publicly listed U.S. newspaper publishing companies. For an interactive version of this chart, click on the image below. Analyst ratings sourced from Zacks Investment Research.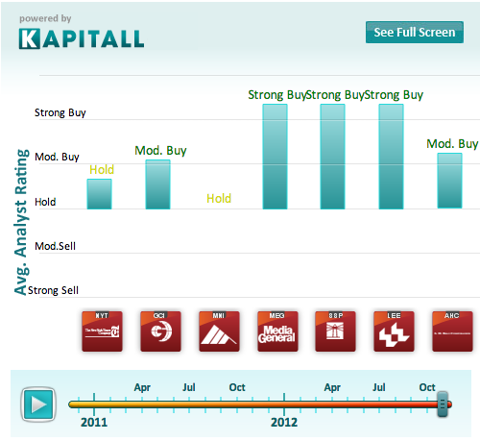 Tool provided by Kapitall.
Disclosure: I have no positions in any stocks mentioned, and no plans to initiate any positions within the next 72 hours.
Business relationship disclosure: Business relationship disclosure: Kapitall is a team of analysts. This article was written by SiHien Goh, one of our writers. We did not receive compensation for this article (other than from Seeking Alpha), and we have no business relationship with any company whose stock is mentioned in this article.