Competition between Apple, Inc. (NASDAQ:AAPL), Microsoft Corporation (NASDAQ:MSFT) and Google (NASDAQ:GOOG) has been intense. In an environment where consumer habits are migrating from traditional cell phones to smartphones and from laptops to tablets, the battle between the three technology giants has been predominantly focused on the associated hardware and operating systems: i.e. iPhone vs. Android phones, iPad vs. Surface, etc. ...
The next phase of such battle will move to content and unique services, including applications ("app") and beyond. Such competition has already started with Apple's launch of its own Maps to compete with Google Maps, as well as Apple's Siri which could ultimately pose a threat to Google's search dominance, as outlined in our article of October 17, 2012 "Google's search lead can become Apple's advantage in 5 years".
The traditional designation of a successful consumer technology company as a specialist in either hardware or software is becoming a matter of the past; an integrated product that provides complete unrivaled user experience is where the future lies. It is interesting that when Apple launched such vision in the 1980's, it almost went bankrupt, primarily due to its closed ecosystem. A few decades later, it is the idea of such ecosystem that has fueled Apple's success, while competitors scramble to catch up. This has led Google to launch its own branded cell phones and to purchase Motorola Mobility, Microsoft to launch its first branded PC - the Surface RT tablet, and reports of a pending Microsoft branded smartphone.
The quest for ecosystems inclusive of content and special services places three companies in a possible unusual buyout spotlight: Netflix (NASDAQ:NFLX), Research in Motion (RIMM) and Sirius XM Radio (NASDAQ:SIRI). It may be easy to realize the value of Netflix's movie content and Sirius' radio programming content to Apple, Google and Microsoft. As for Research in Motion, its value lies in its patent portfolio, corporate and emerging market penetration and the safety of its Blackberry messaging service. Despite the attraction of such services, do such companies offer good value for money for Apple, Google and Microsoft to possibly launch an acquisition bid, or would the price tag associated with such transaction be too expensive to justify the investment?
Netflix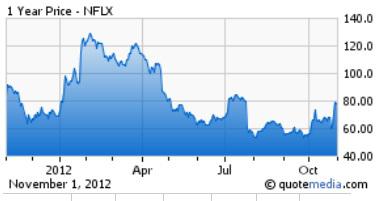 With more than 100,000 DVD titles available through Netflix, it is estimated that its streaming library exceeds 50,000 titles. Such content could be quite valuable to Apple given its rumored future launch of an Apple TV. In addition, such content is also quite valuable to Microsoft, Amazon, Google, and Apple, as tablet users often download such content to watch on their devices.
Netflix currently boasts a market capitalization of about $4.3 billion as of November 1, 2012. It was recently reported that Carl Icahn has accumulated a 10% stake in Netflix, raising speculation for a possible buyout for the company. Despite having over 30 million customers, from a valuation perspective, Netflix is quite expensive. As per our article published October 25, 2012 "10 most shorted NASDAQ-100 stocks; is it time to buy?", Netflix was already trading at a forward P/E ratio in excess of 70 prior to the spike associated with Icahn's announcement.
An outright purchase of Netflix by Apple, Google or Microsoft would not make much sense, as it would probably require a bid in excess of $ 7 billion. With several billion dollars in additional content obligations, a potential bidder such as Apple could simply spend less money to build up its own content as it has done through its iTune service. Hence, although Netflix has been identified as a possible buyout target, we categorize it as an "unusual" target due to its built-in excessive valuation, and the additional investments that would be required to maintain its content.
Sirius XM Radio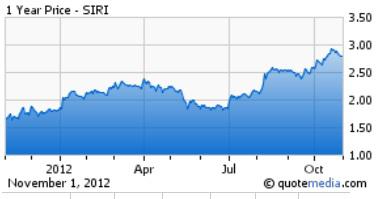 Sirius XM Radio is estimated to have over 20 million subscribers drawn to its high quality live radio content. Such content could complement Apple's iTune library enjoyed by millions of iPod users. Similarly, such content would also compliment Google's YouTube service, as well as Microsoft's efforts to beef up its own content.
Sirius XM Radio currently has a market capitalization of about $10.8 billion. With analysts' earnings expectations of $0.10 for the year ending December 2013, this yields a forward P/E ratio of about 28.1. Although such P/E ratio may seem excessive, there is a good possibility Sirius may generate higher revenues and profits in 2013 if the economy improves further boosted by an accommodative Federal Reserve policy.
Sirius shares have already benefited from its expected takeover by Liberty Media (LMCA), which already owns 49.6% of Sirius shares, awaiting regulatory approval for raising such stake to above 50%. Meanwhile, Liberty Media's current market capitalization stands at about $13.64 billion.
With Sirius' market capitalization currently standing at about 79% of Liberty Media, it would make more sense for an interested potential bidder to actually bid for Liberty Media as opposed to Sirius. However, as such attempt would probably require no less than a 30% to 40% premium above current valuations, the ultimate price tag may become too large a price to pay for content and Sirius' services.
Although an outright bid by Apple, Google or Microsoft for Liberty Media may seem unlikely due to the associated elevated valuation, the pursuit of a strategic partnership with partial ownership may actually make sense, as in the structure we have discussed for Apple and Research in Motion in our article published on February 29, 2012 "Apple and Blackberry; $16 billion or fruit salad?".
Research in Motion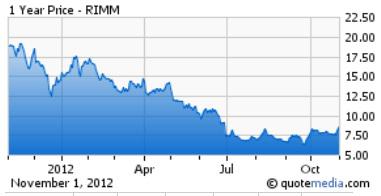 With over 80 million global customers, as the smartphone wars heat up, Research in Motion could provide Google, Microsoft and Apple a tremendous customer base to draw upon, as well as entry into emerging markets where Research in Motion has strong presence.
Research in Motion currently has a market capitalization of $4.49 billion, with about $2.1 billion in cash and no long term debt. Although Research in Motion has recorded recent losses in its earnings, it has increased its customer base to over 80 million customers worldwide, while it is on track to launch its new Blackberry 10 service early next year.
Research in Motion's Blackberry messaging service is a valuable resource to the business community, while its patent portfolio is estimated to be worth anywhere between $1 billion and $4 billion. Given its cash holdings, BBM service, patent portfolio and 80 million customers, Research in Motion's valuation is quite cheap at these levels.
Research in Motion may present a potentially profitable outright acquisition target for the likes of Apple, Google or Microsoft. Furthermore, as already mentioned earlier, an alternative strategy of a strategic partnership and partial buyout may prove to be even more lucrative, as discussed in our article of February 29. Research in Motion may seem as an unusual buyout target for these 3 technology giants, as many analysts expect them to simply put RIMM out of business. On the other hand, the intrinsic value of RIMM's assets is worth such acquisition, both from an ownership perspective, as well as from the perspective of depriving their ownership by the competition.
Conclusion
As competition between Apple, Google and Microsoft intensifies, companies with products which may provide them with various content and service synergies will become possible acquisition targets. A perfect candidate is Research in Motion, while Liberty Media (due to its ownership stake in Sirius XM Radio) may also be a good candidate for a strategic partnership or partial acquisition. Meanwhile, although Netflix seems like a good target, its valuation may not be justified at this time. Investors who share our view may choose to buy Research in Motion and Sirius, as such companies also provide good valuations. In case of an actual acquisition, such shares are likely to spike higher, while in absence of such acquisition, their moderate P/E ratios and continued growth potential would still offer an attractive investment.
Disclosure: I have no positions in any stocks mentioned, but may initiate a long position in AAPL, RIMM, SIRI over the next 72 hours. I wrote this article myself, and it expresses my own opinions. I am not receiving compensation for it (other than from Seeking Alpha). I have no business relationship with any company whose stock is mentioned in this article. I am also long calls on Apple