The case of Heartware (NASDAQ:HTWR) and by extension, LVADs, is an indicator of how efficacious medical devices in late-stage CHF can be quite lucrative for a patient class with little by way of alternative treatment options. Heartware's success can be a harbinger of things to come for Sunshine Heart (SSH), a company that also targets late-stage Congestive Heart Failure (CHF), albeit a far larger and untreated sub-segment, as we'll look at in this article.
Unmet Need in Congestive Heart Failure
CHF is a progressive disease that robs quality of life and normal functioning ability as it develops, though it usually occurs in older segments of the population. The ailment contributes to over 250,000 deaths worldwide and has four different classifications that correspond to the patient's ability and symptoms (this classification was created by the New York Heart Association). Class I heart failure is characterized as asymptomatic; class II has slight, mild limitations on activity with the sufferer being comfortable either at rest or mild exertion. Of particular importance here, are Class III and Class IV stages, (the two most concerning classes of heart failure) as they are most expensive to treat. At Class III, patients suffer a marked decrease in quality of life, with even the slightest exertion (for example, walking) causing shortness of breath and fatigue, as the disease starts to shorten life expectancy. In Class IV, patients need a transplant or device assistance for survival, as the heart can no longer pump the amount of blood necessary to meet the body's needs. Overall annual mortality in Class IV is high, ranging from 5%-20%. At Class IV, a patient must pursue heart transplantation therapy or "destination therapy" in the form of VADs, Ventricular Assist Devices, in order to survive. The most common VADs are LVADs, or Left Ventricular Assist Devices. This disease affects about 6 million people in the US and over 6 million in Europe, with over 600,000 newly diagnosed patients annually in Europe and over 500,000 patients being newly diagnosed in the US. It has become the most common hospital discharge diagnosis for those over the age of 65, and has become an incredibly expensive disease, costing over $25B annually.
How LVADs Became Standard-of-Care
Increasingly, LVADs are becoming a leading choice of treatment for Class IV heart failure. After decades of research, the first modern LVAD, produced by Thoratec (NASDAQ:THOR), was approved by the FDA in 1994 for bridge to transplantation therapy-meaning that the device could be used by a patient for several years while they awaited a heart transplant. Substantial advances have since been made in LVAD creation, and in 2002 the FDA approved the first LVAD for permanent use. Far superior to the old alternatives of pharmaceuticals and palliative care, LVADs literally give patients a new lease on life, allowing them to elevate their quality of life, where once there was a void. Patients were forced to simply wait and hope for a timely transplantation. Dr. Steven W. Boyce, of the Department of Cardiac Surgery at Washington Hospital Center, explains:
"Today's LVAD patients have at least an 85% one-year survival rate and can enjoy fulfilling lives and in many cases even return to work. By contrast, advanced heart failure with medical therapy alone is known to have a 25-50% one-year survival rate."
LVADs work by continuously taking blood from the left ventricle and then moving it, via pump, to the aorta, which then distributes blood to the rest of the body. As LVAD technology has proved to be effective, demand for the product has grown. With a patient class so ill that technological advances are readily welcomed, an effective device in the late-stage CHF space, like the LVAD, can quickly gain significant traction. Consequently, the LVAD space has grown from a virtually non-existent entity in 1994 to a $237MM market as of 2009 and projects to experience staggering growth to $900MM by 2015.
Heartware Helped LVADs Gain Notoriety
Once the unanimous leader in the LVAD market, Thoratec has lost share to Heartware International, whose device is looking for FDA approval as a treatment for Class IV CHF patients by year's end. This is concerning, particularly since Heartware's LVAD, the Heartware Ventricle Assist Devices (HVAD) was only approved in the European Union (EU) in January of 2009. The success of the HVAD is attributed to its sleeker, lighter, smaller design: requiring less invasive surgery than that of market leader, Thoratec or by extension traditional LVADs. Evidently, surgeons also prefer the Heartware device over Thoratec's for the smaller device profile and the fact that it requires less invasive surgery. Consequently, Heartware has seen its share price rise substantially over the course of the past 6 months based on both an FDA advisory panel voting 9-2 in favor of approving the device for use in the United States and product traction seen oversees in Europe with the company implanting more LVADs than market leader Thoratec. With this, Heartware marks a second consecutive quarter of taking market share from Thoratec. And their success has inevitably reflected in the growth of the company's valuation and stock price (as shown, below).
Heartware International: Performance by Quarter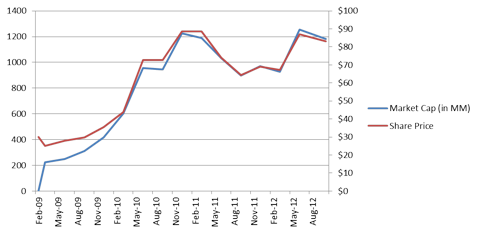 Enter Sunshine Heart
Heartware's market value (or 'intrinsic' value, if you will) has been driven largely by moments where their technology has been proven effective, specifically through regulatory approvals, successful trials, and later commercialization in the EU. The historical increases in market capitalization and share price have coincided with positive news for Heartware either on the sales front, in the regulatory environment, or in the clinical setting. Sunshine Heart, who is developing a device to treat Class III (and potentially later on, Class IV) heart failure, won't compete with Thoratec for market share, and hasn't an improved LVAD to showcase. Instead, the company plans on addressing an unmet sub-segment of heart failure - Class III patients - who are at least 7x the size of the Class IV market. The company's experimental device, which they call 'C-Pulse' is implanted in a non-invasive surgical procedure, which circumvents the risks associated with clot and infection that afflict LVADs and by extension Heartware's HVAD. Sunshine Heart's device has shown exceptional promise in a feasibility trial, with a superior safety profile (for the reasons mentioned, among others) when compared to Heartware's HVAD - sort of the next best thing out there. This warranted further investigation, which explains why the FDA was prompt in granting Sunshine Heart approval to run a 288-patient trial that will determine its place in treating late-stage heart failure. Since Sunshine Heart's device would be running unopposed, any positive data from the ongoing trial could prompt speculation that the device could become a standard of care (SOC) in its segment.
The value proposition for investors looking at Sunshine Heart is reminiscent of Heartware, two or three years ago - but at a much more compelling valuation. Value will continue to be unlocked as C-Pulse gains traction overseas and Sunshine Heart begins to flow cash from operations overseas. Physicians' reactions and testimonies will inevitably propel the company's valuation, particularly given the efficacy and safety profile the device has shown to-date. Meanwhile, C-Pulse will continue to be investigated in the United States, with interim data likely to surface by early 2014. The company's ability to enroll subjects in the 288-patient trial will also demonstrate the need for a Class III heart failure therapy - the C-Pulse device. Other catalysts could include collaborations, licensing deals, and possibly an acquisition by a larger device company. Thoratec, as mentioned, has been losing out to Heartware. Interestingly, the company likely foresaw this being a real threat a few years ago when Thoratec was blocked by the trade commission in their attempt to acquire Heartware. This places Sunshine Heart in the takeover seat as Thoratec continues to bleed share to Heartware. And, once more, rather than pure speculation, this becomes a matter of clinical data that Sunshine Heart reveals not too long down the road.
Heartware's Humble Beginnings Suggest Large Upside For Sunshine Heart
With an initial market capitalization of about $222MM, Heartware initially traded downwards for 6 months in the same way that Sunshine Heart has recently, until Heartware began an upwards trend that lasted almost two years with their market capitalization and share price steadily climbing until January 2011. The largest bumps came on the heels of clinical trial data releases that demonstrated the effectiveness of the HVAD, sales figures that represented increases in year-over-year revenue, and achievement of clinical trial endpoints. After falling for most of 2011, due to lowering sales guidance among other factors, HTWR rebounded on the strength of continued sales and then rose sharply after an FDA Advisory panel recommended approval of the HVAD for Class IV heart failure, 9-2. C-Pulse has already proven to be an effective solution for Class III CHF in its feasibility study, which included 20 patients (18 with Class III and 2 with Class IV). The average NYHA classification was 3.1 at baseline, which improved to 2.2 after 6 months and 1.9 after 12months. With such success, the company's positioned to grow in value, as they plan to present 12-month follow-up data from the feasibility study at a major medical conference this quarter and expect that data to be featured in a major medical journal. These moves can certainly be catalysts for stock price increases and market valuation increases, as they once were for Heartware.
HVAD's trajectory maps out a path that C-Pulse is likely to follow due to the many similarities that they share. Targeting late stage heart failure, both devices have achieved CE Mark approval and show promise in the respective investigational studies being conducted for eventual FDA approval. Both devices also present a new approach to treating late-stage heart failure for a patient class that is in dire need for better treatment. While Heartware received FDA Advisory panel approval in April, Sunshine Heart Inc. has also had a strong year. In July, the company reported the first patient to complete the two year follow up from the North American feasibility trial which ended enrollment in 2011, with a doctor lauding the marked improvement seen in a patient's condition as a result of the C-Pulse. This drove Sunshine Heart stock prices up. Like Heartware's LVAD, C-Pulse has also received similar support from the FDA, recently being approved for an IDE and cleared for a pivotal trial set to begin in Q4 2012. This year alone, SSH has been listed on the NASDAQ, achieved both CE Mark approval and the aforementioned US IDE approval, and will start enrolling patients for its IDE pivotal trial; similar moves drove Heartware shares prices and valuation permanently upwards after some time, which is suggestive of a similar outcome for Sunshine Heart.
Heartware and Sunshine Heart share similar paths, but Sunshine Heart possesses a few advantages that hint at a higher ceiling than Heartware. Unlike HVAD, C-Pulse is so effective that it reverses the disease. Of the over $25B in annual costs of caring for CHF, $15B of that is due to readmission for patients. With Sunshine Heart's ability to reverse the disease, this cost of care for CHF can fall sharply with fewer patients needing re-admittance. While Heartware's LVADs serve the Class IV heart failure population, estimated to be about 240,000 patients, the C-Pulse treats the Class III patient population - a class that has no established effective device-estimated to be much larger at about 1.1M-1.2M patients. Without competition and with a very sick patient population, C-Pulse can quickly become the standard of care in the space, should it remain effective and safe; Heartware was able to expand while facing stiff competition, so one can only imagine how C-Pulse will fare without any competition. Canaccord estimates that C-Pulse achieving a 10% penetration level can translate into a $5 Billion market opportunity. (While there are competing medical devices in their development stages, none of these devices have the advantage of implantation without blood contact.) Implantation is another key distinction between the two cardiac devices. C-Pulse can be implanted via minimally invasive procedure that requires a small incision in the chest that does not involve blood contact, while the HVAD is placed in the pericardial space by a more invasive procedure. Heartware HVAD's smaller profile and less invasive surgery has allowed it to take significant share from Thoratec, so the C-Pulse, external to the circulatory system itself, offers a distinctive advantage in the treatment of heart failure. In particular, it could become a serious threat to LVAD manufacturers like Thoratec and Heartware.
Why Sunshine Heart Offers Unparalleled Upside
Advisory panels are usually reserved for drugs or devices with questionable or concerning safety profiles. As always, the FDA rules on a balance of benefits/risks, meaning the advisory board plays a role in uncovering issues the FDA will inevitably consider in their decision, but more importantly, issues that physicians will have to deal with on a patient-by-patient basis. The two "against" [Heartware's heart failure device] votes were based on concerns that the device increases the risk of thrombosis (clots), which could lead to life-threatening complications. On a balance of benefits/risks, it would seem thrombosis would be accepted if there were no other alternatives. For Class IV heart failure there aren't (as we've overviewed). But a few years down the road (perhaps sooner) Sunshine Heart's C-Pulse will offer a superior product in one that does not come into contact with blood circulation, which would completely void the possibility of a clot event. At that point, physicians will have the ability to weigh other alternatives before prescribing HVAD to a patient with late-stage heart failure. Further, an increasing incidence of serious adverse events could force the FDA to pull any device that no longer meets the benefit/risk profile once assumed to fit it. This could include LVADs and equally, Heartware's HVAD.
To follow up on the market opportunity - $5 Billion - as an analyst at Canaccord Genuity put it, Sunshine Heart is trading at unprecedented levels. Let me illustrate. If in 5 years, Sunshine Heart stands to realize anything remotely close to this figure - $5 Billion - today's valuation implies the discount would have to be >99%. Looked at another way, if you were to discount $5B over 5 years at 99%, you would still end up with a present value of more than $160 million. What's shocking about this is that Sunshine Heart has traded, of late, at around a $60-something-million dollar valuation. This suggests an absolutely unprecedented opportunity in a grossly undervalued medical device company - Sunshine Heart. And yet, these estimates could prove conservative and imply an even larger opportunity for the company. Notwithstanding, investors seem to be missing that the key value drivers over the next 12 months will be a precursor to a very significant appreciation in value should Sunshine Heart continue to deliver staggering results with its C-Pulse device. As we eagerly await those results, investors will find key value drivers in the company's 12-month follow up data from the feasibility trial, publication in distinguished medical journals, product launch and traction in the European Union, patient and physician testimonies on C-Pulse, and an increasing incidence of adverse reactions to LVADs/HVADs - which will further validate the need for both a safe and efficacious alternative in heart failure therapy.
Disclosure: I am long SSH. I wrote this article myself, and it expresses my own opinions. I am not receiving compensation for it. I have no business relationship with any company whose stock is mentioned in this article.