The Walt Disney Company (NYSE:DIS), together with its subsidiaries, is a diversified international entertainment company, operating in five segments: Media Networks, Parks and Resorts, Studio Entertainment, Consumer Products and Interactive Media. Disney owns a collection of valuable assets, including the most famous characters, such as Mickey Mouse and Winnie the Pooh; however, its media networks are the backbone of this conglomerate, generating more than half of the company's operating profit. With its solid fundamentals and strong cash flow, DIS will continue to enjoy its competitive strengths for many years. In the near term, DIS will be negatively impacted by the economic slowdown due to its consumer cyclical nature.
Recent Development and Fundamentals Overview
On Oct. 30, 2012, DIS announced a deal to acquire Lucasfilm at the cost of $4.05 billion, where DIS will pay about $2 billion in cash and the remainder in stock, issuing 40 million shares, as reported by Market Watch. Investors are concerned if the deal is over-priced and if DIS can create synergy for Lucasfilm through its media empire. It is a $4.05 billion question waiting to be answered in 2015, when the Star Wars Episode 7 is rolled out, as reported by Wall Street Journal. Fortunately, DIS had done two mega deals in the past, Pixar with $7.4 billion in 2006 and Marvel with $4 billion in 2009, which were subsequently proven to be successful through the release of blockbuster movies, such as "Iron Man" and "The Avengers". Pixar and Marvel characters can also be promoted throughout DIS's set of studios, resort and theme-park assets in the U.S. and abroad. In short, we believe DIS's stock price might be negatively affected by this acquisition in the short term; however, in the long term, Lucasfilm will provide new forces for DIS to grow and perhaps make another new all-time-high.
Below, we will take a quick look at DIS's fundamental key stats as compared to the averages in the diversified media industry.
| | | |
| --- | --- | --- |
| Key Stats | The Walt Disney Company | Industry Average |
| Price/Earning ttm | 16.3 | 19.5 |
| Price/Book | 2.2 | 2.2 |
| Price/Sales ttm | 2.1 | 1.8 |
| Revenue Growth (3 Yr Avg) | 2.6 | -1.4 |
| EPS Growth (3 Yr Avg) | 3.4 | 27.0 |
| Operating Margin % ttm | 20.6 | 17.7 |
| Net Margin % ttm | 13.2 | 9.4 |
| ROE ttm | 14.0 | 11.1 |
| Debt/Equity | 0.3 | 1.4 |
Source: MorningStar
Although DIS's revenue growth of 2.6 for the 3 year average is higher than the industry average of -1.4, DIS's EPS growth of 3.4 is much lower than the industry average of 27.0. However, DIS's solid fundamentals are supported by its higher operating margin and net margin of 20.6% and 13.2%, comparing to the averages of 17.7% and 9.4%, as well as its 14.0 ROE, which is also higher than the industry average of 11.1. Investors should also be comfortable with DIS's low debt-to-equity of 0.3, as compared to the average of 1.4.
Technical Analysis
On Thursday, DIS closed at $49.78 with 1.34% gain, where the volume of 10.58M is 37.9% more than the 30 day average of 7.67M. In the past 52 weeks, DIS had been trading in the range of $33.28-$53.40. Since Sep. 26, 2012, the MACD (12, 26, 9) indicator had been showing a bearish sign and had broken down below its 50-day MV of $51.26 on Oct. 23, 2012. From the momentum perspective, the RSI (14) at 39.39 had started to show the reduced selling momentum. In the short term, if DIS can move and stay above its 50-day MV, the next resistance will be $52.35 (pivot point, S1), followed by $54.93 (pivot point, S2), as seen from the chart below. The next major support will be at 200-day MV of $46.26.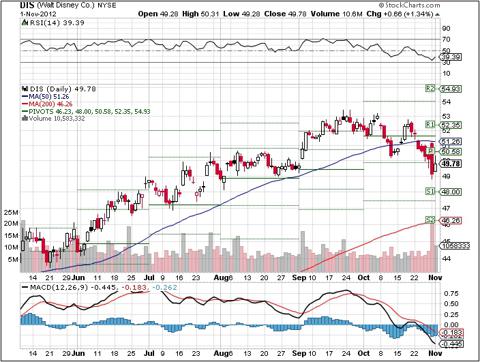 Source: StockCharts.com
Options Play
The long-term outlook for DIS is very strong and optimistic. In the short term, more selling pressure is expected due to the upcoming economic uncertainty. We will review the following bear put spread for the traders who have a short-term bearish view.
Buy 1x Dec. 22, 2012 Put at the strike price of $47.00 for the cost of $0.82
Short 1x Dec. 22, 2012 Put at the strike price of $45.00 for the credit of $0.46
The maximum risk is $0.36 and the maximum profit is $1.64, where the potential gain is 355.6%, if DIS falls to $45 or below by Dec. 22, 2012.
However, for long-term investors who are bullish for DIS and would like to acquire DIS stock at a discounted price, we will review the following credit bull put spread below:
Short 1x Jan. 19, 2013 Put at the strike price of $46.00 for the credit of $0.88
Buy 1x Jan. 19, 2013 Put at the strike price of $44.00 for the cost of $0.51
The maximum credit/profit is $0.37 and the maximum risk/margin requirement is $1.63, which translates into 22.7% return for the margin used if DIS closes above $46 upon options expiration. However, if DIS falls below $46 on Jan. 19, 2013, the acquisition cost for DIS will be $45.63, which gives 8.34% edge over the current price of $49.78.
Note: All the prices are quoted from the closing of November 1, 2012 and all calculations are before fees and expenses. Investors and traders are recommended to do their own due diligence and research before making any trading/investing decisions.
Disclosure: I have no positions in any stocks mentioned, and no plans to initiate any positions within the next 72 hours. I wrote this article myself, and it expresses my own opinions. I am not receiving compensation for it (other than from Seeking Alpha). I have no business relationship with any company whose stock is mentioned in this article.