On Oct. 29, 2012, Baidu (NASDAQ:BIDU) released its financial results for Q3. What can we learn from the company report? Let's summarize some of the most important facts. Baidu reported total revenues of $994.6 million, representing a 49.7% increase from the corresponding period in 2011. Net income attributable to Baidu was $478.6 million, representing a 59.8% increase from the corresponding period in 2011.
The table below shows the revenues and the net income of the company for the last several quarters.
Click to enlarge images.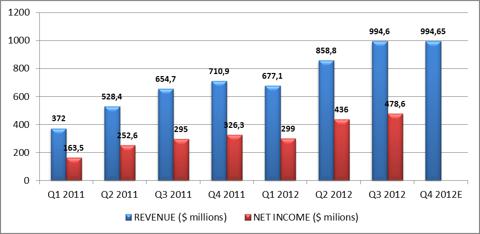 Diluted earnings per ADS for the third quarter of 2012 amounted to $1.37. Analysts expected that the company earned $1.28 per ADS. It was the fourteenth consecutive quarter the company has beaten analyst estimates.
The table shows the diluted earnings attributable to Baidu per ADS for the last several quarters.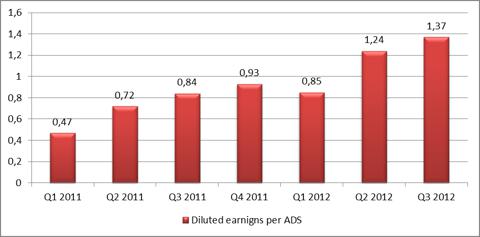 Baidu managed to increase the active online marketing customers to 390.000. It was a 28.3% increase from the corresponding period in 2011 and a 10.8% increase from the second quarter of 2012. Another positive fact is the increase in revenue per online marketing customer (16.8% increase from the corresponding period in 2011) and a 3.2% increase compared to the second quarter of 2012.
Baidu has invested heavily in the mobile (mobile browser, mobile maps with LBS functionality) and cloud related services (cloud infrastructure to third-party app developers). These areas may be key for future growth of the company.
Baidu subsidiary iQiyi (China's leading online television and movie portal, launched only two years ago in 2010) has grown rapidly. Monthly unique visitors reached 407 million (last quarter it was 250 million), and monthly user time spent increased by over 100% year on year in August.
Major negative news was lower-than-expected guidelines for Q4 -- analysts expected revenue of $1.03 billion, while the company announced expectations of total revenues in an amount ranging from $979.3 million to $1.010 billion. It may be partly due to the overall economic slowdown in China, but it also may be due to activity of new competitors in the market, such as Qihoo 360 Technology (NYSE:QIHU).
Market reaction to the Q3 report was negative. After the reports shares of Baidu went down more than 6%. It seems that investors have concentrated on Baidu's lower-than-expected guidelines for Q4, ignoring excellent results for Q3.
Although I think that fundamentally Baidu is very attractive (low valuation and high growth), in my opinion the sentiment for the shares of the company will remain negative for the next several weeks. So it will not be a good short-term investment. I hold the view that the long-term business prospects of the company remain positive. Investments in cloud and mobile services will lead to new monetization opportunities. The sentiment toward Baidu will change if the majority of investors begin to believe in such a scenario.
Technical analysis shows the important support at $100-$106 level. I think that $100 level will be tested, and if shares break this level it may lead to a further sell-off.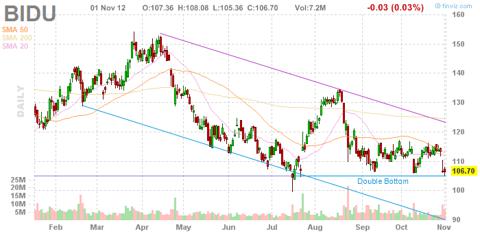 Disclosure: I have no positions in any stocks mentioned, and no plans to initiate any positions within the next 72 hours. I wrote this article myself, and it expresses my own opinions. I am not receiving compensation for it (other than from Seeking Alpha). I have no business relationship with any company whose stock is mentioned in this article.