Hurricane Sandy has earned the title "Storm of the Century" after ravaging the most populous part of the United States. At latest count, more than three dozen people had lost their lives. It will also be one of the most expensive disasters in US history. Property damage is estimated at $20 billion and counting. Estimates of the cost of lost business range from $10 billion to $30 billion and rising. (Some hurricane cost estimates are running as high as $80 billion)
The point of today's posting is not to minimize the hardship that Sandy has brought to American shores. Instead, I wish to invest in companies that will find their products and services in demand after the storm as America recovers from Sandy.
Doing it Yourself
The obvious choices among companies that will generate revenues from Hurricane Sandy are Home Depot (NYSE:HD) and Lowe's (NYSE:LOW). Both companies were quick to stock up on supplies like plywood and generators in advance of the storm's arrival on land.
About 350 people from Home Depot moved into a command center at the company's Atlanta headquarters as Sandy moved toward the east coast. Representatives from truck companies joined Home Depot executives to find every truck available to deliver supplies that would be needed before and after the storm hit.
In the wake of the storm, they will be selling a lot of building supplies, as do-it-yourself homeowners struggle to rebuild.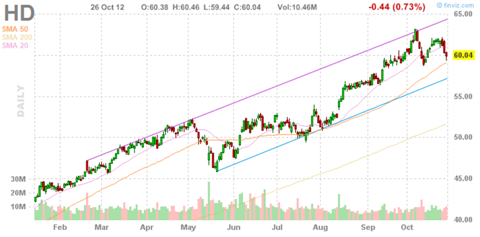 Home Depot was flirting with 52-week highs before the storm and was highly valued, but the sheer volume of business at home improvement companies along the entire east coast is certain to affect revenues and profits.
The company says that after a storm many customers want things like kerosene heaters, cleanup supplies and bleach, and the company has been moving those goods east. Obviously, hardware, tools and materials used in repairs will also be in demand.
Home Depot executives told the New York Times that the company had a similar response team in place for Hurricane Irene, but this storm should have a much bigger impact.
Both Lowe's and Home Depot did receive a financial boost from Hurricane Irene recovery efforts last year. Since then, Lowe's has been a much more volatile stock play than Home Depot.
Generating Profit
Wal-Mart (NYSE:WMT) has been making disaster relief a part of its business for more than a decade. Its disaster distribution centers are always stocked with basics like water, propane and ready-to-eat meals. The giant retailer is also moving emergency supplies like shovels, blankets and generators to its disaster centers.
Because Wal-Mart is a diversified retailer, it may make gains on selling disaster relief supplies, but will likely lose revenue due to store closures and other lost sales during this crucial season for retail.
It is worth paying attention to one of the essential items being sold heavily by all major retailers: generators.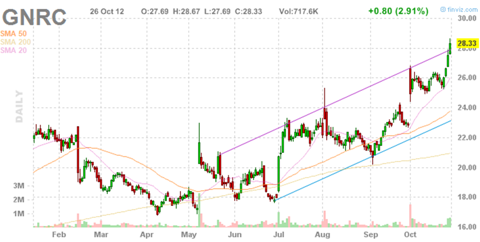 Millions of people are still without power, and Generac (NYSE:GNRC) is one of the companies that will help out. Generac designs, manufactures and markets a wide range of generators for the US residential, light commercial, and construction markets. Generac stock already had a healthy pop before the storm hit, but its valuation still remains quite reasonable.
Don't Short Insurance
The insurance companies with greatest exposure to the east coast are Travelers (NYSE:TRV) and Chubb (NYSE:CB). Allstate (NYSE:ALL) is also a company that will feel the effects of Sandy because it is ranked as America's second-largest home insurance firm. But it would be a mistake to think that tens of billions of dollars in property damage caused by the storm will translate into devastating losses for insurance companies.
Most insurance companies say they are well capitalized for this kind of event and they have enjoyed a relatively light year so far in terms of claims. In addition, the majority of homeowners affected are unlikely to have flood insurance because flooding in the affected areas is so rare.
Homeowners in regions like Florida and Louisiana know that they need three kinds of insurance to deal with the danger of hurricanes. In addition to standard homeowner's insurance, separate policies for flood damage and windstorm effects must be taken out. Sadly, most property owners north of the Carolinas are unlikely to have invested in all three essential forms of hurricane protection.
Repair Essentials
In the wake of the storm, certain supplies will be basic to repairing damaged homes and buildings. Drywall is one of the commodities that will be in large demand as homeowners rip out soaked gypsum paneling before mold sets in.
USG Corporation (NYSE:USG) is one of America's leading drywall companies and it has been ramping up production as the U.S. housing market recovers. (USG is also recommended by one of my premium newsletters).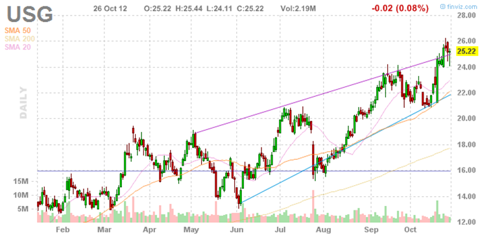 Another name to consider is a high-flyer in the paint and coatings business, Sherwin Williams (NYSE:SHW). With millions of homes affected, it's reasonable to expect paint demand to ramp up even further. I'll also mention two plays on roofing repair. They are Owens Corning (NYSE:OC) and Beacon Roofing Supply (NASDAQ:BECN).
In all of these stocks, the effects of the hurricane recovery will be temporary. So please consider any investments in these recommendations as short-term plays for a relatively quick return.
In closing, it would be impolite of me to close without expressing my sincere sympathy for the tens of millions of people who have suffered personal and property losses because of this storm.
I truly wish you all the very best and a speedy recovery.
Disclosure: I have no positions in any stocks mentioned, and no plans to initiate any positions within the next 72 hours. I wrote this article myself, and it expresses my own opinions. I am not receiving compensation for it. I have no business relationship with any company whose stock is mentioned in this article.