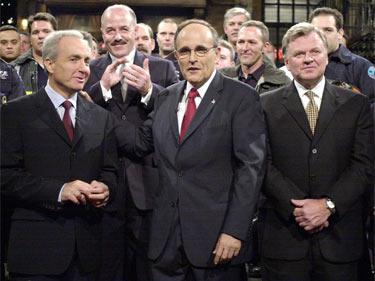 Less than 3 weeks after the 9/11 attacks on the World Trade Center towers, the cast of Saturday Night Live took center stage with members of New York City's Police and Fire Departments. The most memorable line of that season may have been Rudy Giuliani's response to producer Lorne Michaels, whose cast was exhorted by Giuliani to take the stage and begin the climb back that New Yorkers were so capable of doing.
"But, can we be funny?" asked Michaels.
"Why start now?" was the response.
Other than the need for human safety, that was likely the reason behind the decision to close the markets on Monday and Tuesday. After preliminary reports that the NYSE would turn it all over to its Arca Exchange and execute all trades electronically, it decided "why start now?" Surely, there would be a better time to test a contingency plan.
This week as I was searching for possible stock selections, I decided that instead of a random process and one that utilizes no accepted analytical tools, I was going to focus on fundamentals and detailed technical analyses.
And then I wondered, "Why start now?" When would things ever get so bad that I would have to do those things? Of course, there were also safety considerations.
On the best of weeks, I may end up sending Trading Alerts to subscribers on 60-80% of weekly selections. There are always reasons for not following through on a particular stock, sometimes the reasons make as much sense as the selections. This past week only 20% of last week's picks made it past the gate as their particular selling points, such as an ex-dividend date, or an earnings release, came and went on Monday or Tuesday as the flooded trading floor of the NYSE was being drained of its fictional water.
When the market finally opened on Wednesday, with much of Manhattan still reeling from the devastation, making a strong stance one way or another seemed like a foolish thing to do as there were so many uncertainties in the air. Besides, the weekly option premiums associated with stocks bought on Wednesday and expiring just two days later just weren't very appealing. As it turned out only 20% of the prospects got the call, but no matter, because there was always next week.
And this week, with no obstacles on the radar screen, there are plenty of new opportunities, especially with Friday's late afternoon fall erasing Thursday's gain. As always, the week's stock selections fall into the Traditional, Momentum, Double Dip Dividend and Premium Enabled by Earnings (PEE) categories (see details).
This week, the Traditional stocks are heavily skewed toward dividend plays. Among the first on the list, not just alphabetically on the basis of ticker symbol, is Apple (NASDAQ:AAPL). Although it was probably my imagination that believed that those poor souls in the crowded waiting room with me on Friday seemed ashamed to be toting Apple products, I'm sure that the duct tape over the familiar logo was coincidental. With shares going ex-dividend this week and being in what has been referred to as "correction territory," it's hard to resist the temptation.
MetLife (NYSE:MET), which was on the list a few weeks ago, is still waiting for its turn, but this week, as it goes ex-dividend could be just the time. What's somewhat unusual about shares is that they distribute the dividend annually, rather than quarterly. That's actually a perfect formula for attempting to double dip by selling an in the money call option and enticing someone to exercise an early assignment to capture the dividend. In the event that the bait isn't taken and pricing efficiency isn't always the name of the game, this could be an especially easy way to enhance return.
Pfizer (NYSE:PFE) hasn't been an especially exciting stock for a while, but every now and then, it too, becomes a potential double dip dividend play. That's especially true as its meager option premiums are no longer obscured by overly wide strike price levels. With half dollar strike levels on weekly options, if shares trade near one of those levels, the premium together with the dividend on an in the money call is an appealing return for just a few days of holding, if assigned.
Wells Fargo (NYSE:WFC) is a frequent mention. Although I currently own shares, as it goes ex-dividend this week, I may be encouraged to add even more. The stock rarely stays in my portfolio very long as it is just as frequently assigned. It has been trading very consistently within a narrow range for the past few months and frequently returns to a level that makes it welcome at any time back into the portfolio.
The non-dividend paying members of the Traditional category this week are Halliburton (NYSE:HAL) and Williams Companies (NYSE:WMB). The energy patch hasn't fared terribly well the past week. Both are just at the right price to add as new purchases or to help save more expensive priced lots through their personal sacrifice for the greater good. I've frequently purchased these shares at lower prices just to abuse them for their option premiums to help offset paper losses on more expensive lots. Neither pride nor shame are particularly necessary to restore positions to health.
Among shares that were unusually punished this week after reporting earnings was AIG (NYSE:AIG). It is one of those stocks that I've been looking for opportunities to purchase. I've had it on the list many times over the past few months but have only owned it for two short periods. Its tendency to rise in price when I don't own it often precludes me from buying it and the same tendency when I've sold calls on it precludes me from owning it very long. For one, I agree with its CEO, Robert Benmosche, that he should be getting thanks for the job that he's done with the company. There was certainly no shortage of outcries when AIG was rescued, but there appears to be such a shortage to recognize what it has accomplished in a few short years. With more AIG-like investments, the national deficit wouldn't be as frightening.
Baidu (NASDAQ:BIDU) was one of those unrequited choices from last week. Unlike many others that postponed earnings releases, being a Chinese company, they don't necessarily share our concern for accounting standards nor shoreline devastation. It was chosen last week as a possible earnings play, but this week it has to make it on its own merits. Being able to maintain its price above $100 for awhile even after some earnings disappointments makes it worthy by my standards.
The lone earnings play this week appears to be JC Penney (NYSE:JCP). It too was on my list last week, but never got the call. This week, however, it reports earnings before Friday's opening. For me, that is the ideal scenario to attempt to look for an opportunity to find a deep in the money option premium that has some excessive speculative value, such that the risk of a large drop in share price is still more than offset by the option premium. Although retail has been faring well of late, the question has to be has it been at the expense of JC Penney? As of this moment, even a 10% drop in share price would still leave enough over from the premium to result in a 1.6% ROI. Obviously, that can and will change as the week progresses, but I'll be watching.
Why stop now?
Traditional Stocks: Apple, Halliburton, MetLife, Pfizer, Wells Fargo, Williams Companies
Momentum Stocks: AIG, Baidu
Double Dip Dividend: Apple (11/7), MetLife (1/7), Pfizer (11/7), Wells Fargo (11/7)
Premiums Enabled by Earnings: JC Penney (11/9 AM)
Remember, these are just guidelines for the coming week. Adjust accordingly with market movements, and you'll have the makings of a healthy income stream for the week with reduction of risk.
Disclosure: I am long WFC, WMB, HAL. I wrote this article myself, and it expresses my own opinions. I am not receiving compensation for it (other than from Seeking Alpha). I have no business relationship with any company whose stock is mentioned in this article.
Additional disclosure: I may initiate positions in AAPL, AIG, BIDU, JCP, MET, PFE