Preferred stock investors have endured a massive number of redemptions of REIT-issued preferreds and exchange-traded debt securities (ETDs) throughout 2012 [1], but the abundance of calls is likely to now subside through 2015.
Five Year Redemption Period
Almost all REIT-issued preferred stocks and ETDs [2] have a five year redemption period. Five years after their introduction to the marketplace, the issuing company regains the right to redeem the security (buy your shares back from you).
That means that for the rest of 2012, 2013 and 2014 the REIT-issued preferred stocks and ETDs issued during late-2007 through 2009 are about to become redeemable. In other words, the five-year call window is now opening for REIT-issued preferred stocks and ETDs that were issued during the Global Credit Crisis.
The Global Credit Crisis: March 2007 through 2009
But it is the timing of the crisis years, overlaid with the five year redemption period of most REIT-issued preferred stocks, that is about to bring relief from the constant redemptions we have seen this year. Because of the economic dynamics during the crisis years, REITs all but stopped issuing preferred stocks.
Between March 2007 and December 2009, cash-starved banks started issuing preferred stocks (primarily trust preferred stocks) offering higher and higher dividend rates, all the way up to 9.6% (BBT-B from BB&T Corporation (NYSE:BBT), since redeemed), in order to attract wary investors.
At the same time, vacancies of existing commercial properties soared and 60% of the licensed architects in the United States were estimated by the American Institute of Architects to be idled. The need for expansion capital by REITs went to nearly zero.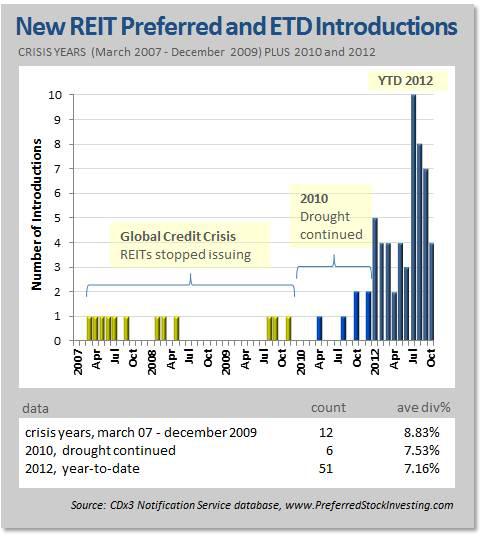 Historically, REITs issue about two new preferred stocks and ETDs per month. During the 34 month crisis period (March 2007 through 2009) there were a total of only twelve new preferred stocks and ETDs introduced by REITs. The above chart also shows how that compares to the bumper crop of 51 new issues that today's lower rates triggered throughout the first ten months of 2012 [3].
Since so few REIT preferreds were issued during the crisis years, five years later we have now entered the corresponding redemption gap for these securities. In fact, since only six REIT preferreds were introduced during 2010 it is likely that the redemption gap for REIT-issued preferred stocks and ETDs will continue through 2015.
Pre-Crisis Issues Show No Sign of Redemption
It can also be argued that most of the REIT preferreds issued prior to 2007 that are going to be called already have been since preferred stock dividend rates, having hit new lows during the summer, appear to have leveled off. Currently, rates offered by new issues are relatively stable.
Of the 163 dividend-paying, REIT-issued preferreds and ETDs currently trading, 67 were issued prior to 2007 and have higher dividend rates (coupon) than today's going rate of about 6% for such securities. And note that about one-third of these issues carry Moody's investment grade ratings, too [4].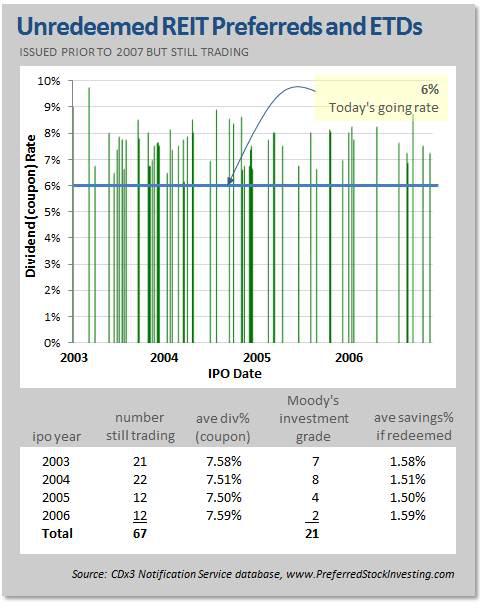 All of the above 67 securities have been redeemable for one to five years now. Given their average 7.5% dividend rates, there is substantial cost savings to be had (1.5%+) by redeeming these issues in favor of new, lower payers. And yet, all have continued trading.
The implication here is that dividend cost savings is apparently not the primary motivation for the issuing companies of these long-redeemable securities.
Given the alignment of the Global Credit Crisis and the five-year redemption period of REIT-issued preferred stocks, very few of which were issued during the crisis years, the breakneck rate of REIT preferred stock redemptions that preferred stock investors have endured this year should now subside.
While there are certain to be exceptions, if you hold redeemable REIT-issued preferred stocks and/or exchange-traded debt securities in your portfolio, there is every indication that you are likely to be enjoying the great 7.5% dividend income that they provide for the next several years.
Footnotes:
[1] Source for all preferred stock data in this article: CDx3 Notification Service database. Disclaimer: The CDx3 Notification Service is my preferred stock email alert and research newsletter service and includes a database of all preferred stocks and Exchange Traded Debt Securities trading on U.S. stock exchanges.
[2] Exchange Traded Debt Securities are very similar to, and often mistaken for, preferred stocks but are actually bonds that trade on the stock exchange rather than the bond market. As debt, rather than equity, ETDs generally represent lower risk than the same company's preferred stocks. See "Preferred Stock Investors: 'Exchange Traded Debt Securities' Offer Same Reward, Lower Risk" for more information.
[3] The December 19, 2011 Seeking Alpha article titled "REIT Preferreds: An Attractive Alternative To Big Bank TRUPS In 2012" provides more detail on the approaching popularity of REIT preferreds as we entered 2012.
[4] To improve the readability of the unredeemed security chart, this data omits two issues from 1996: PPS-A from Post Properties (NYSE:PPS), PLDGP from ProLogis (NYSE:PLD) and two from 1997: SPG-J from Simon Property Group (NYSE:SPG), SFI-D from iStar Financial (SFI).
Disclosure: I have no positions in any stocks mentioned, and no plans to initiate any positions within the next 72 hours. I wrote this article myself, and it expresses my own opinions. I am not receiving compensation for it. I have no business relationship with any company whose stock is mentioned in this article.
Disclaimer: Preferred stocks identified within this article are for illustration purposes only and are not to be taken as recommendations.