"For which of my bad parts didst thou first fall in love with me?"

-William Shakespeare, Much Ado About Nothing
Stocks have struggled notably over the last several weeks. Ever since the Fed launched into its latest bout of monetary easing in the ongoing effort to game the economy higher, the stock market has pulled a trick of its own. Overall, stocks as measured by the S&P 500 Index (NYSEARCA:SPY) have shed -3.5% of their value over this time period. This stock betrayal of its seemingly endless romance with Fed stimulus has understandably sparked dismay among many that the market rally of the last several years may finally be drawing to an end. But behind the mask of this latest market decline resides a very different story. Instead of viewing the recent pullback as a cause for concern, instead it stands as further proof of how dumbfoundingly resilient the stock market continues to be.
images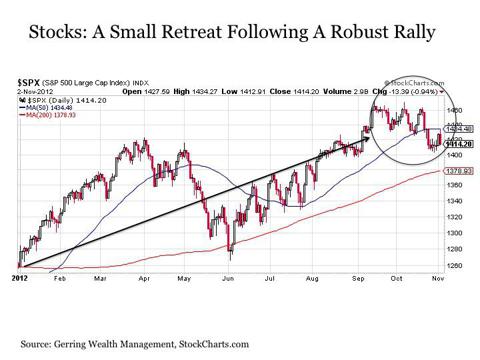 The fact that stocks have fallen by so little in recent weeks is the truly remarkable story. While any stock market decline is an unpleasant development for those that are long, the fact that it has only fallen by -3.5% is nothing when considering that so much is continuing to unfold in the current environment that would easily justify a swift and sharp double-digit decline in any normal market environment. The following are just a few of the many challenges that stocks continue to face.
Declining Corporate Earnings
Corporate earnings have fallen into decline in the most recently completed quarter. With 61% of companies in the S&P 500 Index reporting, operating earnings have fallen by -1.42% versus the previous quarter and -0.87% on a year over year basis. When the "E" component of the P/E ratio is shrinking, this bodes ill for stock valuations, particularly when the "P" has more than doubled over the last several years in "anticipation" of a robust economic recovery that never materialized in any sustainable way.
Peak Corporate Profit Margins
Companies have already cut costs to the bone. With earnings in retreat, it would be reasonable for companies to assess how expenses could be reduced in order to maintain profitability. But with corporate profit margins already at post WWII historical peaks that are still over +2 standard deviations above the long-term historical average, companies have little scope if any to cut costs any further. This implies contracting profit margins, which is not supportive of stock prices from a fundamental basis.
Lowered Earnings Guidance
The earnings scorecard ranks among the biggest jokes tied to the stock market. For the third quarter, 70% of companies that have reported earnings to date have beat analyst expectations. What is remarkable is that anyone bothers to pay attention to this farcical information anymore. Viewing this data purely from a statistical perspective, the question should be raised why have analysts not corrected their models by now to estimate higher earnings if they are consistently low in their quarterly earnings estimates 62% of the time on average, as one would reasonably expect a more even 50% split over time instead. Of course, we all know the answer to this question. If anything, the sales scorecard is the one that warrants any attention, and this is only due to the fact it is much more challenging for most companies to manage the sales number. Despite the fact that 59% of companies typically beat quarterly sales estimates, the fact that the most recent quarter has generated only 40% of firms beating analysts' sales projections is once again notable, as it marks the worst result in this regard since the depths of the crisis in early 2009. Far more troubling, however, is the fact that 76% of companies that reporting thus far have lowered guidance for 2012 Q4 according to FACTSET. This is the highest rate of reduced estimates since FACTSET began tracking this information back in 2006 prior to the outbreak of the financial crisis.
U.S. Economic Growth Is Stalling
The already sluggish post crisis economic recovery is increasingly running out of steam. From a headline perspective, the 2.0% U.S. Real GDP growth in the third quarter was better than expected and looked reasonably solid. But roughly one third of this increase came from government spending resulting from an unusually sharp 13% increase in national defense spending during the quarter. Excluding this number from the equation and quarterly GDP growth was a more anemic 1.3%, which is on par with the lackluster growth from the previous quarter. And it appears that growth is only likely to decelerate further, not increase in the coming quarter.
Eurozone Crisis Threat Still Running High
The eurozone is already experiencing contracting growth and remains mired in a financial crisis that continues to fray at the seams. The problems across the currency union have been well documented over the last several years with the latest salvo now emanating from Greece, as questions are mounting around whether a vote on the next bailout tranche will clear parliament next Wednesday. The fact that global investment markets must repeatedly turn their attention to parliamentary votes in places like Greece in guarding against the threat of a new crisis outbreak demonstrates once again how precarious the situation remains.
The Geopolitical/Terrorist Threat Persists
Political instability across the Middle East remains deeply worrisome and a potential source of instability for global investment markets. And the recent incident in Benghazi on September 11 demonstrates that the threat of terrorism remains a persistently real concern going forward.
The Outcome of the U.S. Presidential Election
Heading into October, it appeared probable based on the polls that the outcome of the election was already decided with President Obama set to reclaim the White House for a second term. Then the first debate happened on October 3. And since that time, Obama's +4% lead in the Real Clear Politics average of national polls not only evaporated but turned into a +1% lead for challenger Mitt Romney by late October. And heading into the election, the two candidates are now effectively tied in the national polls. Regardless of who wins the election on Tuesday, the emergence of a dead heat in the election has provided yet one more degree of uncertainty for markets to navigate at least in the near-term.
The Looming Fiscal Cliff
Politicians have just eight weeks immediately following the election to try and keep the U.S. economy from heading over the edge. On December 31, 2012, various government spending programs and tax cuts are set to expire. This includes roughly $100 billion in government spending cuts and over $400 billion of what will effectively amount to tax increases on consumers and businesses. This combined $500 billion total represents a roughly -3.5% hit to total U.S. GDP. Thus, if policy makers in Washington are unable to come to a resolution to this potential shock to the economic system coming at the end of the year, the U.S. economy will almost certainly fall into recession. While a resolution is likely, it is far from definite and it remains to be seen exactly which spending cuts and tax increases are kept and which are negotiated away in reaching a deal.
Persistent Regulatory Uncertainty
The U.S. economy needs a boost. But it is not from more government spending or monetary stimulus. Instead, what the U.S. economy needs most at this point is far greater regulatory clarity. Corporations are flush with cash and in rather good financial health. And banks are sitting on a literal mountain of reserves. Yet many companies continue to hold back on spending decisions given the ongoing uncertainty surrounding exactly what rules they will be operating under going forward. Even if the rules are disadvantageous, just having a better sense of exactly what the required costs and regulations are would go a long way in enabling companies to better make investment, hiring and capital budgeting decisions. In the meantime, this corporate cash remains parked on the sidelines.
Farewell Bernanke?
In one of the more understated news stories in recent weeks, rumors that current U.S. Federal Reserve Chairman Ben Bernanke did not intend to seek reappointment once his term is completed in January 2014 regardless of who is elected President on Tuesday adds yet one more element of uncertainty to the market. With this news, all of the sudden the Open Ended QE program recently launched in September may now have a potential end date fourteen months from now depending on exactly who takes over the position. However, we should at least have a somewhat better idea of who that person might be once the election is decided on Tuesday.
The challenges detailed above are just some of the many issues currently overhanging the stock market.
Amid these vast uncertainties, the fact that the stock market has been able to effectively hold its ground with a decline of only -3.5% from recent peaks given a still robust +14.2% year to date gain is remarkable. Given that the market has proven so resilient to this point suggests that it has just as much potential to burst higher through the end of the year as it does to break lower. And knowing that the months of November and December are traditionally a very seasonally strong period for stocks coupled with the fact that the Fed is now expanding its balance sheet at a rate of $40 billion per month and current fiscal policy still remains in place through the remainder of the year may be just enough to propel stocks for a solid move higher through the rest of 2012 regardless of the underlying fundamentals.
Of course, the stock market has a long history of engaging in deception with its investors. Just as it seems that all signals point to stocks reacting one way, they have the uncanny knack of doing the exact opposite. And while sometimes it can come at the benefit to investors that are long the market just as it did with the tech bubble up to March 2000 and the pre-crisis period through October 2007, other times it can come to the extreme detriment to its participants.
Thus, stock allocations are warranted, but they should be held in proportion to other asset classes that stand to benefit if the stock market turns sour. Stock categories that may merit consideration include the generally more equally weighted and growth sensitive Mid-Cap S&P 400 SPDR (NYSEARCA:MDY), the higher quality focused S&P 500 Low Volatility PowerShares (NYSEARCA:SPLV) and the defensive Utilities SPDR (NYSEARCA:XLU). Specific names such as BHP Billiton (NYSE:BHP), Potash Corporation (POT) and Occidental Petroleum (NYSE:OXY) may also be worth a look, as each are exposed to commodities sectors that have traditionally benefit most from Fed stimulus. Gold (NYSEARCA:GLD) and silver (NYSEARCA:SLV) also hold appeal for the same reasons, with allocations achieved through the Central GoldTrust (NYSEMKT:GTU) and the Central Fund of Canada (NYSEMKT:CEF). Beyond stocks, for those seeking returns that are generally correlated to the stock market but with less risk, Senior Bank Loans (NYSEARCA:BKLN), High Yield Bonds (NYSEARCA:HYG) and High Yield Municipal Bonds (NYSEARCA:HYD) may also be of interest. And for those seeking a more conservative way to generate upside that is either uncorrelated or negatively correlated with stocks, positions such as Agency MBS (NYSEARCA:MBB), U.S. Treasury Inflation Protected Securities (NYSEARCA:TIP), National Municipal Bonds (NYSEARCA:MUB) and Build America Bonds (NYSEARCA:BAB) are all attractive alternatives.
Whether investors will dance in celebration of a market rally through the end of the year or will be made a cuckold by a stock market that goes astray remains to be seen. But the fact that the market has shown such resilience in the face of so much uncertainty and deteriorating fundamentals is clearly noted, as it may signal that it has just enough resolve for yet another stimulus induced rally before the year is out.
Disclosure: I am long BHP, OXY, POT, HYG, HYD, BAB, BKLN, CEF, GTU, MBB, MDY, MUB, SPLV, TIP, XLU. I wrote this article myself, and it expresses my own opinions. I am not receiving compensation for it (other than from Seeking Alpha). I have no business relationship with any company whose stock is mentioned in this article.
This post is for information purposes only. There are risks involved with investing including loss of principal. Gerring Wealth Management (GWM) makes no explicit or implicit guarantee with respect to performance or the outcome of any investment or projections made by GWM. There is no guarantee that the goals of the strategies discussed by GWM will be met.