While the general consensus seems to be that this has been a bad earnings season, the average stock that has reported has actually gained 0.27% on the day of its report.
Below we highlight the big winners and losers so far this earnings season. As shown, K-Swiss (NASDAQ:KSWS) has been the big winner with a huge gain of 35.53% on its report day. Big 5 Sports (NASDAQ:BGFV) is not far behind in 2nd with a one-day gain of 34.76%. Some other notables on the list of winners include TASER (TASR), Generac (NYSE:GNRC), Facebook (NASDAQ:FB), TripAdvisor (NASDAQ:TRIP) and Expedia (NASDAQ:EXPE).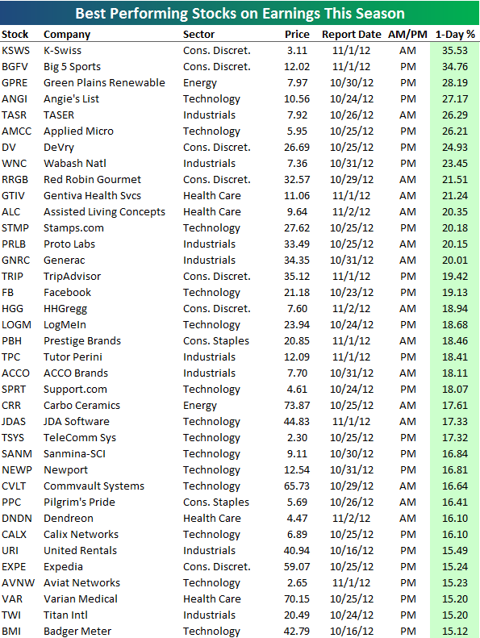 Active Network (NYSE:ACTV) has been the biggest loser so far this earnings season with a one-day decline of 41.66%. Abiomed (NASDAQ:ABMD) ranks 2nd worst at -31.33%, followed by Constant Contact (NASDAQ:CTCT) and Western Union (NYSE:WU). New York Times (NYSE:NYT), Crocs (NASDAQ:CROX), Tempur-Pedic (NYSE:TPX) and iRobot (NASDAQ:IRBT) are a few other notable losers. Consumer Discretionary and Technology stocks make up the bulk of the losers list, which is usually the case every earnings season.