America makes nothing. Seems like most things we buy are made in Mexico, China, Indonesia or many other places. However, perceptions are not facts, and even the data can be spun to support a specific opinion.
The USA ranks 79th in industrial growth while China is 6th according to the CIA Factbook - on the surface, it seems the future is dim for American goods manufacturing.
One way to view this is graphing imports against GDP to illustrate goods import's relationship with the economy.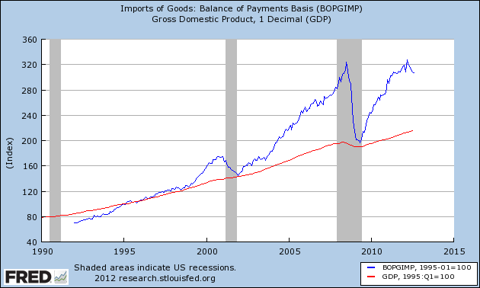 The graph above does not send out any warning signals that imports are growing relative to the overall economy (the graph above is indexed to January 1995, and uses current dollars). But consider also that goods expenditure is a growing percentage of GDP.
images
Percent of GDP's Personal Consumption Expenditures Spent on Goods

The next graph compares total imports to GDP's PCE goods expenditures.
Percent Imports Shown In GDP to Total Personal Goods Expenditure in GDP

The defect with the above graph is that all imports are not used by consumers; some are used in infrastructure and government. However it is revealing that goods imports do not seem to be a growing problem.
Trade and import of goods per se does not seem to be worsening - but the trade agreements which came into play since 1995 appear to have added about 15% additional imports of goods we use. But after the initial impact caused by the trade agreements, the relationship between USA production and imports seems stable.
My concern is not imports per se, but strategic manufacturing - the ability to manufacture some of all essential goods. When a country does not manufacture some, it loses the ability technologically (included skilled labor) - and to regain that technology is a real struggle. This can become more than an economic issue, but also a national security issue.
My weekly review of economic releases is in my instablog - and includes commentary on the jobs reports this past week.
Disclosure: I have no positions in any stocks mentioned, and no plans to initiate any positions within the next 72 hours. I wrote this article myself, and it expresses my own opinions. I am not receiving compensation for it. I have no business relationship with any company whose stock is mentioned in this article.