Using historical analysis can often show seasonal patterns that can be used to understand market trends. The following article will examine if there are any significant historical trends to pay attention to in oil that would be key to traders and investors while understanding how these trends can play a part in the fundamental landscape of commodities. At the end of the article, we will try to gather the information into some tradeable plays.
Oil has been quite weak as of late, dropping on weak global demand along with oversupply. The large supplies are definitely concerning to the ability for oil to move higher, and the month of November brings about a lot of question marks as to fundamental factors. First, the election. If Romney is elected, oil prices should rise as Romney is more supportive of increasing oil usage and increasing oil from offshore drilling that will remove some fear out of the price. At the same time, a Romney election would most likely mean less "free money" coming out of the Federal Reserve, which would be an inhibitor to higher prices. So, the election seems to be net neutral. The other major factor to watch would be Europe. If a deal is struck with Spain for a bailout, the price of oil will increase incredibly. To us, the price of oil has declined on fundamentals and is catching support at the $85 area. More factors to increase seem to be there than to decrease more. Therefore, we like the looks of oil companies for the coming month.
In our research, we looked at how oil typically does in the month of November. We looked at the average gains of oil companies, their max drawdowns and gains as well as the number of times that their average gains has increased or decreased. The companies we investigated in the report were Baker Hughes (BHI), BP (NYSE:BP), Transocean (NYSE:RIG), ExxonMobil (NYSE:XOM), ConocoPhillips (NYSE:COP), Halliburton (NYSE:HAL), and Schlumberger (NYSE:SLB).
Below you can find the average gains for the past 16 years provided the company/ETF has been around for those 16 years.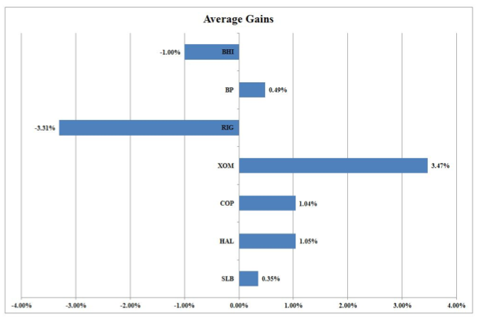 As can be seen from the chart above November has been a relatively good month for oil companies as only two out of the 7 companies analyzed showed negative gains. The companies with negative gains were Transocean and Baker Hughes, special mention going to RIG with the largest negative gain of 3.31%. The leader for November has been ExxonMobil.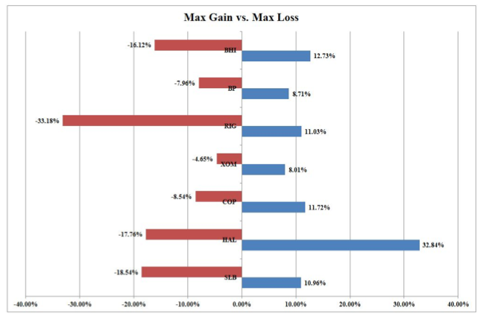 We continued our research by finding the max drawdowns and max gains that these companies usually have during the month of November. ExxonMobil, as with both the months of September and October, seems to be the least volatile of the companies with less than 8.5% movement in the month between max gains and losses. That information is helpful for potential bull put spreads.
We also paid close attention to RIG as it was the company with the biggest negative gains and with the chart above we can see that it was also the company with the biggest max loss.
Finally we looked at the company's overall increase/ decrease in the month of November.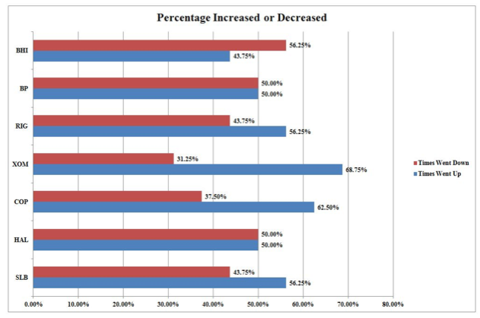 With the information given, we like two trades. First off, we like using XOM for a bull put spread. The stock has never lost more than 8% in November at any time, so we like using that information for a Dec22 bull put spread. Additionally, we like a pair trade in equity with BHI and COP. Baker Hughes has decreased more than up, has a negative average gain, and had bad earnings as of late. We like pairing that with COP.
Trade #1: ExxonMobil Dec22, 85/80 Bull Put Spread
Trade #2: Pair Trade; BHI Short, COP Long
Disclosure: I have no positions in any stocks mentioned, and no plans to initiate any positions within the next 72 hours.
Business relationship disclosure: The Oxen Group is a team of analysts. This article was written by Bruno Massinga, one of our writers. We did not receive compensation for this article (other than from Seeking Alpha), and we have no business relationship with any company whose stock is mentioned in this article