Offshore drillers have had an easy market lately, with rather high utilization rates and increasing daily (price) rates for the rigs in the last three years. Due to this, the stocks have done mostly well.
Ensco (NYSE:ESV) is going up on account of better-than-expected earnings. Ensco carries a 10 times EV/EBITDA. Ocean Rig UDW (NASDAQ:ORIG), another offshore drilling contractor, also trades at an optimistic 10.8 times EV/EBITDA. Other competitors such as Diamond Offshore Drilling (NYSE:DO) or Transocean (NYSE:RIG) carry healthy valuations as well, at 7.4 and 8 times EV/EBITDA.
None of these equities seem particularly worried, with all the charts looking reasonably healthy (except perhaps RIG). These companies usually sell/lease their services on long-term contracts and a high crude price ensures continuous demand for those expensive services. Rig rates can go as high as half a million dollars per day for a drillship rig. Drilling offshore doesn't come cheap, but the high crude prices make it all worth it.
However, there might be trouble brewing in the distance; the same kind of trouble which hit natural gas (NYSEARCA:UNG) and land-locked WTI crude (NYSEARCA:USO).
The thesis is simple
Drilling for oil onshore is a lot cheaper than drilling for it offshore. Up until recently inshore exploration was seen as somewhat exhausted with U.S. crude production falling steadily since the 70s and thus exploration had to move offshore.
But with the shale boom - using horizontal drilling and fracking techniques - onshore exploration and production of natural gas boomed with well-known consequences for natural gas prices. What is new here, is that now those consequences are flowing over to the natural gas liquids and crude markets. WTI crude production is increasing, reversing a 4 decade trend towards lower production in the U.S. (source: EIA)

The trouble for offshore drilling contractors is that this revolution is happening onshore - that place where drilling is cheaper. Already we have seen a collapse of offshore natural gas production, as we can observe in the production chart below (SOURCE: EIA)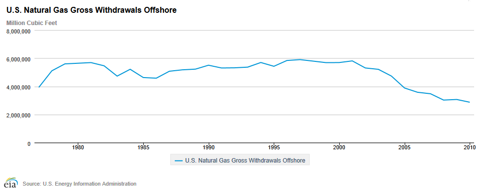 How long until the same effect happens to the offshore drilling rigs looking for crude? Were such a thing to happen, the companies servicing the industry would naturally suffer tremendously.
Conclusion
In yet another consequence of the shale boom, the increased productivity and lower cost of inshore crude wells might drive a temporary stake through the offshore drilling business. This would probably require that the shale boom turn international to have an effect, but given the healthy valuations on the offshore drilling services sector the possible impact cannot be ignored.
If this thesis comes to pass, the offshore drilling services stocks will see lowered utilization, lowered day rates and the sector will turn ugly ending the present smooth sailing. Since this is not taking place yet - only the U.S. is seeing increased onshore production, but for this trend to emerge the shale revolution would have to be exported - for now only some monitoring is required.
Disclosure: I have no positions in any stocks mentioned, and no plans to initiate any positions within the next 72 hours. I wrote this article myself, and it expresses my own opinions. I am not receiving compensation for it (other than from Seeking Alpha). I have no business relationship with any company whose stock is mentioned in this article.