China and India will not have enough fresh water to meet their needs before 2030, according to a report released in August this year. The Yangtze River, the longest one in Asia and the third longest in the world, is a significant part of China's economy-- but its waters suffer from industrial pollution.
In December 2011, the Jian River turned into a "river of blood" after two small chemical plants illegally dumped red dye into the city's storm water pipe. Fresh Water is important and crucial for China. With the deepening of industrialization and urbanization in China, investments in the sewage treatment sector will be very interesting.
Investments being made
In accordance with the 12th Five-Year Plan on National Urban Wastewater Treatment and Recycling Facilities Construction Program introduced by the State Council in April 2012, the sewage treatment rate will be further improved by 2015. The government will earmark about RMB430 billion ($63 billion) to push the urban sewage treatment rate up to 85% in urban areas, 70% percent in county-level cities and counties and 30% in towns by 2015. Therefore, the sewage treatment market is still promising in China in the next 5-10 years.
In addition to its 430 billion yuan investment, the government is also encouraging non-public finance in the sector, a move that has attracted companies all over the world because of the promising business opportunities.
China is undergoing the greatest urbanization the world has ever seen. The new middle classes consume more water than previous generations. China, which has a shortage of water, will need to find ways to conserve the essential resource. The next trend is the increasing sophistication of the Chinese consumer in wanting a cleaner environment in all aspects. This bodes well for high quality products that can safely deal with water issues commonly found in China.
It shocked the nation when statistics from the Ministry of Environmental Protection found that underground water in 57 percent of monitored sites across Chinese cities was found to be polluted or extremely polluted. Ground water is generally lightly polluted. More than 65 billion tons of wastewater were discharged last year, said the ministry, but little is fully treated before going into the rivers and sea.
Along with the advancement of industrialization and the improvement of people's living standards, the sewage discharge presents a rising trend, and it grew to 65.21 billion tons in 2011 from 42.84 billion tons in 2001, with an annual increase of approximately 2.03 billion tons on average. In 2010, the figure surged by 3.49 billion tons over 2009, a record high growth since 2005.
The ballooned sewage discharge not only weighs on cities at all levels, but brings opportunities to the sewage treatment industry. In recent years, the sewage treatment plants embraced a construction boom in China, and the daily sewage treatment capacity rose to 136 million cubic meters in 2011 from 46.82 million cubic meters in 2003.
With respect to sewage treatment plant construction, a total of 3,135 sewage treatment plants had been built up in administratively designated cities and counties by the end of 2011, boasting sewage treatment capacity of 136 million cubic meters per day, up roughly 11 million cubic meters compared with that at the end of 2010. Presently, the urban sewage treatment projects under construction number 1,360, with total designed capacity of around 29 million cubic meters per day.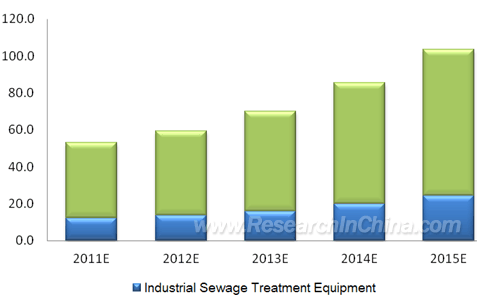 The demand for domestic sewage equipment will rebound from 2013 to 2015.
Three companies that operate in China in the sewage treatment market can profit hugely from the investments being made in this sector.
Veolia Environnement
Veolia Environnement S.A. (VE) is a French company with activities in four main service and utility areas traditionally managed by public authorities - water supply and water management, waste management, energy and transport services. In 2011, Veolia employed 331,226 employees in 77 countries.
The world's largest water company has a good reputation, which is important for winning or maintaining contracts. But an aggressive expansion policy including costly acquisitions and a recession in Europe took its toll. Veolia took countermeasures and is still restructuring its businesses. H1 2012 results were weaker than expected. Reasons were the economic slowdown hitting the waste activities, contractual erosion in France and Italy's deteriorating economic conditions, resulting in an impairment in Italy.
The stock fell sharply intraday as investors were disappointed by the weak results, uncertainty on further asset write-downs and as the planned disposal of the transport unit Transdev seems to be delayed. Operating results declined related to the current macro environment but adjusted EBITDA in H1 only fell 3.9%. The main argument to own the stock remains the restructuring story on which Veolia is on track. Veolia already achieved 60% of planned asset disposals at good prices and it was clear that the disposal of Transdev would be more difficult. Talks with CDC (Transdev's other major shareholder) and other parties are continuing and a solution seems likely even in 2012. The new impairment was not positive but lower than the previous one, and together with the accelerated restructuring measures demonstrate Veolia's willingness to rebuild. The company is undervalued and investors ignore the restructuring success.
Outlook was confirmed: For the period of 2012-2013, net financial debt should be reduced to below EUR 12 billion, dividend per share should be EUR 0.70 for 2012. Asset sales should reach EUR 5 billion. After 2013, and assuming a mid-cycle economic environment, Veolia targets annual organic revenue growth of more than 3%, annual adjusted EBITDA of more than +5%, and net financial debt leverage ratio of 3.0x.
China
Veolia Water has a strong presence in China, where it pursues its activities of water services and wastewater services. The company offers services to municipalities and industries across the country to help them cope with the increasing demands on their water infrastructure. This includes the construction and operation of water and wastewater plants and networks, as well as the renovation of existing facilities to improve efficiency and increase capacity.
Veolia Water now operates in half of the 34 provinces, municipalities, autonomous regions and special administrative regions. The company has over 13,000 employees in China and is actively involved in staff training.
Conclusion
With a dividend yield of more than 8% you are looking to a company that is in a turnaround situation. Event driven investors can snap up shares at bottom prices and wait for a rebound. China is an important market for Veolia, the company can profit in the years to come from investments made in the sewage treatment market.
General Electric
General Electric (NYSE:GE) is the biggest conglomerate in the U.S. market, with a growing weight of revenues generated outside the U.S. In the recent past, CEO Immelt spent a lot of money to focus the company on sustainable strong growth of 2-3 times GDP. GE's Infrastructure units, which earn about 30% of group profit, are big beneficiaries of the infrastructure needs of the emerging countries.
GE has been involved in China since the early 1900s. Evolving from a sales department to an operational company offering sales, engineering, research, and development. On the water front GE has a broad portfolio of water treatment, wastewater treatment, and process systems solutions in China.
GE's Q3 results came in without big surprise and a slight miss in total revenues. The first margin improvement after several quarters of decline should mark an inflection point in this figure, supporting the targeted improvement for this year and next.
The company reaffirmed its recently raised 2012 outlook of 10% organic sales growth in industrial segments, 30-50 basis points margin improvement, and a group double-digit EPS increase with dividend growth in line with earnings. Guidance for 2013 is 5-10% growth in industrial revenues with margin improvement of 50-70 basis points, and also a double-digit EPS rise.
With a dividend yield above 3% and a P/E ratio around 12 next year, this is a defensive stock that fits well in every portfolio. Emerging markets such as China are important for the growth of General Electric. Also (waste) water treatment is a growth area for the company.
Tri-Tech Holding
Tri-Tech (NASDAQ:TRIT) designs customized sewage treatment and odor control systems for municipalities and private sectors in China and international markets. These systems combine software, information management systems, resource planning and local and distant networking hardware that includes sensors, control systems, programmable logic controllers, supervisory control and data acquisition systems. The company also designs systems that track natural waterway levels for drought control, monitor groundwater quality and assist the Chinese government in managing its water resources. The company is also moving into the industrial pollution control market.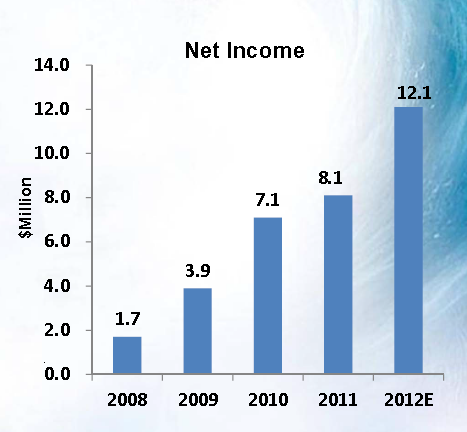 Source: Investor Presentation September 12, 2012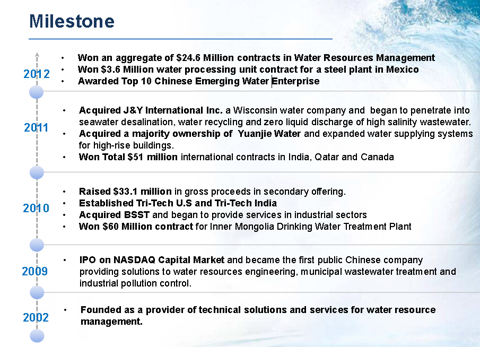 With an EPS estimate 2012 of $1.15, this is a legitimate company at a steep discount price. With a P/E ratio below 3, this company has to catch up with the big guys. I would give a short term target price of $6.
Conclusion
In this article I offer some extra coverage on Tri-Tech because I think the biggest reward in terms of profit could come from that company. The three companies mentioned in this article are worthy to look at and can offer some great returns going forward, all three companies are considered a buy. They all have a big presence in China and are going to profit from the booming sewage treatment market.
| | | | |
| --- | --- | --- | --- |
| Ticker | VE | GE | TRIT |
| Market Cap. | 5.25B | 225.33B | 25.07M |
| Price | 10.05 | 21.34 | 3.05 |
| | | | |
| Book Value p/share | 17.89 | 11.61 | 9.54 |
| Cash Value p/share | 11.28 | 12.71 | 1.16 |
| Dividend | 0.89 | 0.68 | - |
| Dividendperc. | 8.82% | 3.19 | - |
| | | | |
| Forward P/E | 10.05 | 12.48 | 2.19 |
| P/S | 0.14 | 1.54 | 0.28 |
| P/B | 0.56 | 1.84 | 0.32 |
| EPS ttm | -0.20 | 1.35 | 0.90 |
| EPS 2013 Est. | 1.00 | 1.71 | 1.39 |
| | | | |
| Liquidity | High | High | Low |
| Avg. Volume | 380.02K | 41.80M | 23.98K |
| Optionable | yes | yes | no |
This company is an interesting U.S.-listed China Small Cap that IPO'd in 2009 and has a remarkable growth story.
Disclosure: I am long TRIT. I wrote this article myself, and it expresses my own opinions. I am not receiving compensation for it (other than from Seeking Alpha). I have no business relationship with any company whose stock is mentioned in this article.
Additional disclosure: Information contained within and appearing in this article is gathered from publicly available sources, including SEC filings, FinViz, Chinawaterrisk.org and directly from the company websites themselves. Company's actual results could differ materially from those described in any forward-looking statements or announcements discussed herein. Investment in securities carries a high degree of risk which may result in investors losing all of their invested capital. Please keep in mind that a company's past financial performance, including the performance of its share price, does not guarantee future results.