Introduction
I've long been advised that there is always money to be made in vice. I think my grandmother is the first one who told me that -- she was a pretty wise woman. Be it alcohol, tobacco, or even pornography, people spend money on their habits and their hobbies. And where people continually spend money, an astute investor can position themselves to profit.
General Analysis
In examining the North American tobacco market, we see a series of encouraging (at least for an investor) trends. Although it may be that fewer people are smoking than in the recent past, and tobacco companies have faced large lawsuits related to their products, the bottom line is that the companies have largely been successful in court, remain vastly profitable, and pay a considerable dividend. In examining the most commonly mentioned tobacco stocks in the North American market, the big four to consider are Philip Morris International (NYSE:PM), Reynolds American (NYSE:RAI), Altria (NYSE:MO), and Lorillard (NYSE:LO).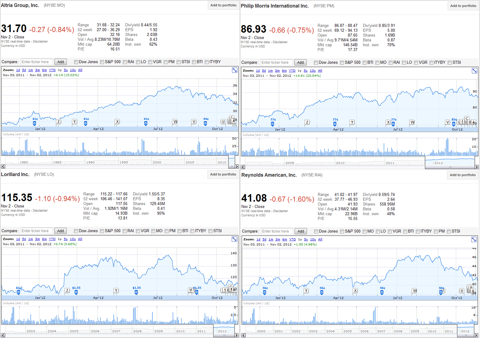 As you can see, the price per share and market capitalization vary widely among these companies. Don't let that bother you whatsoever. The immediate points to consider are contained in the chart below, specifically that each company is similarly valued with a P/E in the mid-teens, each company is churning out profits, and each company pays a dividend in the 3.75-5.75% range. Of the four, Lorillard is the only one near the lower end of its 52-week range, while the other three sit more generally towards their mid-points.

Initial examination reveals that any of the four can be candidates for a dividend portfolio, or could even be considered a part of any portfolio seeking some stability and longer-term capital appreciation. So let's get a little deeper into each individual company's valuation and trends compared to the stock price and anticipated yield.
Philip Morris

Philip Morris is the largest of the four by market capitalization, and examining some trends over time reveals a three year trend of increases in net income, earnings per share, and cash on hand. However, the total amount of debt has also increased. This is not necessarily a bad thing given the extremely low cost of debt at the current time, especially considering it is at least somewhat offset by the increase in net income. In fact, the ratio of total debt to net income remained essentially the same from 1.65 in 2008 to 1.72 in 2011. Philip Morris has the highest P/E of the four, and also pays the smallest yield at this time of 3.91%. This likely indicates that most investors are willing to pay more for the stock relative to the expected return, possibly based on its size and stability. Philip Morris actually spun off from Altria in 2008 in order to focus on the international sales of some of the same brands. Operating out of Switzerland, Philip Morris stands to continue benefiting from the European attitudes towards smoking which are quite different from those in the United States.
Altria

Altria is the second largest of the four by market capitalization and was the parent company of Philip Morris until the spin-off mentioned above. Altria also profits from the sale of several wines and holds a greater than 25% stake in SABMiller. Altria has displayed a more up and down trend in its net income and EPS, and the cash on hand stands at less than half the amount seen in 2008. Additionally, the total debt to net income ratio increased from 1.51 in 2008 to 3.86 in 2011. This may or may not be a telling indicator as Altria has taken steps to finance stock buybacks with debt due to the low cost of debt currently. The general thought is that if you can finance a buyback with debt that is cheaper than the dividend on the stock being bought, the result is positive overall. Altria's dividend is quite healthy at 5.55% and this could certainly be a consideration for a long-term dividend growth portfolio as Altria has a proven track record of continually raising their dividend. One should note that the total dividend is somewhat close to the total EPS though.
Reynolds American

Reynolds American comes in third of this group in terms of market capitalization, and is only a third the size of Altria or a sixth the size of Philip Morris. RAI's list of tobacco brands include Camel, Winston, Pall Mall, Salem, and Kool. RAI additionally sells moist snuff brands Kodiak and Grizzly. As seen with Philip Morris, net income took a hit in 2009, but has recovered since and eclipses the levels seen in 2008. EPS has remained relatively stable however, generally between $2.30 and $2.50. Cash on hand has decreased, although not nearly as significantly as with Altria, and total debt has actually decreased over this time period. The debt to net income ratio decreased from 3.5 to 2.6, almost a 26% improvement. We should note that British American Tobacco (NYSEMKT:BTI) holds a large stake in RAI, not dissimilar from the relationship formerly seen between MO and Philip Morris International. Reynolds American pays the largest dividend at 5.74%, although like MO the dividend received is rather close to the total EPS.
Lorillard

Lorillard is the smallest of the four, with a market cap of under $15 billion. Selling Newport cigarettes is clearly a profitable business, as net income has steadily increased over 26% in the three years between 2008 and 2011. Over the same period, EPS increased over 53% while cash on hand has trended upward as well. The company has initiated $2.6 billion in debt over this period though, so the debt to net income ratio increased from 0 to 2.3. Lorillard is paying a 5.37% dividend, and the payout ratios indicate this likely sustainable.
Conclusion
The bottom line is that if you do not mind having "sin stocks" in your portfolio you can make money in this area. Dividend reinvestment is a long-term proposition championed by many Seeking Alpha members and any of these stocks could fit well into such a plan. Although my personal assessment is not one favoring a short-term investment play in this group, I do believe that all four of these stocks will continue to pay their respective dividends while seeing some level of capital appreciation over the next several years.
Disclosure: I am long MO. I wrote this article myself, and it expresses my own opinions. I am not receiving compensation for it (other than from Seeking Alpha). I have no business relationship with any company whose stock is mentioned in this article. I will consider initiating long positions using stocks or options in (PM), (LO), (RAI), and (BTI) over the next 72 hours.