The Dogs of the Dow theory presumes that investing in the 10 Dow Jones Industrial Average components that start each calendar year with the highest yields is a prudent investing strategy. The theory is based on the premise that these higher yielding Dogs are often laggards and could provide both capital appreciation and an above-average income stream. Additionally, the Dogs are expected to be relatively strong, liquid and familiar companies due to their inclusion in the Dow.
Of course, sometimes Dow constituents decline considerably. One such example would be Hewlett-Packard (NYSE:HPQ), which lost over 46 percent of its value so far in 2012. HPQ also raised its quarterly dividend from $0.12 to $0.13 in the first half of 2012. HPQ's recent dividend increase and equity losses have combined to result in a present yield of about 3.8 percent. With such a yield going into the last two months of 2012, HPQ is now the fifth highest yielding DJIA constituent and appears very likely to become a 2013 Dog.
See a recent performance chart for HPQ: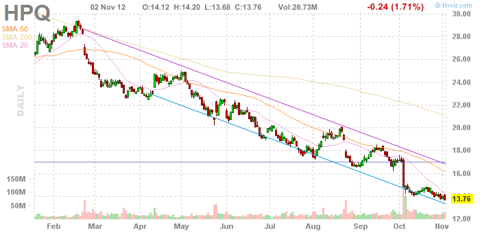 (Click to enlarge)
The one company that will certainly be leaving the list is Kraft. By virtue of its splitting into two companies, Kraft is no longer a member of the Dow and cannot be a 2013 Dog. Its most probable replacement is now HPQ. Beyond that change, the 2013 Dogs will probably be very similar to the 2012 Dogs, just as the 2012 ones were similar to the 2011 list. The highest yielding DJIA members are still the large telecoms. In 2012, the only changes were the addition of General Electric (NYSE:GE) and Procter & Gamble (NYSE:PG), replacing McDonald's (NYSE:MCD) and Chevron (NYSE:CVX).
McDonald's was the best performing Dow dog in 2011, appreciating 30.71 percent and lifting itself out of the dog-house. So far in 2012, MCD has declined by about 13 percent and appears poised to again join the Dogs in 2013. Following a recent 10 percent dividend increase, from $0.70 to $0.77 per quarter MCD now has a yield of about 3.55 percent and is the eighth highest yielding Dow constituent.
See a recent performance chart for MCD: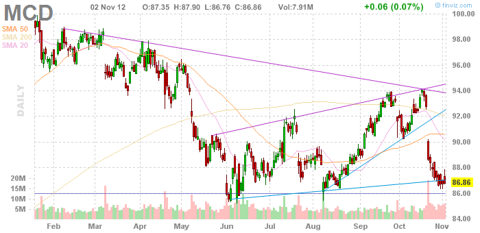 (Click to enlarge)
Though General Electric was not a dog in 2011, it entered 2012 with the fourth-highest dividend within the DJIA, having grown its quarterly dividend by 70 percent in the prior two years. Through the first ten months of 2012, GE appreciated by about 19 percent, and is currently, roughly, in a three-way tie for tenth place with CVX and PG. Along with MCD, any of these three could become a 2013 Dog depending upon performance and dividend policy changes between now and the end of the year.
Other contenders for the list include Microsoft (NASDAQ:MSFT), which increased its dividend by 15 percent during Q3, from $0.20 to $0.23 per quarter, and Cisco Systems (NASDAQ:CSCO), which last raised its dividend by 75 percent, from $0.08 to $0.14 per quarter. Neither appears likely to again announce a dividend increase this year. Still, both now yield above three percent, and could make the list depending upon equity performance rates over the next two months.
Currently the most probable new additions to the 2013 Dogs of the Dow appear to be HPQ and MCD, though it is entirely possible other changes will occur instead or in addition to them. Much of the final 2013 list making will certainly depend upon market activity through the next two months, and any upcoming dividend declarations made by the contenders between now and the end of the year.
Disclosure: I am long GE. I wrote this article myself, and it expresses my own opinions. I am not receiving compensation for it (other than from Seeking Alpha). I have no business relationship with any company whose stock is mentioned in this article.