Around this time last year, Internet IPOs were creating a great deal of buzz. While LinkedIn Corp. (LNKD) had completed its IPO earlier, investors were waiting for daily deals site Groupon Inc. (NASDAQ:GRPN) and social gaming company Zynga Inc. (NASDAQ:ZNGA) to list their shares. Meanwhile, investors were speculating when social networking giant Facebook Inc. (NASDAQ:FB) would list its shares.
Groupon completed its IPO in November 2011, while Zynga listed its shares in December 2011. ZNGA's IPO, in particular, generated significant interest since the company was seen as an alternative to Facebook, given its reliance on the FB platform. The craze over Internet and social media IPOs reached its peak in May this year when Facebook finally listed its shares. Although everything went downhill since then for ZNGA and FB, recent events suggest that the worst may be over for both companies.
Facebook and Zynga: How The Market Disliked Their Overvalued IPOs
FB's IPO is arguably the biggest to have hit the market in the last few years. However, Mark Zuckerberg, FB's founder and CEO, resisted an IPO for a while. Investors therefore looked at alternatives and as a result IPOs such as the one for ZNGA generated significant interest. ZNGA's IPO, in fact, was the biggest U.S. Internet debut since search engine giant Google Inc.'s (NASDAQ:GOOG) IPO.
ZNGA's IPO was priced at $10 per share, valuing the company at $7 billion. Although the $7 billion valuation was huge for a young company like ZNGA, it was half of what the company was expecting when it first decided to list its shares in July 2011, according to people familiar with the matter. This scaling down was perhaps the first sign that the enthusiasm over Internet and social media IPOs was starting to fade. If ZNGA's IPO showed signs of fading enthusiasm, Facebook's IPO confirmed it.
While FB was valued at a whopping $100 billion, the IPO turned out to be a huge disappointment. The IPO was marred by trading glitches and lawsuits. Some analysts questioned the valuation assigned to the company. In a little over two months, FB shares lost more than half their value. The chart below shows the significant drop in FB shares since it began trading.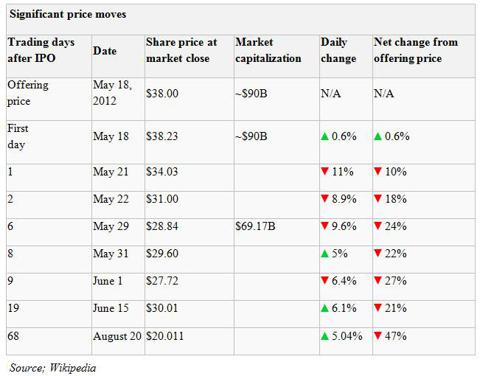 Things turned to be no different for ZNGA. The company's shares are down nearly 75% since the December 2011 IPO.
What Went Wrong at Zynga?
While a great deal has been written and said about Facebook's disappointing performance since going public, I want to focus on what went wrong at Zynga.
One of the problems for ZNGA has been rising ad costs on FB. When ZNGA began tapping potential gamers on FB, cost per click was significantly lower than what it is now. This has made acquiring new users expensive for ZNGA.
ZNGA had been benefiting from FB's launch of the news feed and app platform. Earlier, for every user ZNGA bought through ads, the company could potentially bring in few more users through news feeds. However, FB no longer promotes games on players' walls. This has made acquiring new users expensive.
Although ZNGA has a very large user base, its "freemium" model is not viable. The company has failed to monetize its social gamers.
The shift to mobile has also hurt ZNGA. The company's strategy was to buy its way into the mobile market. However, the move failed. The company bought Draw Something developer OMGPOP at a time when the game peaked. ZNGA has since written off almost $95 million of the acquisition.
When you take all these factors into account, ZNGA's IPO valuation appears to be far too high. ZNGA was valued at 6.8 times revenue in the year through September 30, 2011. This was significantly higher than competitor Electronic Arts' (NASDAQ:EA) valuation relative to sales in the same period.
ZNGA Again Looking Attractive Now
At $10, given all of these issues, ZNGA was an overvalued stock. However, at $2.30 (closing price on November 2nd, 2012) ZNGA is a bargain. ZNGA is trading close to its book value, which means at current level, you are paying only for the cash and current assets on the company's balance sheet. Despite all of ZNGA's problems, this is an excellent opportunity to buy the stock.
In addition, ZNGA has made some major announcements which will help in reviving growth. The company announced plans to focus on mobile, cut costs and expand into the lucrative online gambling market.
Mark Pincus, founder and CEO of Zynga, is bullish on the company's long-term prospects. At the time of the release of ZNGA's Q3 results last month, Pincus said, "While the last several months have been challenging for us, Zynga remains well positioned to capitalize on the growth of social gaming. We're implementing a number of steps to drive long-term growth and profitability. The successful launches of FarmVille 2 and ChefVille in the third quarter demonstrate that when we develop great games, our large player audience engages. It's more clear than ever that along with search, shop, and share, play is a fundamental pillar of the Internet, and Zynga continues to be the leader."
Disclosure: I am long ZNGA. I wrote this article myself, and it expresses my own opinions. I am not receiving compensation for it (other than from Seeking Alpha). I have no business relationship with any company whose stock is mentioned in this article.