The mobile computing market has seen phenomenal growth in recent years. While companies such as Apple (NASDAQ:AAPL), Samsung, and Google (NASDAQ:GOOG) have been the major beneficiaries of this growth, there are other players that have occasionally been overlooked by investors. On such player is Zagg Inc. (NASDAQ:ZAGG).
Based in Salt Lake City, Utah, Zagg is a designer, manufacturer, and distributor of protective coverings, audio accessories, and power solutions for consumer electronic and hand-held devices under various brand names, including the popular invisibleSHIELD. The company's products are widely used by owners of iPhones and iPads.
Benefiting From Growth in the Smartphone Market
The smartphone market has grown exponentially in the last few years, as seen in the chart below.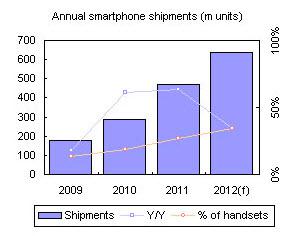 Source: DigiTimes.com.
According to DigiTimes, worldwide smartphone shipments are expected to exceed 630 million units this year, which would represent growth of 35%. Although this is lower than the annual growth rate seen in previous years, it is still robust.
As the smartphone market has grown, so has Zagg.The company has a three-year average of 104% revenue growth and 71% profit growth. As a result of this robust growth, Fortune Magazine ranked Zagg No. 24 in its annual list of the fastest-growing companies in the world. One of the companies in the top 10 was, not surprisingly, Apple -- a major player in the smartphone market.
Strong Q3 Results
Last week, Zagg released its third-quarter financial results. The company registered a 30% increase in consolidated revenue, to $59.8 million, for the quarter ended Sept. 30, 2012. Operating income rose an impressive 54% to $7.1 million. Gross margin improved 210 basis points to 44.5% of net sales. Diluted earnings per share for the quarter were $0.11. Adjusted earnings were $0.26 per share, up 12% from the same period last year.
Commenting on the company's strong performance in the third quarter, President and CEO Randy Hales said:
We were pleased to see the business continue to advance, with year-over-year growth of 30%. During the quarter the company introduced several new products, while continuing to focus and build upon its three strategic objectives: Creative Product Solutions, The Preferred Brand, and Targeted Global Distribution.
Q4 Could Be Even Better
If Zagg's third quarter was strong, the fourth quarter could turn out to be even better. The fourth quarter includes the holiday shopping season. Recent data has indicated an improvement in consumer sentiment. Therefore, one can expect a strong holiday season. Of course, the products at the top of the lists of most consumers will be smartphones and tablets. So Zagg could see solid top-line growth once again.
Another reason why the fourth quarter could be big for the company is the launch of new products. Zagg launched accessories for the iPhone 5, which has been a huge success, toward the end of the third quarter. The new suite of accessories launched by the company includes protective films and cases from its Zagg and iFrogz brands. Given the launch date of the products, their real impact will be seen in the company's fourth-quarter results.
Late last month, Zagg also introduced new accessories for Apple's iPad Mini. The company also introduced new iPad keyboard accessories last week.
Wall Street Is Bullish
With Zagg continuing to see robust growth, it is no surprise that Wall Street is bullish on the company's prospects. Last month, analysts at JPMorgan began coverage on Zagg with an "Overweight" rating and a $13.50 price target.
JPMorgan analysts expect Zagg to emerge as a leading brand for accessories and peripherals in the era of mobile consumer electronics. Analysts expect Zagg to post strong growth over the next two years, owing to channel and geographic expansion, product line extension, and robust attach-rates to underlying growth in the smartphone and tablet shipments.
Huge Upside Potential
Despite all the bullish sentiment around Zagg, the company's stock has performed poorly in the last six months, falling nearly 39%. The sharp drop in Zagg shares can be attributed to the class action lawsuits filed against the company and departure of Robert G. Pedersen II as CEO and chairman in August.
However, Zagg's underlying fundamentals remain strong. The recent drop in Zagg shares is therefore an excellent buying opportunity. The shares are currently trading around $7.30, which is well below the price target set by JPMorgan analysts. Zagg is trading at a P/E ratio of 9.46, which is significantly below the industry average of 15.97.
Zagg has significant upside potential from current levels, given the company's prospects and the outlook for the smartphone market.
Disclosure: I have no positions in any stocks mentioned, but may initiate a long position in ZAGG over the next 72 hours. I wrote this article myself, and it expresses my own opinions. I am not receiving compensation for it (other than from Seeking Alpha). I have no business relationship with any company whose stock is mentioned in this article.