Until September of last year, platinum traded at a premium to Gold. Today, with skyrocketing gold prices, the opposite is true. Could platinum be a good investment for your portfolio?
Jewelry Demand:
China has passed India as the country with the highest demand for Gold. This, according to CNBC, could have occurred due to a 30% year over year drop in gold jewelry demand from Indians. CNBC stated that:
"It is being driven by price moves and currency devaluation. Persistently high gold prices over the past year have been coupled with a depreciation of the rupee against the dollar. In fact, the rupee has lost 25 percent of its value against the dollar over the same period. This exacerbated the price of gold for Indians, because gold is priced in dollars."
The network further explained that an increase in Indian demand for diamonds was being created, due to the relatively lower price of the stones as opposed to gold. Maybe diamonds are selling, but I see another possible alternative also arising in India from high gold prices- Platinum. I am not alone, as apparently many Indians see platinum as a suitable alternative investment to gold as well.
According to Rahil Mumhitule, the Trade Manager for Platinum Guild International in India:
"The consumption of platinum in India was 3 tonnes in 2011 and there are estimates that it will be about 40% higher this year (2012). Pune has however, recorded a jump of 60% in platinum jewellry consumption."
Vaishali Banerjee, Country Manager and also of Platinum Guild International, further elaborated, stating:
"This is in the initial growth stage so we expect demand to grow over the next few years. We are looking at an overall 40 - 50% growth with some part from organic growth and other from market expansion for the coming season."
Auto Industry:
According to The Times of India, automobiles will also play a role in platinum's rise. The paper cited that, "Europe has been working on platinum for various applications. Once that industry is back on track there will be a major upside of platinum prices."
Platinum is used in catalytic converters, so owning the white metal will give an investor exposure to this. Ford (NYSE:F) recently put up a record profit of $2.3 billion in North America, while General Motors (NYSE:GM) beat expectations, and also did well in China. The auto industry may not be in the greatest shape, but seems to be picking up again, especially in America. Both companies were hurt by losses in Europe. When Europe does begin to recover, more catalytic converters will be needed for increased auto sales- which may mean that more platinum will need to be consumed.
Conclusion:
Platinum demand has the potential to increase greatly in India, whose citizens may substitute the white metal for gold due to its presently cheaper valuation- in both jewelry making and as an investment vehicle.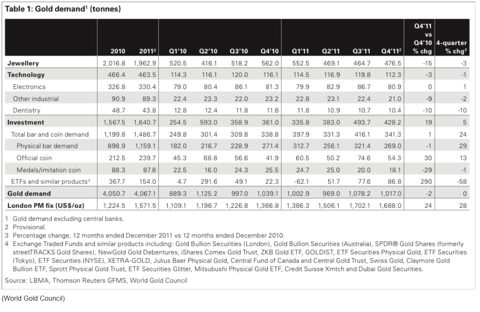 Jewelry makes up about half of the demand for gold worldwide and a large amount of this comes from India. If platinum can steal away some jewelry market share from the yellow metal, the price could pop. Keep in mind that Platinum is much rarer than gold, and also has many more industrial uses.
One downside to platinum, as opposed to gold, however, is the fact that many view gold as a currency. The same can't be said about platinum. Investors don't necessarily rush to platinum in times of fear or as a hedge against inflation like they do with gold and even silver (NYSEARCA:SLV). Other metals, such as palladium, that are cheaper are also beginning to replace platinum in catalytic converters, so this is another downside to keep in mind.
Platinum is more of an industrial metal, used in cars and jewelry. Platinum would be a good buy for investors looking to play off of increasing Indian demand for jewelry and investments in the form of platinum. It is also beneficial to note that platinum is not often historically cheaper than gold, as it is now. Platinum last traded at $1,548, with gold at $1,677.
Disclosure: I am long F. I wrote this article myself, and it expresses my own opinions. I am not receiving compensation for it (other than from Seeking Alpha). I have no business relationship with any company whose stock is mentioned in this article.