CVS (NYSE:CVS) reports their 3rd quarter 2012 financial results before the bell on Tuesday morning, November 6th, with analyst consensus looking for $0.84 per share on $30.09 billion in revenue. Expected year-over-year growth is 20% and 13% respectively.
The stock is up about 13% year-to-date (excluding the dividend), in line with the S&P 500.
Unlike Walgreen (WAG), CVS is really two distinct business segments:
Caremark, the PBM (pharmacy benefits manager) is 60% of CVS's total revenues but just 26% of total operating profit as of the June quarter, down from 45% of total operating profit as of late 2008. Caremark ran into problems in late 2009, when the company announced $4 billion in contract losses as the states of Ohio and New Jersey went elsewhere. The stock fell 20% on huge volume with the news in late 2009, and it is still recovering. The PBM's gross and operating margins have fallen from 8.5% - 9% and 4% in the mid 2000's to 4.5% and 2.5% today.
The traditional drugstore segment of CVS is 50% of CVS's total revenues but 55% to 75% of total operating profit with a 30% gross margin and a 7.5% to 10% operating margin.
Recently CVS has benefited from Walgreen's dispute with Express Scripts as CVS saw both some front-end and pharmacy business gravitate to their stores from Walgreen's, in late 2011 and early 2012.
The stock is not expensive at 8.5(x) - 9(x) cash-flow and 12(x) free-cash-flow as of the June quarter. In fact, CVS's cash-flow is the most compelling aspect to the valuation argument as management is committed to the dividend and repurchasing shares so the ability and willingness of management to return capital to shareholders is formidable.
The next catalyst for the stock could be a nasty winter and an ugly flu season. Last year's unseasonably warm Midwest winter is unlikely to be repeated.
At $46.50 per share, CVS is trading at 12(x) 2013's current estimate of $3.78 with expected low-teens earnings growth the next few years on mid-single-digit revenue growth.
CVS is a defensive stock for this kind of market. CVS is not very volatile, it is reasonably valued on a cash-flow basis, and management is returning a lot of capital to shareholders.
Our internal spreadsheet values CVS closer to $60, while Morningstar values CVS in the mid $40's. The stock is not at a big discount to what we think is fair value, but as long as management doesn't screw up (like they did with CVS Caremark and the loss of $4 billion in business), we think CVS is the kind of stock you can buy and sit on and get rewarded with the capital allocation. (We are long CVS, but not a huge position given its proximity to fair value. We like to buy at a bigger discount.)
We'd prefer to be a bigger buyer near $40, but we'd start adding to CVS under $43.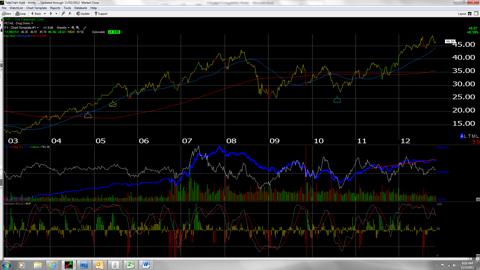 Disclosure: I am long CVS. I wrote this article myself, and it expresses my own opinions. I am not receiving compensation for it (other than from Seeking Alpha). I have no business relationship with any company whose stock is mentioned in this article.