In addition to being the world's leading generic drug manufacturer, Teva Pharmaceutical Industries (NYSE:TEVA) has a strong branded business as well. These strong businesses have produced one of the strongest and most consistent records of earnings growth during the past 15 years over any of its peers. Teva has averaged earnings growth of 25% since calendar year 1999, yet inexplicably trades at a below-average market multiple, while simultaneously averaging an above-average and growing current dividend yield of 2.4%.
Additional Research
This article is intended to look at Teva's "essential fundamentals at a glance" through the lens of the F.A.S.T. Graphs™ research tool. Therefore, rather than reinvent the wheel, we direct the readers to the following article by Robert Broens: Teva Pharmaceuticals: Valuation Is Too Depressed On Worries About Copaxone that provides an in-depth look at Teva.
A Live F.A.S.T. Graphs™ on Teva
The F.A.S.T. Graphs™ on Teva illustrates how undervalued this company currently is. Teva can be purchased on sale based on the following fundamental metrics:
· a PE ratio of 8, among its lowest since 1998 versus its normal PE range of 20-21
· a price to sales ratio of 1.74, among its lowest since 1999
· a current dividend yield of 2.4%, its highest since 1999, indicative of low valuation
· A low payout ratio of approx. 20%, indicating room for future dividend growth
Moreover, in order to conduct your own research and get a clearer perspective on Teva's valuation, click on the picture above that links you to a fully functioning sample F.A.S.T. Graphs™ on Teva Pharmaceutical Industries and research this high-quality dividend growth stock deeper and faster.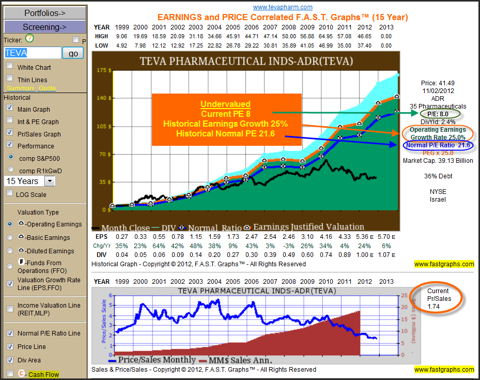 (Click on this link or the picture above that will take you to a free, live, and fully functioning FAST Graphs™ on TEVA.)
Run this "tool to think with" through its paces. Use the tan navigation bar to the left of the graphs and draw multiple graphs ranging from 2 to 20 years of history. Discover how this tool instantly provides a clear picture of the business behind the stock and dynamically re-evaluates valuation and reveals the clear correlation between the company's earnings and price.
Note: This link will be live for 90 days beginning November 5, 2012. For more advanced instructions on how to utilize the live graph follow this link.
Summary & Conclusions
Teva Pharmaceutical Industries is our dividend growth stock value idea of the week. At its current quotation, Teva Pharmaceutical Industries is trading at what currently appears to be a compelling valuation. Additionally, the opportunity for long-term dividend growth appears well-defined. Consequently, we believe this is an attractive candidate worthy of further due diligence.
Disclosure: Long TEVA at the time of writing.
Disclaimer: The opinions in this document are for informational and educational purposes only and should not be construed as a recommendation to buy or sell the stocks mentioned or to solicit transactions or clients. Past performance of the companies discussed may not continue and the companies may not achieve the earnings growth as predicted. The information in this document is believed to be accurate, but under no circumstances should a person act upon the information contained within. We do not recommend that anyone act upon any investment information without first consulting an investment advisor as to the suitability of such investments for his specific situation.
Disclosure: I am long TEVA. I wrote this article myself, and it expresses my own opinions. I am not receiving compensation for it (other than from Seeking Alpha). I have no business relationship with any company whose stock is mentioned in this article.