As economic uncertainty increases, many investors have a tendency to seek investments that are defensive in nature. The consumer staples sector offers an array of investments containing many defensive attributes that are quite suitable for investor's needs. Over the past three years, the consumer staples sector has exhibited excellent growth and in just the last year, the sector has grown by approximately 16%. Given election day is right around the corner, I felt it was only appropriate to include this excerpt from Forbes:
According to Sam Stovall of Standard & Poor's, consumer staples stocks have historically fared well in presidential election year stock markets.
This article highlights two exchange traded funds that provide exposure to the consumer staples sector in a well-diversified manner. First, I will provide and overview to both funds, and second, the core of this article will focus on the underlying assets held within each. The two exchange traded funds that will be discussed in this article are Vanguard Consumer Staples ETF (NYSEARCA:VDC) and Consumer Staples Select Sector SPDR Fund (NYSEARCA:XLP).
VDC and XLP
VDC and XLP are both very similar in nature. The investment strategies of each are merely identical. VDC and XLP's investment allocation both strives to provide investors with a return that corresponds to the price and yield performance of securities within the consumer staples sector. At a minimum both funds invest at least 95% of their assets into companies falling within the following industries:
Food and Staples Retailing
Household Products
Food Products
Beverages
Tobacco Products
Personal Products
VDC is currently trading at approximately $90 per share, whereas XLP is trading slightly lower at only $35 per share. The primary difference for this is variation is VDC total asset value is $1 billion and VDC has 12.32 million shares outstanding. In comparing these same metrics to those of XLP, you will see XLP's total asset value is $6 billion, which is nearly six times VDC's. Also, XLP has 167.67 million shares outstanding. These differences only explain the variation in the dollar value per share and should not be used to distinguish the intrinsic value of each fund.
Switching gears to a topic where XLP and VDC reveal more similarity, is their returns in terms of percentage form. Below, Figure 1 outlines XLP and VDC's historical returns for the past three years relative to the SPDR S&P 500 Trust (NYSEARCA:SPY), which is an exchange-traded fund that accurately reflects the performance of the S&P 500. In comparing exchange traded funds, I feel the SPY serves as a more adequate benchmark for comparison.
Figure 1: VDC and XLP Vs. SPY
Click to enlarge images.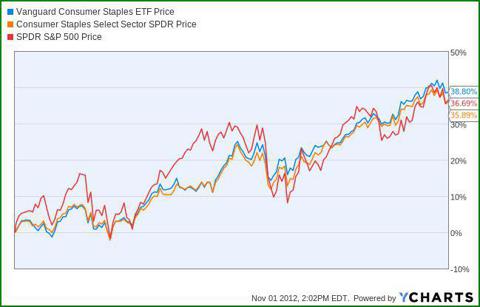 You will notice VDC and XLP are represented by the blue and orange lines, respectively. The relative performance of both exchange traded funds are fairly comparable to the returns of SPY, which is distinguished by the red line. Toward the far right of the graph at the last major dip you will notice SPY declined further in terms of percent than VDC and XLP did. Most recently in the past several weeks VDC and XLP have outperformed SPY. But the most significant point to take away from this is that VDC's and XLP's historical returns are highly correlated and you will fully understand by the end of this article.
VDC's and XLP's Holdings
VDC and XLP's top four holdings are identical and include Proctor & Gamble (NYSE:PG), Phillip Morris (NYSE:PM), The Coca-Cola Company (NYSE:KO), and Wal-mart (NYSE:WMT). Of these four, PG remains the top holding in each fund with 10.53% of VDC total assets held comprised of PG and respectively 13.63% for XLP. According to an article from Forbes, there may be a valid reason as to why PG is the top holding of both funds:
Procter & Gamble for example has increased prices across all segments ranging from baby care & family care to grooming and health care to boost its revenue. The company is looking to additional product price increases in fiscal 2013 to contribute towards revenue growth.
As the above excerpt pointed out, recently PG has made increases across the board in the prices of their products. In fact, PG increased prices and made altercations to their pricing strategy across the vast majority of all product lines, but what is so significant for anyone who has vested interest in the company is that PG continued to achieve success and turn over large profits after making these price adjustments. Companies within the consumer staples sector are heavily focused on taking advantages of opportunities in growing markets. According to the same article, Kraft (KRFT) is evidently one company within this sector taking advantage of opportunities presented by emerging markets. Although KRFT is not one of the top holdings of either fund, KRFT serves as an excellent example of a company in the consumer goods sector that is utilizing alternative options for growth:
The emerging markets of Asia, Eastern Europe, and Latin America offer ample growth opportunities for food companies. Growth of the affluent, urban middle class population is driving demand for processed & packaged foods in these markets. Kraft Foods for example has enhanced its distribution network in emerging markets by acquiring U.K.-based Cadbury. Kraft is now leveraging this network to sell Oreo Cookies and Tang drink mix in India. Kraft expects its emerging markets segment to become its key growth driver in the future.
PG, PM, KO, and WMT have exhibited superb performance through operations as well maintain high levels of profitability through strategic marketing and pricing strategies, and continue to compensate investors with a fair yield. This is well exemplified below in Figure 2, through the price performance of each company over the past three years.
Figure 2: Top Four Holdings Three-Year Performance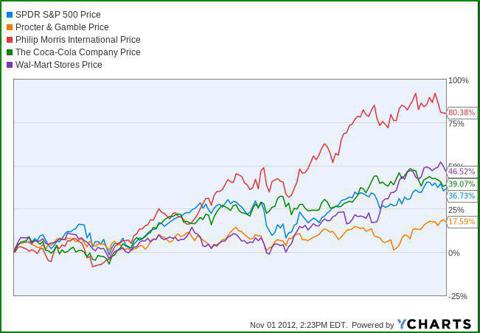 To further illustrate for investors how an investment in VDC or XLP compares to directly investing in one of the four top holdings, I created the figure below. Figure 3 contrasts the dividend yields and beta for each investment opportunity.
Figure 3: Contrasting Yields and Risks

With the exception of WMT, directly investing in any of the individual companies will provide you will a higher annualized dividend yield. However, the investor will be exposed to a higher level of risk that is associated with these alternatives. For example, consider options A and B. For option A, lets say you were to invest $10,000 equally diversified among the four companies. Your average dividend yield would be 3.02%, but the minimum beta you would be able to achieve through diversification is 0.6525.
In comparison, if you choose option B, which entails investing $10,000 equally between VDC and XLP, you will be compensated with an annualized dividend yield of 2.42% and can achieve an extremely low beta of 0.44. An investor who is risk averse is more likely to choose option B, because it provides an average dividend yield that is more appealing given the corresponding level of risk. The intent of the above scenario is not to advise one against investing in one of the four companies, but simply to illustrate a clear picture of how an investor can gain exposure to the profitability and returns generated by these companies through an alternative that essentially yields a return exposed to lower risk.
Conclusion
Prospects for the consumer staples sectors are looking favorable as we approach the end of FY 2012. Analysts consensus are that for FY 2012 the consumer staples sector will outperform the market and projections for FY 2013 so far are strong. In conclusion, taking into account the current level of economic uncertainty, by investing in exchange-traded funds that allocate their assets to the consumer staples sector you can add stability to your portfolio, help minimize your diversifiable risk through the addition of a security with defensive attributes, and compensate you with a fair dividend yield.
Sources: TD Ameritrade, YCharts, Forbes, and Google Finance.
Disclosure: I have no positions in any stocks mentioned, but may initiate a long position in XLP, VDC over the next 72 hours. I wrote this article myself, and it expresses my own opinions. I am not receiving compensation for it (other than from Seeking Alpha). I have no business relationship with any company whose stock is mentioned in this article.