Background
It was only just over a year ago that the two hard disk giants, Western Digital (NYSE:WDC) and Seagate (NASDAQ:STX) were competing in what was essentially a cutthroat, low margin business. A quick look ate two firms' gross margin profiles up to right before the Thailand floods indicates that things just weren't doing all that great: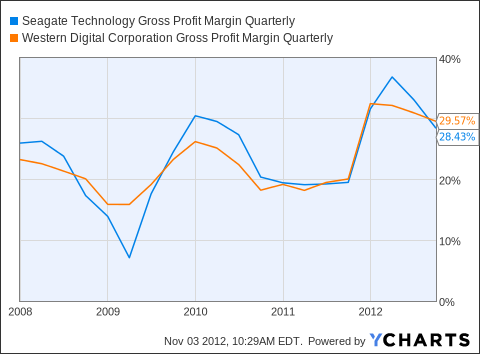 STX Gross Profit Margin Quarterly data by YCharts
However, after the shortage caused by the Thailand floods, ASPs for hard disk drives skyrocketed to well over 50% higher than pre-flood levels. Since then, prices have come down from their sugar high, but as the chart above indicates, the gross margin profiles for these companies still remains healthier than before. Given that there are only two major hard disk drive companies (the third, Toshiba, holds 13% market share), there is very little competitive pressure from other hard disk drive manufacturers to drop prices significantly.
As a result, Western Digital and its rival, Seagate, have been printing money for their shareholders over the last year.
Earnings Results - Latest Quarter And Guidance
A quick look at Western Digital's latest earnings report reflects the notion of across the board ASP increases on its drives. Revenues in the latest quarter came in at $4B, or up 50% year-over-year. Earnings per share was a staggering $2.36, beating consensus by $0.04.
The more interesting part of the report, however, is that the company guided for $3.55B - $3.7B in sales and EPS of $1.65 - $1.85, missing consensus estimates of $4.13B revenues and $2.43 EPS. As a result, shares of the company's stock plummeted in the after-hours session to about $33 per share before rebounding over the next couple of days right back to the $35 level.
The price action can be explained fairly simply - Western Digital's valuation is just so cheap at ~4x earnings ex-cash that it is very difficult for traders to really hammer down the price before the value investors start loading up on shares. Unless this valuation metric is fundamentally disrupted by several quarters of declining earnings, the company's shares still remain an excellent value.
The Solid State Threat
While companies such as Micron (NASDAQ:MU) and OCZ Technology Group (NASDAQ:OCZ) are leading the way with blazingly fast pure solid state drive solutions, it seems that consumers still want to have quite a bit of local storage at their disposal. That being said, the speed advantages to flash solutions cannot be ignored. This has for some - and will eventually for the majority - led to three major paradigms in client-side storage:
Hybrid SSD + HDD Drives - These are hard disk drives that Seagate, Western Digital, and Toshiba produce that are hard disks at heart with some NAND flash built in to be used as a "cache" to reduce overall access latency. In this scenario, the NAND flash manufacturers benefit and the traditional hard disk drive vendors + supply chain wins.
SSD + HDD Combinations In The Same Machine - This is where the system vendor uses both a traditional hard disk drive and a (small - in the case of notebooks) solid state drive in the same machine. In this case, the traditional hard disk drive vendors win, the NAND flash producers win, and even the fabless SSD vendors win (should their products be designed in).
SSD client side, HDD in the cloud - The third option is to simply use solid state storage exclusively on the client side. For many people using notebooks, a 128GB or 256GB solid state drive is enough to hold documents, music, some games, and a movie or two. However, with less data stored locally, these users will likely rely more on cloud services such as Microsoft's (NASDAQ:MSFT) Skydrive or Amazon's (NASDAQ:AMZN) Cloud Drive. These cloud services will require massive amounts of hard disk storage space.
In each of these cases, bulk storage is still very much required. The overall volume of data to be stored is increasing and for mass storage hard-disk drives are required, even if they are pushed off into the datacenter/cloud and out of the client side. The net effect here seems to be a parallel growth of both solid state solutions and hard-disk drives in the long term (albeit the solid state growth will likely be faster).
Dividend/Shareholder Friendliness
Western Digital has historically not been as shareholder friendly as its rival, Seagate, as shown here: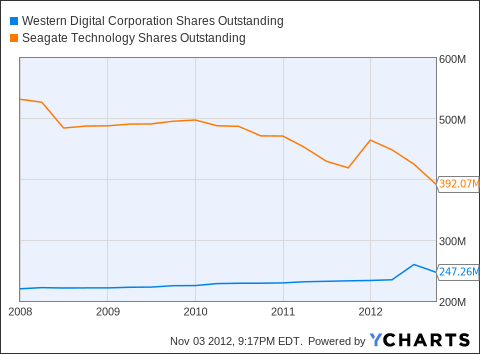 WDC Shares Outstanding data by YCharts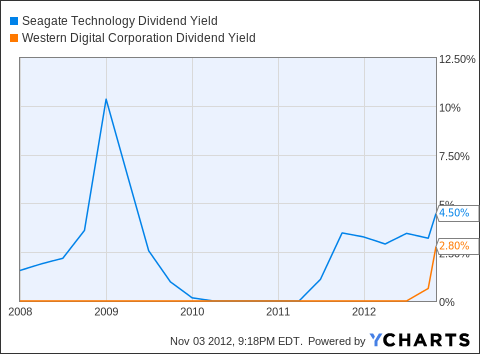 STX Dividend Yield data by YCharts
However, Western Digital finally authorized a share buyback to the tune of $1.5B and initiated a dividend, both with the intention to give 50% of free-cash-flow to investors. At 2.8% yield, the dividend isn't as attractive as Seagate's, but Western Digital balance sheet is cleaner with $3.54B in cash and $2.13B in debt against its rival's $2.37B in cash and $2.87B in debt.
Conclusion
Western Digital is a well run company that pays a decent dividend, has a strong balance sheet, generates a lot of cash, and trades at bargain-bin multiples. The strategy that has made investors a lot of money has been to buy any large dips. That strategy is still sound in general on the hard disk makers.
Both Western Digital and Seagate are good, with the choice depending solely on your investment tastes. Want a big dividend and more aggressive buybacks? Go with Seagate. Want the better balance sheet and higher market share drive maker? Go with Western Digital. Either way, you can't go wrong on a dip.
Disclosure: I have no positions in any stocks mentioned, but may initiate a long position in WDC over the next 72 hours. I wrote this article myself, and it expresses my own opinions. I am not receiving compensation for it (other than from Seeking Alpha). I have no business relationship with any company whose stock is mentioned in this article.