Boron is a rare metalloid that can be used either as a refined borate or as boric acid in more than 300 different uses. There are four borates that make up about 90 percent of the borates used commercially: colemanite, kernite, tincal and ulexite. These borates are used in the manufacturing of a wide variety of products ranging from fiberglass insulation to LCD screens. In fact, it is estimated by the USGS that over three-quarters of borates produced are used in the manufacturing of ceramics, detergents, fertilizer and glass.
Today, Rio Tinto (NYSE:RIO) through its U.S. based boron operations and Turkey's state-owned Eti Maden AS control significant amounts of the world's reserves and production. In fact, Eti Maden and Rio Tinto, through their major deposits, are claimed to control about 80 percent of the market, effectively making it a duopoly.
2011 Boron Production, in thousand metric tons: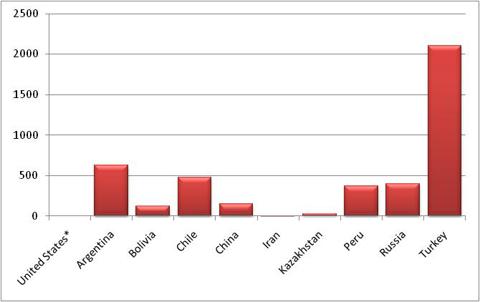 *United States production was withheld to avoid disclosing private company data
**Source: USGS
How to Play It
Finding exposure to this rare element is not particularly easy. Sure one could simply initiate a position in Rio Tinto; however, boron represents a relatively small portion of the company's profits, which defeats the purpose.
Erin Ventures (OTC:ERVFF) is a Canada based company that owns a 90 percent interest in the Piskanja boron property in the Republic of Serbia. The company took over the deposit in 2005 through a public tender process and began a drilling program in late 2011 with the objective of establishing a reliable, complaint resource estimate.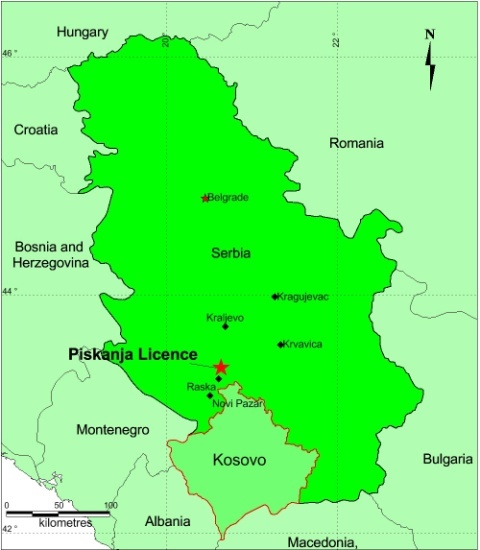 On February 14 the company reported that an estimate using historical drilling data, some of which was done by Rio Tinto, established a resource estimate of 6.36M tones grading 36.4 percent boron per tone. In addition, subsequent drill results posted by the company confirm historical drilling with high bearings of boron at decent sized intervals.
On June 26 Erin announced that it has received an interest from a potential strategic partner of entering into a purchase contract with the company for colemanite from its boron deposit. Although the company does not reveal the identity of the potential partner, it is reasonable to assume that the entity is Chinese, as China's demand for such natural resources has been insatiable. The company also stated that the potential partner is both a consumer and a major wholesaler of boron and boron related products in one of the world's largest growing markets for boron.
Since then, the due diligence conducted by the potential strategic partner has advanced considerably. The potential partner acquired a 200 tone bulk sample of colemanite for analysis at its laboratory. The sample was extracted from the Pobrdje mine owned by Ibar Mines, located 2.5km from the Piskanja deposit, as the partner believes the two deposits are sufficiently similar that tests conducted on the material of one can be extrapolated with a high degree of certainty to the other.
As such, Erin recently reported that the laboratory chemical analysis conducted by the potential partner was completed successfully and the partner will proceed with the next stage of its due diligence.
Finally, on October 31 the company announced that the potential partner tested a sample of the material at one of its boric acid production facilities and concluded that the colemanite derived from the Pobrdje mine meets its requirements and can be used in commercial production.
This sets the stage for potentially a material value creation for shareholders as the two companies have now entered into negotiations on potential partnerships. These negotiations can lead to a substantial investment to be made by the partner to build a processing plant at the site and finance the purchases of other needed heavy machinery. If successful, the partnership will also essentially remove the funding risk inherent in most junior miners, again a value creating proposition for shareholders.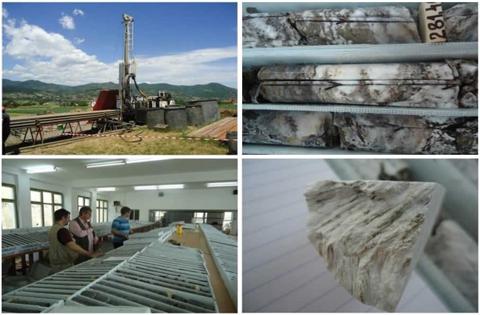 Disclosure: I am long OTC:ERVFF. I wrote this article myself, and it expresses my own opinions. I am not receiving compensation for it (other than from Seeking Alpha). I have no business relationship with any company whose stock is mentioned in this article.