In our previous reports on Apple Inc (NASDAQ:AAPL), we have been focusing primarily on the performance of its cutting edge, innovative, wildly popular iOS devices (iPhone and iPad). We have primarily focused on the iPad and iPhone because those products account for 72% of Apple's revenue in its most recent quarter. In this report we will be focusing on Apple's recent management moves. Apple's management (especially the late Steve Jobs) has been instrumental in Apple's comeback story however even great institutions like Apple can muck things up with bad management. We believe that the departure of Apple Retail's boss John Browett and iOS SVP Scott Forstall will serve as addition by subtraction for Apple and we believe that while Apple's CEO Tim Cook is no Steve Jobs, at least he isn't Stephen Elop (Nokia's (NYSE:NOK) CEO).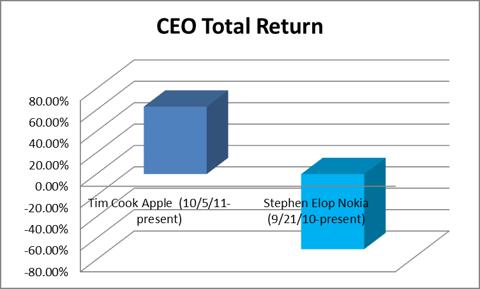 Source: Morningstar Direct
In our October 5th report focusing directly on Apple Retail Stores, we were aghast at Tim Cook hiring John Browett as Apple's Senior Vice President of Retail because of Browett's less than stellar track record at Dixons' Retail. We think Browett shared our level of surprise that Apple hired him as the head of Apple Retail Stores considering that Dixons' sales flat-lined while Browett served as its CEO and its profits sank by 75% under his watch. Browett has had a charmed life in that despite graduating with a 2:2 degree in natural sciences, he was hired right out of school as an investment banker with Kleinwort Benson. After five years of I-Banking and an MBA at Wharton, he became the CEO of Tesco PLC's online operations in 1998. We concede that Browett did a good job with Tesco as Tesco's sales and Browett left Tesco in 2007 in order to be CEO of Dixons. We were flabbergasted that Dixons did not terminate him even though the performance of the company was weak. We guess that Dixon's doesn't believe in "pay for performance" for its executives though.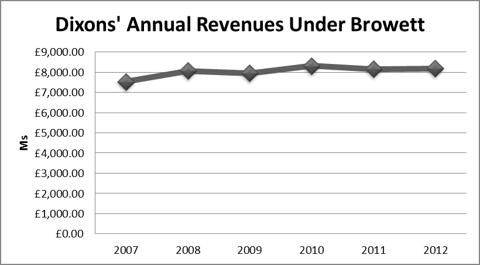 Source: Dixons' 2011-12 Annual Reports
Up here in Boston though, we weren't surprised that such a prestigious company like Apple would hire a mediocre second-rater to run Apple Retail. We saw the same thing in Boston when the Boston Red Sox baseball team hired Bobby Valentine (with his mediocre career winning percentage of 50% and last MLB managerial job in 2002) as its field manager for the 2012 season to replace Terry Francona and his two World Series victories. Browett reminded us of Valentine in that both have a strong interest in athletic training and fitness and both were highly sought after by prestigious institutions in their fields of endeavor even though both had a mediocre track record of results. Both Browett and Valentine ended up making major management miscues while running their respective franchise's operations and both were unceremoniously terminated after less than a year of running the show. Tim Cook will oversee retail until Apple finds a replacement for Browett.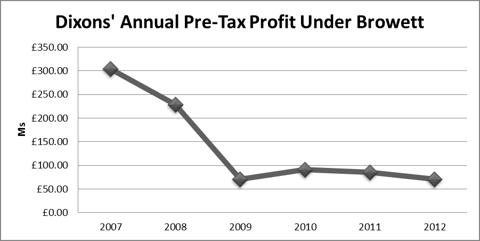 Source: Dixons' 2011-12 Annual Reports
We weren't the only ones flabbergasted with Apple hiring John Browett (AKA the dunce from Dixons'). During Browett's 9 months running Apple Retail Stores he oversaw staff reductions at Apple Stores' locations as well as cutbacks on the man-hours of staff members, in-store demonstration workshops and even maintenance. We think that Browett was absolutely blinkered when he started deferring facilities repairs as "not business critical" and advising employees to "get creative" and to fix things themselves. We had expressed concerns that the beautiful execution that Apple Retail Stores was known for would degenerate into the tired, dank and dreariness that Dixons was known and loved for. We were shocked that Apple offered him $60M in restricted stock to join Apple but by firing him now, it only cost Apple $3M. If Browett stayed on any further, he would have cost the company a lot more than $60M with his nickel-nursing. We were amazed that Apple Retail Stores saw its revenues increase by 33% and reach $18.8B in 2012 even with Browett running the show but if Browett continued to muck things up, Apple would be lucky to reach $19B in future years. Apple's year-over-year sales growth declined from 59% in Q1 2012 (before Browett's hiring was announced) to 18% in Q4 2012, when he was sacked.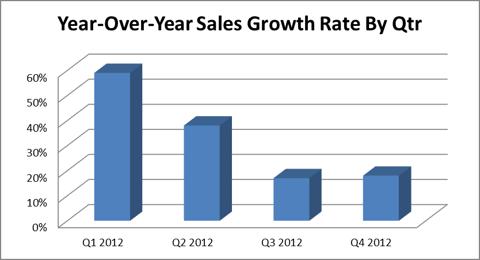 Sources: Apple's last four quarterly financial supplement reports
Now that we have finished analyzing and evaluating why John Browett was sacked, let's turn our attention to Scott Forstall. We were taken aback by this departure because Forstall had been with Apple since Steve Jobs returned back in 1997. Forstall had been a critical part of the development of Apple's iOS operating system. However, Forstall had earned a reputation as an ambitious and divisive figure within the organization. Jonathan Ive (Apple's design chief) and Bob Mansfield (Apple's head of technology) would not even meet with him unless Tim Cook was present. We think that issues with Apple's Siri had set in motion Forstall's departure from the company and that the Apple Maps issue was the final straw. If only he was willing to have joined Tim Cook in signing the letter of apology to Apple's customers about the Apple Maps snafu. Forstall will serve as an adviser to Tim Cook and leave Apple next year and when the news of Forstall being forced out hit the wires, one senior Apple employee was anonymously quoted as saying "This was better than the Giants winning the World Series. People are really excited. The only risk we see here is if Google (NASDAQ:GOOG) is willing to take a chance on Forstall playing nice and giving him a job with Android.
Forstall's responsibilities were divided amongst two different Apple executives. Apple's internet services boss Eddy Cue would assume responsibility for Apple Maps and Siri. Apple's head of industrial design Jonathan "Jony" Ive would be leading Apple's Human Interface development operations. According to Robert Scoble, Forstall was emailing Apple employees begging for ideas for what to do with iOS. We've heard of soliciting feedback from your subordinates but that seems ridiculous to us. It was also alleged that Forstall was wedded to the skeuomorphic leather and wood grain user interface design which tries to imitate artifacts and textures in real life. While Forstall's mentor Steve Jobs may have been a proponent of skeuomorphic design, other Apple executives such as Jony Ive believed that these artifacts looked outdated and that user interface design on the computer had reached a point where such tricks were no longer necessary. We also think Forstall's Mini-Steve routine was wearing thin with Apple's executives and someone needed to tell him "Steve Jobs was a friend of mine. I knew Steve Jobs. You're no Steve Jobs".
In conclusion, Tim Cook is not Steve Jobs and will never be Steve Jobs. Tim Cook's first year leading Apple has had a few bumps in the road but we can see that although he isn't Steve Jobs, at least he isn't Steve Elop either. We're glad to see that Tim Cook is willing to admit that he isn't perfect and that he is able to make the necessary personnel decisions in order to ensure that Apple doesn't become an ossified artifact of obsolescence like Nokia. We believe that the departures of John Browett and Scott Forstall will help Apple forestall any potential weakening of Apple's corporate culture and we believe that the replacement of these two executives is a classic case of addition by subtraction. We're hoping that Tim Cook replaces Browett with someone from within the Apple Retail Stores because we think it is time that Apple Retail Stores is run by someone with experience in that operation instead of gambling on a second-rater CEO from a third rate retail operation like John Browett.
Disclosure: I am long AAPL. I wrote this article myself, and it expresses my own opinions. I am not receiving compensation for it (other than from Seeking Alpha). I have no business relationship with any company whose stock is mentioned in this article.
Additional disclosure: This article was written by an analyst at Saibus Research. Saibus Research has not received compensation directly or indirectly for expressing the recommendation in this article. We have no business relationship with any company whose stock is mentioned in this article. Under no circumstances must this report be considered an offer to buy, sell, subscribe for or trade securities or other instruments.