Since Apple Inc. (NASDAQ:AAPL) shares peaked about 6 weeks ago, the stock has plummeted almost 20% and it is now below the psychological $600 level. Growth is clearly slowing and investors are now asking themselves: Is Apple still a true growth stock or should it now be considered a dividend stock?
The Growth Stock Argument
Apple has been built on innovation and it has been one of the best growth stories over the past 5 years. The company didn't invent the MP3 player, the smartphone, or the tablet, but they certainly changed the way consumers use these devices. As a result, the company has grown earnings at a compound annual rate of 62% over the past 5 years (see graph below) and the stock is up almost 400% since troughing in late 2008.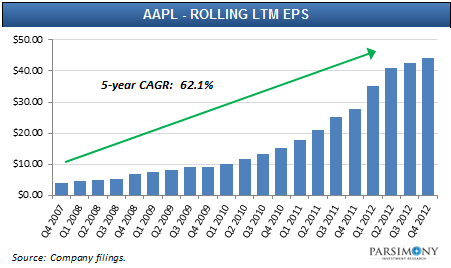 While Apple continues to innovate these devices every year, their innovation seems to be reaching a point of diminishing returns with these products. As a result, investors have also begun to see diminishing returns through slower earnings growth (hence the recent 20% drop in the stock). The iPhone5 and the iPad Mini are great devices, but the market is saturated for those products and future growth expectations need to be managed appropriately. Apple has had a great run over the past few years, but that pace of earnings growth is unsustainable over the long-run.
According to S&P Capital IQ consensus estimates, Apple is still projected to grow over 20% per year for the next 5-years. By all growth stock standards, that is still pretty healthy growth.
From a valuation standpoint, you could argue that Apple is undervalued right now as a growth stock. Apple has traded in a valuation range of 12.0x-34.0x earnings (trailing) over the past 3 years and the stock is currently trading near the low end of that P/E range (13.2x). Its current PEG ratio is 0.66 (based on future earnings estimates). Apple is also currently trading at a discount to technology bellwethers like Google (NASDAQ:GOOG), Microsoft (NASDAQ:MSFT), and International Business Machines (NYSE:IBM), which have trailing P/E ratios of 21.3x, 16.0x, and 14.0x, respectively. Based on forward 2013E earnings, Apple is currently trading at a P/E ratio of 11.6x!
The Dividend Stock Argument
What do dividend investors look for in a stock? Stable cash flow, you say? Well, how do you like these Apples?!?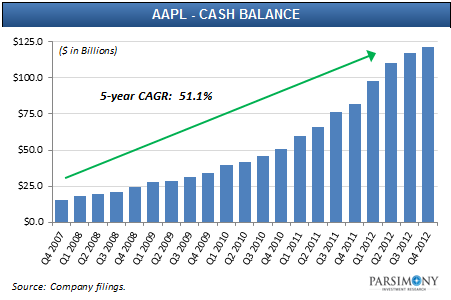 Apple has also built a very strong balance sheet over the last few years. The company has no debt and it generates a significant amount of cash flow. As shown in the chart above, Apple has grown its cash balance from about $15 billion in 2007 to over $120 billion (as of 9/30/12).
As we said in a recent article, Apple is maturing as a company and investors need to recognize that. The iTV should be promising, but Apple's hyper-growth days are behind them. That said, the company has built an enormous ecosystem that will continue to generate a significant amount of cash flow in the future. That should be music to dividend investors ears.
As shown in the table below, Apple currently has a low payout ratio of 24% and a current yield of 1.8%. If the company were to increase its payout ratio modestly to 40%, it would have a current yield of 3.0%.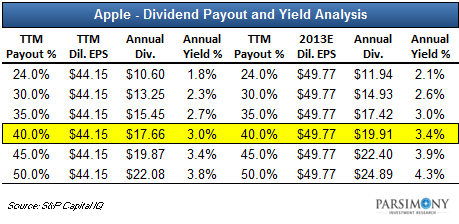 Conclusion
Apple has the potential to be one of the greatest dividend growth stocks of all time! Mr. Cook are you listening?!?
If you combine a modestly higher payout ratio with 15% earnings growth, Apple investors will get the best of both worlds and they should enjoy a 15%-20% annual total return for the foreseeable future. Since Mr. Cook has already shown that he is willing to start sharing the company's large hoard of cash with shareholders, we believe that some future dividend hikes are just around the corner.
As a matter of fact, Apple dipped below $600 recently, we purchased the stock in our model DIY Dividend Portfolio. While its current dividend yield (1.8%) is on the low end of the stocks that we track in our dividend universe, we feel that Apple will continue to increase its dividend in the coming years as the company matures.
Disclosure: I am long AAPL. I wrote this article myself, and it expresses my own opinions. I am not receiving compensation for it (other than from Seeking Alpha). I have no business relationship with any company whose stock is mentioned in this article.