The world's largest offshore driller, Transocean Ltd. (NYSE:RIG) reported third quarter earnings before the market opened on Monday, November 05. Earnings adjusted for items were $1.37 per share compared to estimates of 76 cents per share. Revenue climbed to $2.44 billion, 23% higher than the third quarter of 2011. Revenue however fell short of analyst estimates by $90 million. Transocean's backlog increased $8.3 billion to $29.7 billion since July 18th. The company reported a charge of $878 million related to exiting the standard jackup market.
The company remains on track to reduce its exposure to lower specification less differentiated assets and still expects to close on a sale of 38 shallow-water rigs in the 4th quarter. In September the company announced they would build 4 high specification, ultra deepwater drillships for shell, adding $7.6 billion of long term backlog. The company believes the market will remain tight for all asset classes, and believe that day rates will remain at or above historic highs. Significance strength is seen in the U.K. and the Norwegian North Sea and the company is looking to selectively activate some of idle capacity in the market.
Transocean has a forward P/E of about 10.6 and a PEG ratio of .79. SeaDrill Limited (NYSE:SDRL) has a forward P/E of 11.6 and a PEG ratio of 1.06 and Diamond Offshore Drilling Inc (NYSE:DO) has a forward P/E of 13.1 and a PEG ratio of 1.3. This indicates Transocean is moderately undervalued compared to some its peers. Year-to-date all three of these companies have seen about 25% gains in their stock price. Transocean's improving results could provide a catalyst for relative outperformance in the near term as I believe it presents a better value for investors today.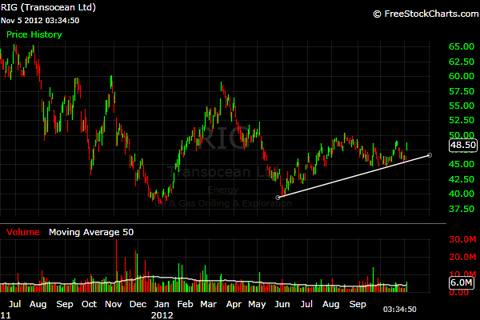 Since the low of $39.50 on June 1st the stock has rallied and moved $2.40 higher on today's earning release reaching $48.45 per share. The stock appears to have some resistance around $50, and if it can break above that level the next area of significant resistance is near $60 per share. The stock has a strong correlation to oil prices; however it has outperformed the price of oil throughout the year. I believe the slowly improving economic conditions and less economic uncertainty next year to support moderately higher oil prices. This should help support Transocean's stock price and I believe today the stock presents a fair risk-reward tradeoff. I would wait for a move down to support around $46 per share before buying.

Data sourced from: Company filings, Finviz.com, and Yahoo!Finance. Chart from: Freestockcharts.com, and Yahoo!Finance.
Disclosure: I have no positions in any stocks mentioned, and no plans to initiate any positions within the next 72 hours. I wrote this article myself, and it expresses my own opinions. I am not receiving compensation for it (other than from Seeking Alpha). I have no business relationship with any company whose stock is mentioned in this article.