The U.S. Lower 48 gas-directed rig count has been on a steady, steep decline, falling by over 500 rigs during the last 12 months (from 934 rigs as of 10/28/2011 to 424 rigs as of 11/02/2012, according to Baker Hughes' survey). Yet the Lower 48 dry gas production has remained virtually unchanged since last October. In the following discussion, I attempt to quantify some of the key factors that help explain the resilience of the U.S. natural gas supply in the face of the more than two-fold decline in the number of rigs drilling for gas. I use the analysis' framework to forecast the direction of the gas rig count in the next six months.
I recommend that readers review Part I of this article before continuing on with this section -- without it, the context of some of the arguments may be lost.
The Conundrum Explained
Many factors impact the way current drilling activity -- which is reflected in the rig count -- ultimately contributes to the production stream. Some factors impact rig productivity, others affect the timing of the production contribution. As a result, the relationship between the rig count and the ensuing incremental supply volumes is not straightforward. In addition, gas supply is impacted by the changing decline rate of the existing production base and contribution from new sources of supply, such as associated gas. Once all these factors are taken into account, the ostensible contradiction between the sharp decline in gas-directed drilling and the resilient production volumes turns out essentially reconciled.
Further in this note, I will discuss each of the more significant contributing factors and quantify their impact using "rig equivalent" metrics. The important conclusion of the analysis is that, until recently, the pace of drilling activity has been more than adequate to maintain dry gas production at a constant level. During September and October, however, the gas rig count edged into the supply contraction territory. I estimate that the industry is currently operating at a level that is approximately 60-70 gas rigs lower than what is likely needed for stable supply. The drilling activity shortfall is minor and is perhaps within the estimation error. However, assuming some growth in demand for natural gas in the next 12 months, a re-acceleration of gas-directed drilling will be required at some point.
In the immediate term, the slower-than-normal gas-directed drilling will be masked by several one-time effects, which may even cause dry gas production statistics show moderate growth in Q4 2012:
"Flush" production from the remaining shut-in wells is likely being released by operators to take advantage of winter demand.
Due to the extraordinarily high storage levels at the beginning of the injection season, production volumes likely remained restricted throughout the summer, via a variety of mechanisms. With the storage-driven constraints finally out of the way, production may see an increase in the short term as the system "decompresses."
As a result, the resilience of gas supply may continue to surprise the market for another several months, and keep a lid on natural gas prices and the rig count. However, in the absence of a near-term acceleration in gas-directed drilling, the shortfall in drilling activity may become apparent during the second quarter of 2013 and cause a healthy support to natural gas prices at that point. While arguably a $4.00-$4.50 Nymex price, in combination with the visible improvement of supply fundamentals, should be sufficient to incentivize additional gas-directed drilling, temporary price spikes above that range are certainly possible. In a less probable alternative scenario, if gas-directed rig count staged a quick recovery toward the 500 level by the end of the year (which translates to approximately 10-12 rigs put back to work every week), the price incentive in excess of the marginal cost of supply level (which I estimate at around $4 Nymex) would become unjustified.
The relevant factors that I will discuss further in the note include:
Rig reclassifications;
Infrastructure constraints and well backlog cycle;
Shut-in production coming back online;
Improvements in rig productivity;
High-grading of gas drilling inventory;
Changing decline profiles of the major shale gas fields;
Proliferation of restricted production methods; and
Associated gas production from oil fields.
Lead Time Before Change In Rig Count Is Reflected In Production Data
A change in the rig count may not be reflected in production data for as long as two to three months (which represents the time needed to drill, complete, test, connect, and "clean out" a typical well). In my illustrative analysis, I assume a two-month lead time. As a result, gas production statistics for August 2012 (the latest EIA-provided data available) reflects the rig count from June 2012, whereas the current rig count will not be fully reflected in production figures until January 2013.
To simplify presentation of the results, I assume in this analysis that the Lower 48 dry gas production remains essentially constant through July 2013. I then estimate the number of additional rigs that would be required for the production target to be achievable.
As the first step, I compare the August 2012 gas rig count of 487 rigs, which is reflected in current gas production (I assume that the EIA 914 data, when released, will confirm that the Lower 48 dry gas production has remained little changed in September and October) with the rig count 10 months before (the average of 933 gas rigs during October 2011).
Then I use the developed framework to "look" six months forward and estimate the rig count that would be required between now and April 2013 so that gas production continues unchanged through mid-2013.
Gas-Directed Rig Count Reconciliation: August 2012 vs. October 2011
When adjusted for various factors, the differential between the October 2011 and August 2012 gas rig counts effectively shrinks from almost 500 rigs to less than 100 rigs. The adjusted reduction in the rig count is more than offset by the flattening of the aggregate gas production base decline and growing associated gas contribution from oil wells. The analysis suggests that the stability of gas supply observed so far should have been expected. Moreover, it is likely that a material portion of available production has remained "rejected" by the market during the last few months via restricted production rates due to the storage limitations at the end of the injection season.
(click images to enlarge)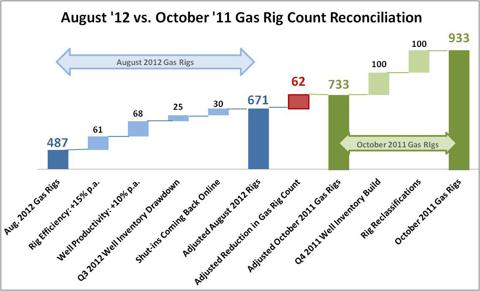 Various reconciliation components in the graph above are explained further in this note.
Gas-Directed Rig Count Reconciliation: April 2013 vs. October 2011
I use the reconciliation model summarized in the graph above as a starting point for a gas-directed rig count forecast. Assuming that the gas rig count of 487 units in August 2012 was "about right" for a sustained production and anticipating further evolution of each of the contributing factors, I estimate that during the next six months, the gas industry would need to add 60-70 gas-directed rigs to avoid a supply decline during the second half of 2013 (I assume that rigs would be added "across the board" in various plays, including dry gas sweet spots and wet gas areas; I also assume that some incremental backlog would be created as a result). The rig requirement would be higher to satisfy any growth in demand.
It is important to note that, given that the majority of gas-directed rigs returning to work will likely be drilling off multi-well pads, the lead time to peak incremental production from a change in the rig count may extend to as many as four to six months.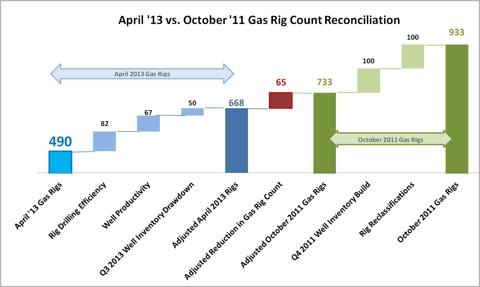 Rig Reclassifications
In Part I, I discussed the results of my review of Baker Hughes' rig data to conclude that the survey's methodology can, in certain instances, produce data that is not fully comparable to prior periods due to "gas to oil" reclassifications of acreage. While such reclassifications have been material only in a relatively small number of "combo" plays (such as the Mississippian Lime, Eagle Ford, Cana Woodford, and Granite Wash), their combined effect on the rig count is nonetheless significant. I estimate that effective "inconsistency" in the gas versus oil rig classification between today's data and similar data 18 months ago in the Baker Hughes survey can be over 100 rigs. In the rig count reconciliation graphs above, I assume that among the 933 gas-directed rigs 12 months ago, approximately 100 rigs would be classified as "drilling for oil" if today's acreage designation was used. After the adjustment, the effective rig count a year ago would be 833 gas rigs.
It is important to note that from a production contribution perspective, the impact of such inconsistencies is less significant, as the reclassifications have impacted wells with relatively low dry gas production. Indeed, dry gas yield from a typical "combo" well that may be subject to an "arbitrary" designation by the operator is likely in the 45%-65% range (I assume that there is little ambiguity in the case of wells with high dry gas and high liquids content). Because of the more challenging economics, dry gas wells -- those that remain economically viable in the current low price environment and are still being drilled -- tend to be more productive on a Btu basis than wells in "combo" plays. Therefore, in terms of production contribution, 100 gas-directed rigs that have been possibly "lost" to oil reclassifications in various "combo" plays during the last 18 months would be an equivalent of perhaps 30-40 rigs drilling within sweet spots of a typical dry gas shale. In comparison, the Haynesville Shale alone has seen a 90-rig attrition in its active rig count since last October.
Infrastructure Constraints And Well Backlog Cycle
The well inventory cycle is perhaps the most important factor that explains a big part of the observed rig count variances.
The lag of infrastructure development relative to drilling activity in fast growing "new" shales has resulted in a massive build up of well backlogs (drilled and cased wells waiting on completion, services, pipeline connection, or shut in because of the lack of processing facilities). In addition, a material percentage of wells already brought to sales have produced at a reduced rate due to the off-take constraints. Such infrastructure-driven well backlogs have been particularly high in the Marcellus and Eagle Ford. Further adding to the backlogs have been voluntary decisions by operators to defer well completions and pipeline connections due to the sub-economic natural gas price environment earlier this year in the areas with no infrastructure constraints.
A growing well backlog can be thought of as a certain number of rigs being active without creating immediate production contribution. In a similar fashion, a drawdown from the backlog is equivalent to additional active rigs. For an illustration, I turn to the Marcellus Shale, where the well inventory stood at over 1,000 wells at the end of the second quarter of this year. Subtracting an estimated 300-well "normal" inventory (which I assume to be equal to three wells per active drilling rig), and assuming that the "abnormal" backlog of 700+ wells was accumulated mostly during an 18-month period, I estimate that as many as 40 rigs (close to 30% of the total) active in the Marcellus a year ago were effectively working "for the inventory." The well backlog in the Marcellus continued to increase during Q2 2012, despite the record-low gas prices, and likely saw the inflection point during Q3. The inventory depletion is expected to accelerate starting in December as several high-pressure gathering lines come into operation. In my analysis, I assume that the Marcellus well backlog remained flat in Q3, and will decline at an average rig-equivalent rate of 20 rigs in Q4 (approximately 100-well net drawdown) and 30 rigs in 2013 (150-well net drawdown per quarter).
In the rig count reconciliation graphs above, I assume that among the 900+ gas-directed rigs in the Baker Hughes survey 12 months ago, 100 rigs were drilling "for the inventory" and not immediately contributing to supply (hence the "adjustment"). I also assume that the industry-wide drawdown from backlogs will accelerate to 50 equivalent rigs during 2013 from the current 25 equivalent rigs (which translates in a combined reduction in existing gas well backlogs of about 1,000 wells by the end of 2013 from the end of Q2 2012 level). In my assumption, the relatively slow pace of inventory depletion reflects the impact of the following factors:
Increasing "normal" inventory levels as many plays transition from single-well HBP-driven drilling to multi-well pad development drilling (which often leads to several wells being "caught under the rig" and waiting on completion as well as extended completion and "clean-out" times).
The expected backlog ramp-up in several "new" liquids-rich plays (such as Utica and SCOOP), driven by infrastructure constraints.
Slower-than-expected infrastructure de-bottlenecking in the Marcellus and Eagle Ford.
Shut-in Production Coming Back Online
I assume that of the voluntary production curtailments earlier this year, approximately 0.5-0.7 Bcf/d remained shut in as of the end of Q2. I assume that the majority of the shut-in supply has been coming back online at the end of Q3 and in the beginning of Q4. While it is difficult to come up with an adequate rig-equivalent measure, I use a 30-rig adjustment during Q3 to account for this factor in the rig count reconciliation calculation.
Improvements in Rig Productivity
I assume that industry-wide gas-directed drilling productivity has been improving at approximately 15% annual rate and will continue to increase at a 5% pace over the next 12 months. The productivity improvement is well-documented in many companies' presentations, and is driven by a variety of factors, such as:
Reduced percentage of delineation drilling and "science" work in gas plays;
Operating learning curve within the same plays;
High-graded rig fleet and improving drilling tools;
Pad drilling and supply chain/process efficiencies being gained as many plays transition into the development phase.
On the other hand, new play discoveries (such as SCOOP) detract from rig productivity as exploration and delineation drilling typically have much longer spud-to-spud times. The focus on acreage retention in new plays can also translate in a less productive use of resources.
High-Grading Of The Drilling Inventory
As the industry has virtually seized drilling on Tier II dry gas acreage and has focused exclusively on "sweet spots," the effective productivity of dry gas wells has increased substantially relative to a year ago. The selective drilling is also increasingly apparent in liquids-rich areas. As a result, only the "best of the best" gas prospects are being drilled, which translates to a higher production per well. Adding to that trend is the continued improvement in completion techniques, better placement of laterals, longer laterals, and other factors. In my analysis, I assume that resource productivity of gas wells (which is different from rig drilling efficiency) has increased on average by 20% relative to a year ago, and will continue to improve at a 10% annualized rate in the following 12 months. These improvements are partially offset by the greater percentage of liquids-rich wells, which typically have lower dry gas yields, in the overall mix. On a net basis, I assume that dry gas production per well has on average increased by 10% year-on-year, and will increase by 5% in the next 12 months.
Changing Decline Profiles Of The Major Shale Gas Fields and Proliferation Of Restricted Production Methods
As the production from several major fields, such as the Haynesville, Fayetteville and Pinedale, is likely reaching a plateau after several years of meteoric growth, the percentage of the wells that are past their first two years -- when declines are steepest -- increases. Adding significantly to that is the continued improvement in completion and production techniques that has translated to visible reductions in well decline rates in some of the major dry gas shales when compared to the earlier years' results.
Restricted production practices are another factor leading to a similar result. Operators have experimented broadly with "restricted flow" methods to improve ultimate recoveries and minimizing bottomhole pressure drawdown. Earlier this year, the technique gained additional appeal as a means of reducing production volumes during a period of sub-economics prices. As a result, the adoption of this practice accelerated. In addition, in a number of areas with constrained infrastructure -- such as the Marcellus and Eagle Ford -- many wells have been producing at restricted rates due to insufficient compression or due to off-take capacity restrictions. All these factors have added to the flattening of well decline rates in the shales.
As a result, the industry-wide "base" decline rate likely inched down in 2012 from 2011. The trend should continue in 2013. In my reconciliation example, I assume that new drilling has to offset 1 Bcf/d less in "base" production declines now compared to a year ago (for reference, EnCana Fundamentals estimates total decline in North American production at approximately 20 Bcf/d annually on a 75 Bcf/d base). This assumption may, in fact, prove to be conservative. I assume that a similar reduction in "base" declines will occur over the next 12-month period.
I estimate that the gradual flattening of shale production declines translates in a reduced call on gas-directed rigs, relative to last year, equal to approximately 30-40 rigs.
Associated Gas Production From Oil Fields
Increasing associated gas production from oil wells (I use EnCana Fundamentals' forecast of 0.7 Bcf/d growth in 2012 and 0.9 Bcf/d growth in 2013) further reduces the call on natural gas rigs. In my reconciliation analysis, I use rig-equivalent adjustments of 30 rigs to the August 2012 rig count and 35 rigs to the April 2013 rig counts.
The combined effect of the flattening gas production declines from the aggregate non-conventional resource base, and the associated gas volumes growth reduces the requirement for gas drilling by approximately 60-80 rig equivalent.
Cautionary Note
This analysis inevitably contains some degree of imprecision: each estimate should be thought of as a range rather a point. Continuous calibration of the estimates will be required with each new available set of data. Still, the discussion above does demonstrate that the observed rig count can be rationalized and reconciled with the production data. When properly analyzed, the rig count remains a valuable leading indicator of natural gas supply dynamics.
This discussion is fundamentally relevant for natural gas (NYSEARCA:UNG) and the natural gas producer stocks. My natural gas producer index includes:
Disclaimer: This article is not an investment recommendation and does not provide a view on the value or price direction of any security. Any analysis presented in this article is illustrative in nature, is based on an incomplete set of information and has limitations to its accuracy, and is not meant to be relied upon for investment decisions. Please consult a qualified investment advisor.
Disclosure: I have no positions in any stocks mentioned, and no plans to initiate any positions within the next 72 hours. I wrote this article myself, and it expresses my own opinions. I am not receiving compensation for it (other than from Seeking Alpha). I have no business relationship with any company whose stock is mentioned in this article.