It is no argument that Dendreon (NASDAQ:DNDN) has been one of the biggest debate stocks over the past couple of years. The biotech name behind the prostate cancer treatment Provenge has seen shares rocket higher and plummet lower more times than I can count on my fingers. Dendreon looked like it was going to be a great investment, rallying into the $40s during 2011, but a series of disappointments have crushed the stock. When I covered the stock in early September, it looked liked the company was in more trouble than people realized. At that time, I was not impressed by Dendreon's quarterly results and weakening balance sheet. The stock was over $5 then, and a short position looked good.
Dendreon recently hit a 52-week low of $3.69. The stock was a bit above that level, but rallied hard on Friday after the company's third quarter earnings report. Today, I'll analyze Dendreon's third quarter results and show why Dendreon's rally may be short lived.
Third Quarter Results:
Dendreon posted impressive year-over-year growth in product revenues, up 26.92% to $77.94 million. However, that number was down 2.53% from Q2 levels. Additionally, while Dendreon reported total revenues of $77.97 million, analysts were looking for $80.73 million in revenues. This is not the first time Dendreon has missed on revenues, and it certainly won't be the last. On the bright side, the roughly $3 million miss was about half of the nearly $6 million miss in Q2.
Dendreon posted a net loss of $155 million, or $1.04 per share. However, the company took an $81 million restructuring charge, along with some other one-time items. Excluding items, Dendreon lost about $50 million, or $0.33 per share. Additionally, the diluted share count rose by over 3.16 million shares over the past year, a rise of 2.16%.
Margin Analysis:
Dendreon has been losing money for quite some time, and the company has been working on a huge restructuring plan to reduce the cost of goods sold and other operating expenses. Dendreon expects some benefits to start in the first half of 2013, with full benefits in the third quarter of next year. By closing one of its facilities, the company is looking to reduce the cost of goods sold to below 50%.
The following table shows Dendreon's Q3 margins since 2010, as well as Q2 margins for this year. I'll use this to make an important point.

Dendreon was able to vastly improve gross margins from Q2 levels, but look at the cost of it. Dendreon investors are wondering when this company will be profitable. On a full year basis, Dendreon might break even in 2014, but 2015 or later is also possible. That is, if the company is still around by then; more on that later.
Revenues peaking?
The following chart shows Dendreon's product revenues in recent quarters, in millions.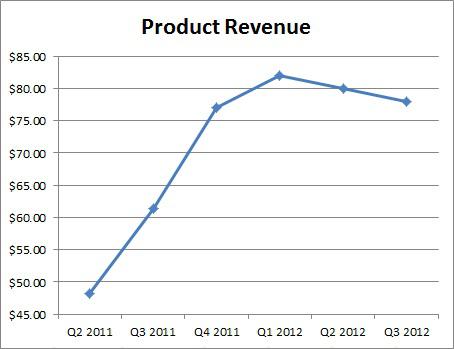 Dendreon has stated that it expects to be cash flow positive from U.S. operations when quarterly revenues hit $100 million. When is that exactly going to be? While product revenues are increasing at nice clips over the prior-year period, we've now seen two straight quarterly declines, sequentially, with both quarters vastly missing estimates.
Going into the Q3 results, analysts were expecting $82.8 million for Q4 revenues. Given Dendreon's $3 million miss in Q3, the estimates have already come down to an average of $81.4 million. In Q1 of 2013, the current forecast is for $84.4 million.
Now let's look forward to 2013. Going into the Q3 report, analysts expected $396.2 million in revenues for the full year 2013. At that rate, Dendreon would average about $99 million per quarter in 2013. That's an average, so some quarters would be below that, and some above it. But after the Q3 report, analysts have slashed their average to $387.75 million. That's less than $97 million per quarter. If Dendreon misses in Q4, it is possible that the company may not hit $100 million at any point in 2013, or it might be much later in the year than people originally thought.
Dendreon is looking for approval to expand into Europe. Those decisions are hopefully coming in 2013, but two things. One, there is no guarantee that Dendreon will get approval. Secondly, once it gets approval, it will take time to actually get set up there. Don't forget the associated expenses that will be involved with expansion.
So if Dendreon won't be cash flow positive for a number of quarters, it better has a good balance sheet. Does it?
Balance Sheet Update:
The following table shows some key balance sheet data (dollar values in thousands) and financial ratios in recent quarters. Now a couple of notes on the data provided below. First, the senior notes number includes those due in both 2014 and 2016. The second note is on those senior notes due 2016. In the March 2011 to September 2011 reported quarters, Dendreon reported those notes as current liabilities. Starting in the December 2011 quarter, they were shifted to long-term liabilities. For consistency and easy comparisons, I have included them as long-term liabilities for each of the six quarters below, to get a more accurate view of the financial picture.

Dendreon's cash and investments pile declined by nearly $65 million in the quarter. Working capital declined by nearly $49 million. The current ratio is going lower and lower. The amount of debt is increasing by $6 million per quarter. The debt (liabilities to assets) ratio skyrocketed in the quarter, the largest quarterly increase for these quarters represented. Dendreon now has more than 92 cents of liabilities for every dollar of assets, and that was as of September 30th. It's likely that the balance sheet has continued to weaken, and we could be at like 95 cents of liabilities for a dollar of assets by now.
With Dendreon's cash flow positive timeline still a question mark, Dendreon is probably looking forward at least 2 or 3 quarters until it reaches that $100 million revenue number, at best. Think of what that will do to the balance sheet. With the balance sheet continuing to weaken, is it possible that Dendreon will need to raise money? Sure, but how costly is that money going to be? With the way this company's balance sheet is, interest rates on debt are going to be huge. The company's market cap is only $668 million, so even $50 million in equity would be highly dilutive. Imagine if it needs twice that or more.
Final Thoughts:
I didn't see a ton of positives in this report. Revenues missed again, which puts into question when they'll hit the magical $100 million mark. The balance sheet continued to weaken, which could lead the company to need more financing down the road.
Dendreon's stock rose $0.62 on Friday to $4.47, a jump of more than 16%. However, the stock closed well off its highs, as the stock was over $5 at its high. Management seemed to be fairly positive on the conference call, but I don't share the same enthusiasm. The company still sees a fair amount of expenses going forward, with the restructuring only starting to help in 2013. As much as the cost cutting is good, right now the company needs revenue growth. Dendreon remains a short candidate in my opinion, although for those looking to do so, you might have missed the opportunity on Friday. You might need to wait for the next pop instead.
Disclosure: I have no positions in any stocks mentioned, and no plans to initiate any positions within the next 72 hours. I wrote this article myself, and it expresses my own opinions. I am not receiving compensation for it (other than from Seeking Alpha). I have no business relationship with any company whose stock is mentioned in this article.
Additional disclosure: Investors are always reminded that before making any investment, you should do your own proper due diligence on any name directly or indirectly mentioned in this article. Investors should also consider seeking advice from a broker or financial adviser before making any investment decisions. Any material in this article should be considered general information, and not relied on as a formal investment recommendation.