Last week Equinix (NASDAQ:EQIX) delivered another strong quarter, and set initial guidance for continued growth in 2013.
Here are some of the highlights from Q3 2012:
Revenues from continuing operations were $488.7 million, a 7% increase Q/Q and a 20% increase Y/Y;
Cash gross profits were 68% in the quarter;
Adjusted EBITDA came at $ 228.3 million, or 47% of revenues, a 5% increase Q/Q and a 22% increase Y/Y;
Net income attributable to Equinix was $28.8 million, or a basic net income per share of $0.60 and a diluted net income per share of $0.58;
Cash equivalents and investments were $519.8 million at quarter end;
Churn was 2.9%, an improvement from Q2 2012, but still relatively high, as the company continues, especially in the US, its pro-active churn targeting data center optimization.
Guidance
For the full year of 2012, management guided for total revenues in the range of $1,890 to $1,895 million, cash gross margins between 68% and 69% and adjusted EBITDA between $880.0 and $885.0 million. Implied revenue guidance for Q4 2012 is roughly $501 to $506 million.
For the full year of 2013, total revenues are expected to be greater than $2,200 million, adjusted EBITDA is expected to be greater than $1,010 million, including approximately $20 million related to the potential REIT conversion. CapEx for 2013 is expected to be in the range of $550 to $650 million, lower than in 2012, including approximately $165 million of ongoing capital expenditures.
Street estimates hard to be considered a benchmark for the quarter
This quarter included the quarterly results of ancotel GmbH and Asia Tone Limited, acquired by the Company in July 2012, while the financial results derived from the 16 data centers recently divested were reported as discontinued operations.
As a result, it is tough to compare Equinix's quarterly numbers with Wall Street consensus, as some analysts did not adjust their estimates accordingly.
Revenues including discontinued operations were $497.5 million, in the upper end of management's guidance of $492 to $498 million.
Adjusted EBITDA came higher than management expected, as many analysts had predicted. Equinix typically exceeds its own expectations as far as margins.
We believe these numbers mark another very solid quarter for the company, with management executing brilliantly in a good environment for multi tenant network-neutral data center players.
A quick look at the 16 data centers sold to 365 Main
In a separate press release, Equinix confirmed that it has completed the divestiture of 16 data centers located throughout the United States to an investment group consisting of 365 Main, Crosslink Capital, Housatonic Partners and Brightwood Capital.
These datacenters were originally acquired through the Switch and Data merger in 2010. With the close of the transaction, Equinix exits nine secondary markets, i.e. Buffalo, Cleveland, Detroit, Indianapolis, Nashville, Phoenix, Pittsburg, St. Louis and Tampa.
In a similar fashion to what happened when the company sold the Honolulu data center acquired through the Pihana Pacific merger, Equinix management took the decision to concentrate its efforts in the major interconnecting hubs in the USA, rather than smaller, local markets.
Here is what the company's presence will look like after the sale: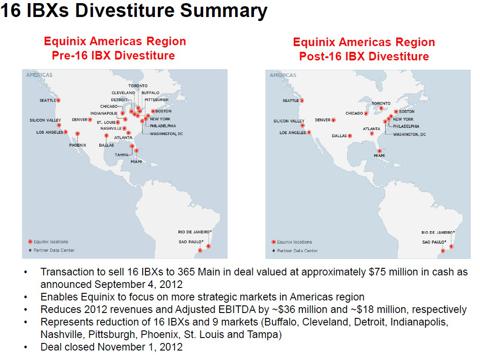 Click charts to enlarge - from the Equinix investor presentation for Q3 2012
If we look at how these data centers have performed since the acquisition, it becomes even more evident that these assets may probably make a lot of sense for a team concentrating on Tier 2 markets, but did not really add much value to a company like Equinix.
Total revenues for these data centers have basically been flat in the last 9 quarters, and margins have been a drag for Equinix, as shown in these charts compiled according to Equinix s data for these assets: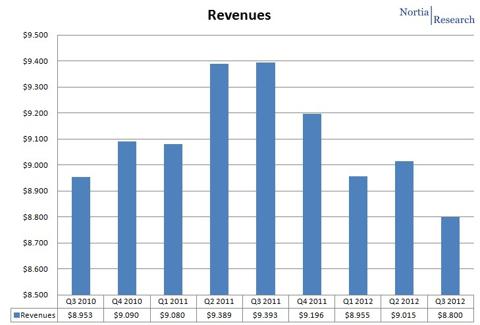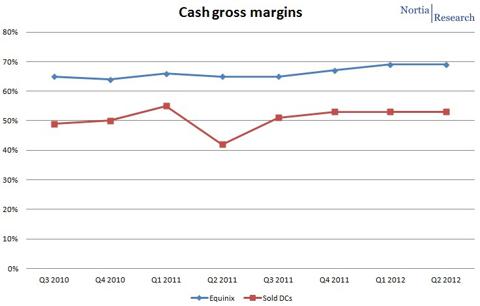 Retail data center segment still strong
After Digital Realty (NYSE:DLR) and Dupont Fabros Technology (NYSE:DFT) reported their quarterly results, some concerns about price declines in the sector had emerged among investors.
Unlike the wholesale data center market, the multi-tenant, or retail network-neutral sector is not affected by this issue, as underlined during the conference call:
Keith D. Taylor - Chief Financial Officer and Principal Accounting Officer

Pricing per cabinet equivalent remains firm across each of our regions.
As we will point out in a minute, Equinix's optimization strategy is actually delivering better metrics across the whole footprint, and allows for price increases on renewals, unlike what seems to be happening in the wholesale market.
US metrics: negative cabinets additions, improvement in MRR
Equinix added 700 cabinets in Q3, on a global basis, a relatively low number for the company, historically. We are not concerned about this number, and believe that it represents a small bump for the company, that will likely return to much higher cabinets additions in the next few quarters.
If we look at each individual region, we'll find out that North America lost 200 cabinets, in spite of growing revenues (+13% Y/Y and +2% Q/Q).
Here is how the company commented during the conference call on the matter:
Stephen M. Smith - Chief Executive Officer, President, Director and Member of Stock Award Committee

We remain focused on our ecosystem strategy, managing our customer mix and assessing new deals and customer renewals with regard to size, power density, target vertical and interconnection profile. This is delivering strong results in terms of revenue yield per cabinet and overall price stability. As a result of these efforts, churn is creating some revenue headwinds as we progress with our IBX optimization program in the Americas and implement multi-tiered architecture deployments with key customers. We believe that maintaining this level of operating discipline is critical to our long-term success and central to delivering healthy revenue growth, long-term margin expansion and returns on invested capital.
Monthly recurring revenue per cabinet equivalent grew to $2,232, from $2,212 in the previous quarter (+1%), and $2,141 the previous year (+4.3%).
The growth of the interconnection business and a stable pricing environment, coupled with Equinix's strategy to maximize margins within existing IBXs, makes us optimistic about the company's capacity to keep improving both on the adjusted EBITDA and the cash flow line.
As often happens with the company, 2013 guidance leaves room for upside, and we wouldn't be surprised to hear management increase the floor for next year during the next conference call.
Disclosure: I am long EQIX. I wrote this article myself, and it expresses my own opinions. I am not receiving compensation for it (other than from Seeking Alpha). I have no business relationship with any company whose stock is mentioned in this article.