On Monday afternoon, Zillow (NASDAQ:Z), the leading real estate information marketplace, reported record third quarter earnings. The company reported revenues that were slightly ahead of expectations and earnings per share that met estimates. Overall, the numbers looked pretty good. However, a slight change in the overall business strategy going forward led to lower than expected guidance. This guidance sent shares plunging lower by 22% in the after-hours session. In this article, I'll show you why I think the drop was a complete overreaction, and why I bought some shares on the dip.
Third Quarter Results:
For the quarter, Zillow reported record third quarter revenues of $31.915 million, which beat analyst estimates of $31.66 million. On an earnings per share front, the company reported a profit of 7 cents per share, matching expectations. In the year ago period, Zillow reported revenues of $19.057 million, and a 2 cent per share loss.
Key Growth Drivers:
In this section, I'll show some key metrics that are improving greatly over the prior year periods. The following images were taken from the company's Q3 report, and the first one shows unique users and premier agent subscribers, key numbers for the company's growth.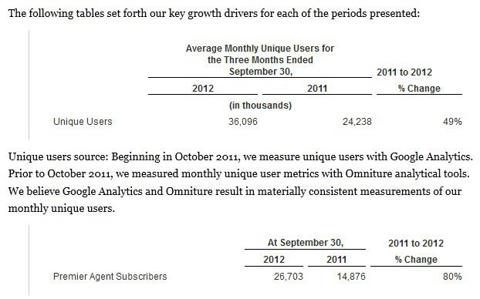 These numbers represent strong growth, and definitely help explain why revenues were up almost 67.5% over the year ago period. Now it is great to expand your user base, but it is even better if you can make money off them. The next metric I'll show is average monthly revenue per subscriber. As you can see, Zillow's average revenues per user rose $7 over the Q2 period of this year, and $28 over the year ago period.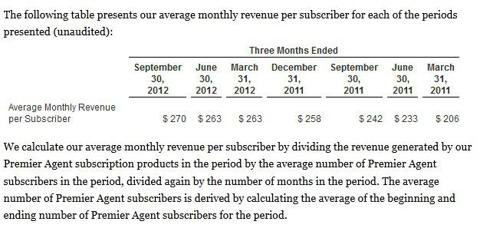 Margin analysis:
The following table shows Zillow's Q3 margins over the past few years, and also shows this year's Q2 margins. As you can see, margins are expanding nicely, and I'll explain why after this table.

In terms of gross margins, I only subtract out the cost of revenues, which does not include what Zillow describes as "amortization of website development costs and intangible assets included in technology and development." Either way, those expenses are included in operating expenses, so if you'd rather look at that margin level, it is increasing even faster than gross margins.
So how did these numbers come to be? Well, as I explained before, Zillow's revenues increased by 67.47% over the prior year. However, the cost of revenues was only up 17.48%. As such, gross margin dollars increased by 77.12%. You can see that above where gross margins increased by 483 basis points.
Sales and marketing expenses more than doubled in the period, up 100.68%. Technology and development expenses rose by 73.73%. However, general and administrative expenses declined by 8.83%. Overall, these three operating expense categories rose by 56.81%. Since that was not as fast as the rise in gross margin dollars or revenues, operating margins increased, and quite substantially. While the company reported an operating loss of $606,000 in last year's period, it reported an operating profit of nearly $2.3 million in this year's Q3. Operating margins rose by 1037 basis points. A slight rise in other income also occurred, but at a slow rate, thus, net margins only rose by 1030 basis points. But that's still quite a jump, and the company did swing from a loss to a profit.
Balance sheet / money raised:
The following table shows how Zillow's balance sheet has changed in recent periods. The numbers look kinda funny, and I'll explain that in detail in just a bit for those that don't know why this is. Dollar values below are in thousands.

Now, the numbers look too good to be true with a huge improvement in Q3. Well, the company raised some money in the quarter, and yes, a partial exercise did occur where underwriters bought more shares. Zillow's net proceeds were $156.7 million, and it sold that stock at $43. We are now at just $27. More on that later. Selling shares is seen as a negative, because existing shareholders are diluted and some believe that a company is signaling that it is overvalued. But remember, if the company sold those shares at $43, there had to be someone that bought them at $43.
But even if you want to take out that money raised, the balance sheet still improved. I subtracted the $156.7 million from cash, current assets, total assets, and total equity. The adjusted cash and investments pile would have been over $72 million and working capital of about $64.8 million. The current ratio would have been 4.37 and the debt (liabilities to assets) ratio would have been 15.67%. Those numbers are all improvements over Q2.
It is that large cash position and great financial flexibility that will allow this company to expand and grow in the following years. That process has already started, and Zillow announced the following acquisition along with its third quarter results.
Announced separately today, Zillow has entered into an agreement to acquire Mortech, Inc., a Lincoln, Nebraska-based software and services company which provides a product and pricing engine (PPE), lock desk, and prospect and lead management solutions to the mortgage industry, for approximately $12 million in cash and 150,000 shares of restricted stock. Thousands of lenders, bankers, credit unions and smaller community lenders use Mortech's tools. This acquisition will accelerate the development of Zillow Mortgage Marketplace and will allow Zillow to deliver valuable marketing and productivity solutions to mortgage professionals to help them manage their business.
Fourth quarter / full year guidance:
This appears to be the reason why shares fell so much in the extended hours session. Zillow guided to fourth quarter revenues of $30 million to $31 million, while analysts were expecting about $32.54 million. Also, adjusted EBITDA guidance was $3 million to $3.5 million, which would be down from Q3's $7.6 million. The forecast means Q4 adjusted EBITDA would be 11% of revenue, compared to 17% of revenue and $3.3 million in Q4 of 2011.
Still, the Q4 forecast implies 53% revenue growth at the midpoint. Full year revenues would be $113 million based on the Q4 midpoint, representing 71% year over year growth, but analysts were looking for $114.76 million. So a little below expectations.
Now, the first thing I want to show you is the company's previous quarterly guidance. The table below shows the company's given guidance, compared against what it has actually done.

So the company has beaten its guidance nicely in the first three quarters of this year. While expectations do call for $32.54 million in Q4, it is likely that it will come in closer to expectations that some may have thought when they originally saw this guidance.
But why the low guidance? Well, it has to do with a shift in the company's business plan going forward, and analysts didn't seem ready for this. A good article from Business Insider explains why the forecast may have been lower than expected. Here are a few key points, taken word from word from the article, so I'm not stretching the argument.
Zillow is switching from making money on advertising to making money by providing leads to real-estate agents and mortgage lenders. This seems smart in the long term, because lead generation is a business that adapts far better to mobile, and Zillow is now getting more views of homes on mobile than it is on its desktop website.

Advertising is seasonal. In Zillow's business, it's lower in the fourth quarter. Growth may have masked this seasonality in the past.

Newly hired sales reps are still ramping up. Zillow is adding salespeople to sell its lead-generation products to real-estate professionals, but they require training and time to develop a pipeline.

Zillow is taking foreclosure listings in-house. To expand its database, Zillow now gets data from county records on foreclosed homes and lists them on its site for buyers for free. It used to sell ads to a company called Foreclosure.com. That revenue has gone away.
So Zillow is changing its business strategy, and the author of the article states that analysts didn't seem ready for the change, and were upset that they didn't get a heads up. These changes seem like a short term negative, but they probably are a long-term positive.
Growth / Valuation:
Zillow is growing at a nice pace, and the valuation after the fall seems extremely attractive in my opinion. That's why I bought some.
So the following table shows some key growth and valuation numbers for Zillow. I've compared them against Trulia (TRLA), another real estate site in this space. I also put Facebook (NASDAQ:FB) and LinkedIn (LNKD) into the discussion, because all of these names have gone public in the recent social media craze, and those are the two largest names.
Now a few notes on the numbers below. First, I have used the last price in the after hours session and corresponding market cap for Zillow and Trulia, since both showed significant declines after the bell. Second, I have adjusted Zillow's growth forecast for the new guidance, using 2012 full year midpoint guidance. For 2013, I have taken down the current analyst estimate by the same percentage that the 2012 midpoint was below the current 2012 analyst estimates (slightly more than 1%). For Zillow's earnings, I have used the current estimates, which could come down a little based on the EBITDA forecast. For all other names, current guidance is given.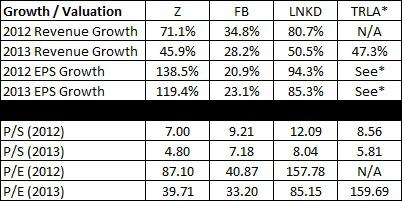 *Trulia recently went public, so there is not a full estimates page for the company yet. Also, Trulia is expecting a loss in 2012 and a profit in 2013, so the growth numbers in EPS are not meaningful for those two years. Additionally, there is no P/E for 2012 based on the loss.
On a price to sales basis, Zillow's valuation looks extremely attractive, and it is growing almost as fast as LinkedIn, and much faster than Facebook. On an earnings per share front, the stock looks very cheap, especially given the projected earnings growth. I'm not arguing here that Zillow should trade for 160 times 2013 earnings like Trulia is. But even if you say the company is worth 60 times 2013 earnings, and it earns say $0.65 (current expectation is for $0.68), the stock would be worth $39.00. That's well above where we are currently, and I'm not even using a crazy valuation like some of the other P/E values other names are trading at.
Conclusion - why I bought:
In full disclosure, I did buy some shares of Zillow in Monday's extended hours session, although not all of my order was filled.
But why did I buy? Because I don't think the results after the bell justified a 22% fall, in addition to the 5.3% drop in the regular session, plus the fact we were already down a bit in recent weeks. Going into the earnings report, Zillow was already trading 20% below where the company sold stock at. The company declined after the offering, and yes, shareholders were diluted.
But when you combine the 20% fall with the more than $7 drop in the extended hours session, shares are now 37% below where the company sold stock. I don't see how the numbers justify a 37% drop. Guidance wasn't terrible. It was a little less than expected, but the company does give conservative guidance, and we saw a good explanation of why the guidance might have been lower than expected.
The company also has a fair amount of growth potential, and trades at a very reasonable valuation to other names in the space. Now I'm not arguing that this name should definitely trade at valuations like those other ones, which would value this stock at like $60-$80. The average analyst price target going into this report was over $45. I think the fall was a bit much, and I would have thought that $30 to $32 after this report was fair, not $27. Zillow fell too much in my opinion, and I think that there is an opportunity for investors here. Should we rebound to over $30 in the next few days, I'll re-evaluate my position then based on where analyst expectations end up, but for now, I'm long.
Disclosure: I am long Z. I wrote this article myself, and it expresses my own opinions. I am not receiving compensation for it (other than from Seeking Alpha). I have no business relationship with any company whose stock is mentioned in this article.
Additional disclosure: Author long Z at time of writing, but could change position at any time depending on market action. Any additional moves in the name will be given in the comments section of this article. Investors are always reminded that before making any investment, you should do your own proper due diligence on any name directly or indirectly mentioned in this article. Investors should also consider seeking advice from a broker or financial adviser before making any investment decisions. Any material in this article should be considered general information, and not relied on as a formal investment recommendation.