Fundamental Approach Rewards in Outperformance
Autumn is generally the season for portfolio rebalancing, culling the herd of losers, and harvesting winners. For a new position, this interesting ETF came to mind. The PowerShares FTSE RAFI US 1500 Small-Mid Portfolio (NASDAQ:PRFZ). This ETF which started 9/20/2006, does not track an ordinary market cap weighted index, but rather an index that is fundamentally weighted. The index it tracks is called the aptly named FTSE RAFI US 1500 Small-Mid Index. According to the folks at PowerShares, this index is designed to track the performance of both medium and small sized U.S. companies.
The index providers are the partners FTSE and RAFI (Research Affiliates). The index methodology for stock selections involves assigning weightings according to a company's fundamental health. The metrics for this weighting include evaluations of income, book value, company size ("economic footprint"), and dividends. From the RAFI website, more about their methodology below:
The RAFI methodology weights a company in relation to its economic footprint, as measured by widely accepted measures of company size, including five-year averages of company sales, profits, and dividends. These measures are less susceptible to gaming, rely on easily accessible data, are not intended to be predictive of future size or value, and are broadly available across countries. It doesn't matter how many factors are used-it could be five or six or just two. The key is that they minimize the return drag associated with cap-weighted index approaches that overweight overvalued stocks and underweight undervalued stocks. Systematically rebalancing to target portfolio weights provides the main source of added value.

Using only a single measure of firm size, however, has its drawbacks. For example, a dividend-weighted index will exclude well over half of all publicly traded companies, including many growth stocks and essentially all emerging growth companies. A sales-weighted index would clearly favor low-margin companies over more profitable firms and so on. Multiple metrics of company size results in a broader and more representative investment portfolio.
The fund holds about 1,469 securities and carries an expense ratio of 0.39% according to its fact sheet. The fund has been successful in attracting assets, with about $450 million in AUM. One curiosity that stands out is the fund's top industry allocation to REITs at 7.58%. That dividend metric no doubt tilts it towards REITs. Another curiosity is that the fund only holds about 13% in mid-caps, according to the fact sheet. The portfolio is rebalanced and reconstituted annually.
Portfolio Details (from fact sheet)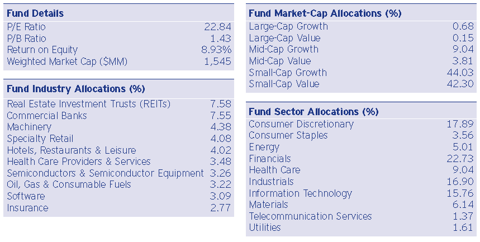 Performance Since Inception (etfreplay.com)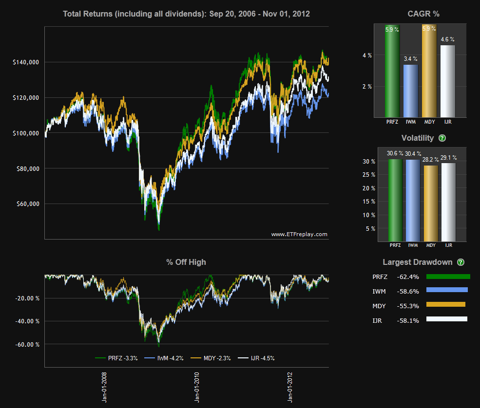 Pros:
Solid outperformance versus two ETF stalwarts for the small cap segment, (NYSEARCA:IWM) and (NYSEARCA:IJR). Similar performance is comparable to the very popular (NYSEARCA:MDY) mid cap segment. (Check out the RAFI indexes impressive performance tables.) One fund could be used to save on fees and trading expenses - versus holding 2 separate funds to allocate for small caps and mid caps. The index is designed for fundamental considerations that attempts to avoid overvalued holdings, i.e. companies with poor fundamentals should have less drag on performance due to their lighter weighting in its index.
Cons:
The outperformance comes with a bit more volatility and drawdown. Similar outperformance (for shorter timeframes and with more trading) could be obtained with other individual small cap and mid cap ETFs. This would require of course a more granular approach to a portfolio. The portfolio makeup is decidedly light on mid caps. Some investors may desire more allocation and exposure to medium sized stocks.
Conclusion:
Overall, the PowerShares FTSE RAFI US 1500 Small-Mid Portfolio appears to be a solid choice, whether to use in place of two separate small and mid cap funds, or to use to supplement an existing allocation to the small cap and/or mid cap segments.
Disclosure: I have no positions in any stocks mentioned, and no plans to initiate any positions within the next 72 hours. I wrote this article myself, and it expresses my own opinions. I am not receiving compensation for it (other than from Seeking Alpha). I have no business relationship with any company whose stock is mentioned in this article.