In a positive development, Nokia Corporation (NYSE:NOK) exceeded third-quarter expectations by $0.04. Analysts were expecting earnings of -$0.13 versus the actual earnings per share of -$0.09. However, the company still has a lot of issues to deal with. Its success hinges on its new set of Lumia smart phones, which are based on the windows 8 operating platform. It has lost its global market leadership position in the mobile phone industry and all three major credit-rating agencies (S&P, Moody's and Fitch downgraded Nokia to junk category with a negative outlook). One cannot place too much emphasis on these rating agencies as they all missed the housing bubble by a mile, and in general, their opinion is of little value as they seem to weigh in almost towards the end. From a contrarian perspective, one could state that when these rating agencies finally turn negative on a company one should start looking for reasons to establish a position in that company. These agencies are notorious for taking a stance when it's too late to be of any value to the average investor.
On the positive side, its cash position has improved, and it has a very strong patent portfolio that generates roughly $600 million in revenue each year. This patent portfolio could be worth more than the current value of the company.
Alexander Butler, executive vice president at IPVision, an intellectual-property consultancy in Cambridge, Massachusetts, says that measured against what Motorola's and Nortel's patents sold for, and taking into account the quality of Nokia's patents, the Nokia storehouse could be worth more than the company's market value, which stood at around $9.6 billion at midday Tuesday.

Over the last 20 years, Nokia has sunk more than $50 billion into R&D and made several acquisitions, producing a war chest of 30,000 patents, including 11,000 filed in the U.S. "The quality of the patents is one of the best in the industry," says Chetan Sharma, a wireless analyst and consultant in Seattle.
We are going to examine Nokia from a technical and fundamental perspective, but first we will put it through a simple selection process to make sure it fulfills certain basic requirements before taking a deeper look at it.
The selection process:
A positive levered free cash flow
Net income should be trending upwards for the past 3 years
A 3-5 ESP estimated growth rate of 6% or higher
A yield of 5% or higher
A current ratio of 1.00 or higher
It met 4 of the 5 listed requirements, which is enough for us to take a deeper look at the company. It did not fulfill the second requirement. Net income has not been trending upwards for the past three years. However, it appears that things are improving as the EPS for the third quarter came in above analyst expectations.
Points of interest
The company has a strong levered free cash flow of $1.39 billion, a good yield of 6.2% and a decent current ratio of 1.3.
The short ratio stands at 8% and this makes it a pretty good candidate for a short squeeze
Zack's has a projected 3-5 EPS growth rate of 6.5%
Analysts have a projected growth rate of 20% for the next quarter and 80% for the next year.
It has an incredible patent portfolio that generates $600 million in revenue each year. This portfolio is estimated to be worth in the billions, with some experts stating that it could be worth more than the current value of the company if sold.
Its new Lumia 920 phones have some great features, and the initial response has been pretty good. The phone sports, a Retina quality display and a top-notch camera that is better than the Apple's (NASDAQ:AAPL) iPhones. The phone itself is built well, with a fast browser and a responsive touch screen. One of the most prominent features is the ability to charge the phone wirelessly. It won't require a special battery cover as this feature is built into the 920. All you have to do is purchase the charging accessory, which could range from a pillow to a speaker and put the phone on top of the accessory and it will power up the battery. In this sense, it leads because as Apple is looking for ways to make its charger smaller, Nokia has eliminated it altogether.
Another interesting feature is that the touch screen can be used and controlled even when you are wearing gloves. So you won't have to remove your gloves if it is freezing and you want to send a text message. There are other interesting features like the city lens, which overlays store information when you point your camera at a specific point in the city. While these features are certainly not enough for it to take regain its former leadership position, the Lumia could help the company regain its balance and recoup some of its lost market share.
Nokia's pre-order sales topped that of the Apples iPhone in France.
More good news for Nokia, following their pre-orders being sold out in Italy, is that pre-orders for the Nokia Lumia 920 has jumped to the top of PhoneHouse' France's top 50 list from the 8th -14th October.
Technical outlook
After bottoming in July, it has been putting in series of higher lows, which is a long term bullish development. It now has strong support in the $2.40-$2.50 range and after trading as high as $3.39 in August, it is building momentum to challenge the $3.00 range again. A weekly close above $3.00 should enable it to test the $3.75-$4.00 range before pulling back. Consequently a weekly close below $2.20 could result in a test of the July lows. If this comes to pass, and the stock manages to end the week on a positive note, it will have put in a double bottom formation. Double bottom formations are usually bullish in nature and indicate the stock is ready to trend higher over the long run.
Charts of value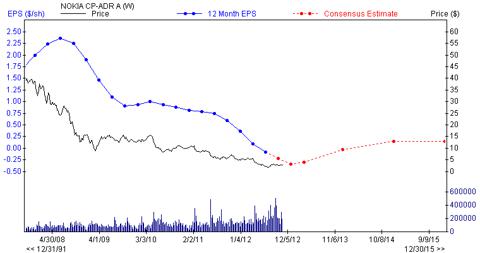 Historically, stocks tend to perform better when they are trading above this line. While the stock is trading below the EPS consensus line, it should be viewed as a positive development that the consensus EPS line has started to trend upwards again. This change in direction could provide early investors with a chance to establish a position in the stock at very good price, even though it's trading below the EPS consensus line.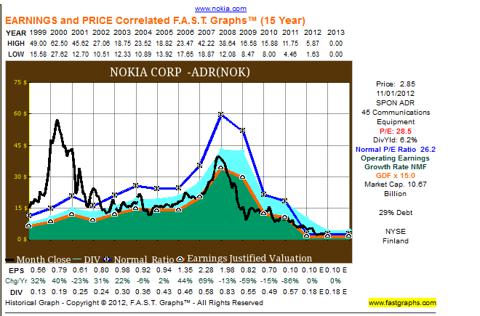 The blue shaded area represents the dividends. The orange line represents the valuation growth rate line. Generally, when the stock is trading below this line and in the shaded green area, it represents a good long term entry point. The stock is currently trading right on this line.
Fundamental outlook
The data below should easily enable you to decide if this stock meets with your investment objectives.
Company: Nokia
Key Ratios
Profit Margin = -13.6%
Quarterly Revenue Growth = -19%
Levered free cash flow =$1.39B
Short ratio = 8%
Trailing annual dividend yield = 9.2%
Long term debt to equity ratio = 0.49
Growth
Net Income ($mil) 12/2011 = -2072
Net Income ($mil) 12/2010 = 1783
Net Income ($mil) 12/2009 = 363
EBITDA ($mil) 12/2011 = -1669
EBITDA ($mil) 12/2010 = 2372
EBITDA ($mil) 12/2009 = 1342
Cash Flow ($/share) 12/2011 = 0.37
Cash Flow ($/share) 12/2010 = 0.83
Cash Flow ($/share) 12/2009 = 0.92
Sales ($mil) 12/2011 = 50032
Sales ($mil) 12/2010 = 58086
Sales ($mil) 12/2009 = 57622
Annual EPS before NRI 12/2007 = 1.95
Annual EPS before NRI 12/2008 = 1.88
Annual EPS before NRI 12/2009 = 0.93
Annual EPS before NRI 12/2010 = 0.83
Annual EPS before NRI 12/2011 = 0.38
Dividend history
Dividend Yield = 6.20
Dividend Yield 5 Year Average = 4.90
Dividend 5 year Growth = - 13.9%
Performance
Next 3-5 Year Estimate EPS Growth rate = 6.5
5 Year History EPS Growth = -33.9
ROE 5 Year Average = 24.5
Current Ratio = 1.30
Current Ratio 5 Year Average = 1.46
Quick Ratio =0.9
Conclusion
The stock has taken a beating because management simply failed to realize how important smart phones would be to their bottom line. Instead of leading they lagged, but it now appears that the worst may be behind the company. The new Lumia phones have received pretty good reviews and in some aspects, they even challenge Apple's new iPhone. The phone has a better camera, and it has the wireless charging feature built into it. The new city lens feature is also sure to tickle the interest of many users. It overlays the store information over the live picture when pointed at any city block. The ability to use the touch screen with your gloves is also another interesting feature.
Let's not forget that it also has a massive patent portfolio that generates $600 million a year in revenues. The current price action suggests that the worst news might already be priced in the stock and given that the reviews are pretty good on its new Lumia phones, the long-term outlook looks much better than it did earlier this year. Consider waiting for the stock to test the $2.50-$2.65 range before committing new funds to this play.
EPS and EPS surprise charts obtained from zacks.com. A major portion of the historical data used in this article was obtained from zacks.com.
Disclaimer
It is imperative that you do your due diligence and then determine if the above play meets with your risk tolerance levels. The Latin maxim caveat emptor applies-let the buyer beware
Disclosure: I have no positions in any stocks mentioned, and no plans to initiate any positions within the next 72 hours.
Business relationship disclosure: This article was prepared for Tactical Investor by one of our analysts. We have not received any compensation for expressing the recommendations in this article. We have no business relationships with any of the companies mentioned in this article.