OK, you're gonna say "Cranky, you're killing me here, in your second article you tell me to build the lowest volatility portfolio possible with multiple asset classes, including gold, and now you tell me I only need one stock?"
Yup.
Well, let's just say that it has worked for many in the past. I've read a few stories recently that go something like this.
There's an older gentleman who never made big bucks; he worked in a Canadian bank in a mid-tier position. I come from the world of advertising, and whenever we have a guy in a radio or television commercial we either give him the name "Phil" or "Carl". For the purposes of this article, let's go with Phil.
Phil collected his shares in The Royal Bank of Canada (NYSE:RY) where he worked. As part of his annual compensation package, employees can purchase shares and the bank will match that investment to a certain level. Then the stocks are put on an automatic dividend reinvestment plan (DRIP). Phil never had a "portfolio", or mutual fund or ETF. He never spent much of his Royal Bank stock holdings, cause Phil was very thrifty. He passes away (sadly) and leaves everything to his two children. His kids then get the surprise of their lives when they find out that Dad had $1 million worth of Royal Bank of Canada stock. Repeat this story with different old guys who worked for Scotiabank (NYSE:BNS), Toronto Dominion Bank (NYSE:TD), Canadian Imperial Bank of Commerce (NYSE:CM), Bank of Montreal (NYSE:BMO) and The National Bank of Canada (OTCPK:NTIOF). You can call one of them Carl, if you'd like.
These one stock portfolios just demolished the indexes and mutual funds and most individual investors over the decades. They took those mutual funds out to the woodshed.
Royal Bank of Canada from 1996 shows a 1800% return over that 16 year period. Not too shabby, as Adam Sandler would mutter. OK, it gets better. That doesn't include dividends and their reinvestment. I don't know, considering that Phil had a matched contribution program and those dividends were reinvested, did he manage a thirty-bagger over his career?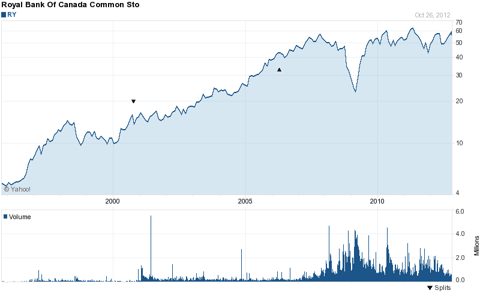 Makes me want to write a letter that begins with "Dear Royal Bank of Canada, I hope you will consider my application for employment as a copywriter …".
Toronto Dominion Bank in 1996 was $9.50 per share, it recently closed at $83 - a 900% return, not including dividends. Scotiabank has seen gains of only 740% - it's an underperformer. The Canadian Imperial Bank of Canada (the Perennial Ooops-Maker of the Canadian big banks) shows only a 400% gain, and only double the S&P 500 returns over that period.
And today, Canadian banks are ranked as the most stable group of banks on the planet. Why?
Well, what is sometimes a curse for Canadian consumers, is a blessing for Canadian Bank shareholders and senior executives. Canadian Banks operate in an oligopoly setting. There are six major banks in Canada. They hold the savings and investments and mortgages of the vast majority of Canadians. And due to the relative lack of competition, they have pricing power. Bank fees are high. Banks hold the bulk of Canadians' investments that are still sadly in mutual funds. Those funds routinely charge 2.5% annual Management Expense Ratios (some of the highest rates in the world), not to mention back-end fees.
But give the CEOs and senior executives some credit. They are very, very good managers. OK, they're great. Canadian banks almost exclusively avoided the U.S. subprime mess. Some of them didn't even have a toonie in harm's way (that's the Canadian $2 coin).
RBC is one of the larger and most diverse financial institutions on the planet. And it has made great moves outside of Canada. TD is becoming a force in the U.S. Northeast. TD now has more customers in the U.S. than it does in Canada, though most of the profits are still derived from the banking oligopolous known as Canada. BMO is doing well in the U.S. and around the globe. Scotiabank is a leading bank in Central and South America and moving into Asia with some success.
And if you were to look at a country's banking sector, of course you have to look at the country itself. As Canada goes, so goes Canadian banks.
Canada is the United States' largest trading partner. In fact, U.S. and Canada form the largest trading arrangement on the planet. Canada can continue to benefit from the most robust economy and most productive people on earth. And as a natural resource-based economy, Canada is, and will also continue to benefit from growth in the developing nations. It's the proverbial long-term win-win.
Canada has one of the largest oil deposits in the world in the Alberta Oil Sands. Yes, we call them oil "sands" up here, and we get a little testy when the Greenies call it the "Tar" sands. Ha. Canada's oil reserves are second to Saudi Arabia. Reserves are estimated to be 180 billion barrels. Saudi Arabia comes in at 264 billion barrels.
We have a wide range of minerals and deposits. Canada has 46% of the world's Potash deposits. An incredibly valuable resource considering the world will have to feed an additional 700 million people every decade. If you follow the Jim Rogers school of investing, Agriculture has got some room to grow with the growing population of the world.
Also, Canada has lumber, it's got wheat, they got fish, it's got minerals, it's got what the world and North America needs. Including the under-appreciated commodity - fresh water. Canada might be number two in oil, but it's number one when it comes to fresh water.
And let's look at the underlying economic setting. Canada now has the lowest corporate tax rate of any country in the G7. Canada is climbing on the world measure of economic freedom. In fact, the Fraser Institute's recently released Economic Freedom of the World: 2012 Annual Report shows that Canada is the fifth freest economy, whereas America has plunged to the 18th spot.
The report says that from 1980 to 2000, the United States was the third freest economy in the world, ranking behind only Hong Kong and Singapore. From 2000 to 2010 the U.S. fell to the 10th spot. In just one year the U.S. tanked to 18th spot!
So, obviously, Canada is doing a lot of things right. It's likely a great idea for U.S. investors to add some foreign holdings and currency protection during a period when the U.S. deficit is not even being addressed, never mind tackled.
Sure, you might make out spectacularly adding that one big Canadian Bank like Royal or TD. Or in the name of "diversification" you could buy all of the big six Canadian banks. They will satisfy the dividend and dividend growth investor. For example, Royal has increased its dividend from 69 cents in 2001 to $2.08 today, a 12% CAGR (compound annual growth rate).
But to quote the proverbial disclaimer, past performance does not guarantee future results. The risks are many, as always. Canadian banks have recently been put on a downgrade watch by Moody's. Though Royal Bank was not on the "watch list". Also, many are predicting that the Canadian real estate market is approaching bubble territory. Investors should do their homework.
And in between that one Canadian bank stock portfolio and Vanguard's Total World Stock Market ETF (VT), there are a whole host of options for U.S. investors who want to diversify geographically.
But if history does hold true, you might be hard pressed to beat the Canadian banks, eh.
Disclosure: I have no positions in any stocks mentioned, and no plans to initiate any positions within the next 72 hours. I wrote this article myself, and it expresses my own opinions. I am not receiving compensation for it (other than from Seeking Alpha). I have no business relationship with any company whose stock is mentioned in this article.
Disclaimer: Please note that Dale Roberts aka cranky, the crankywriter, is not a licenced investment advisor, and the above opinions should only be factored in to an investor's overall opinion forming process. Consult a licenced investment advisor before making any investment decisions.Please note that Dale Roberts has exposure to Canada's big six banks through ETFs. Dale Roberts also has exposure to developing nations through the ETF CBQ trading on the TSX.