In this article we will cover how rising fuel costs could bring about additional positive growth at Dollar General (NYSE:DG), as well as cover the company's expansion into California, and glance at future growth prospects in the Northwest.
Fuel and Growth
As fuel prices continue to rise Dollar General will begin to attract more rural customers unwilling to treck into town. It will simply be more cost effective to drive 5 minutes to a local Dollar General for smaller purchases rather than make an expensive 30 minute voyage (1 way) to competitor Walmart (NYSE:WMT). This will be especially so for those driving older model or large model vehicles that are not fuel efficient. Competitors such as Family Dollar Stores (NYSE:FDO) also stand to benefit from rising fuel prices. For bulk purchases people will still shop at Walmart.
As the cost of fuel rises, we anticipate seeing increased news stories on just how expensive fuel has become. This will boost Dollar General sales in peripheral locations as the media hammers home just how expensive it is to drive long distances. Venturing into cities to visit larger stores like Target (NYSE:TGT) or Sears Holdings (NASDAQ:SHLD) Kmart could become quite costly for the economically challenged folks.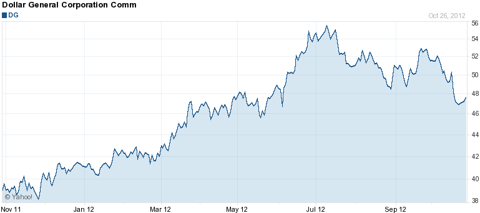 Margins and Core Customers
Suggesting that a retail company will actually do better as fuel costs rise sounds a bit crazy. Yes, Dollar General will experience increased shipping costs and margin pressure as manufacturing prices rise along with the price of fuel but so will all retail operations. Costs will largely be passed off to consumers.
Large operations like Walmart will be affected but due to the obvious pricing pressure Walmart can exude, they should be able to keep favorable prices as they currently do. However, Dollar General and Walmart serve different core customers. Walmart is focused on the once a week customer who needs everything under the sun be it: Auto work, groceries, hunting equipment, electronics. Along with this come huge parking lots, huge stores, and at times long lines. Going to Walmart can be anything but a short trip.
Dollar General is focused on speed of getting in and out, convenience, and most importantly, locality of stores. Locality will be very important to gas price conscious customers who only need to purchase a smaller amount of items. Each persons economic situation and method of transportation will dictate just how much pain at the pump they will be willing to endure in order to make a lengthy drive. Just ask yourself the question, at what price per gallon would you change your driving habits if Walmart was a 1 hour round trip?
Additional Growth Factors
Dollar General is rapidly expanding into California. Per the company:
Our 27 stores in California at the end of the quarter [Q2] are off to a great start. Our entry into California so far consists of four traditional stores, 14 Dollar General plus stores and 9 Dollar General markets. These stores are turning in strong sales performance consistent with our projections. We are on track for a total of 50 stores by the end of the year in California. Our new distribution centers, investment in Alabama and Lebec, California are ramping up.
California is home to 12% of the United States population. This represents a very large opportunity for Dollar General to expand into and fuel the companies future growth.
Pacific Northwest
The Pacific Northwest is also ripe to expand into per the map below.
(Store Locations per DG)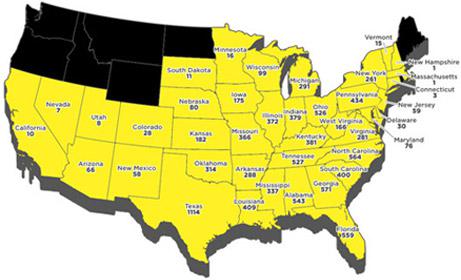 We would assess that Dollar General is currently using its expansion into California as a test to see how Dollar General stores compete on the West coast. If successful Dollar General would most likely build a new distribution center in Oregon or Washington state. This would service Interstate 5 which runs North to South through Oregon and Washington state. Interstate 5 services many small towns such as Philomath, Oregon (population 4,000) and quite a few large cities such as Seattle, WA (population 620,000) and Portland, OR (population 583,000). The utter lack of any Dollar General in this portion of the country represents an untapped market for the company.
Company Bio
Dollar General Corporation is a discount retailer in the United States with 10,203 stores located in 40 states as of September 5, 2012 -- primarily in the southern, southwestern, midwestern and eastern United States. The company offers a wide-selection of merchandise, including consumables, seasonal, home products and apparel. The company's merchandise includes national brands from manufacturers, as well as private brand selections with prices at substantial discounts on national brands. It offers its merchandise at everyday low prices through its convenient small-box (approximately 7,200 square feet) locations. Through the second quarter, DG opened 295 new stores including 21 Dollar-General markets and 18 Dolla6-General-Plus stores, a new, larger format with expanded coolers and water aisles. They also remodeled or relocated 416 stores in the first half of the year including 25 Dollar General markets and 46 stores converted to Dollar-General-Plus format.
Financial Numbers
Dollar Generals PE Ratio is at an 18.42 with a forward PE of 14.26. PEG ratio is at a healthy .92 which suggests that the company is slightly undervalued but this is just one part of the puzzle. Same store sales grew 5.1%
Qtrly Revenue Growth (yoy) is 10.4% with Qtrly Earnings Growth (yoy): at 46.6%. Net Income is 891.23M.
Cash is at 136.83M, while debt is rather high at 2.9 Billion. They are a brick-and-mortar operation so having debt is to be expected with the 10,203 stores. However, we would like to see the company put some of its 401 million in free cash flow towards paying down some of the debt. Dollar General did make progress in reducing its interest expense year over year from 61 million in interest expenses in 2011 to 36 million in interest expenses for 2012.
Interest expense was down $25 million from the prior year
Conclusion
Dollar General could be a good buy for an investor who is willing to invest for a few years while the company expands into California and possibly the Northwest. This is the strategy that Warren Buffett has taken. As of last year Buffett owned a position in DG to the tune of 1.5 million shares.
Rising fuel costs could be a positive factor for the company long term. Shipping costs would increase with any fuel costs but these costs will affect all retail businesses and ultimately be passed on to the consumer.
As fuel costs increase so will the potential for rural and urban customers to spend their cash closer to home, rather than make costly long trips for goods. Regardless of a rise or fall in fuel costs, Dollar Generals expansion into California will fuel future growth.
We view the company as a buy based on its current expansion into California, untapped future markets in the Northwest, and attractive PEG ratio.
Disclosure: I am long DG. I wrote this article myself, and it expresses my own opinions. I am not receiving compensation for it (other than from Seeking Alpha). I have no business relationship with any company whose stock is mentioned in this article.