The Bureau of Economic Analysis' most recent Personal Income and Outlays report showed continued inflation pressures occurring in September in the U.S. economy. Consumers' personal income and disposable income continued to increase during the month while real disposable income decreased nearly 0.1 percent.
As inflation continues to push prices up and real disposable income down, a few factors are weighing heavily on the economy in the current environment. Specifically, energy prices appear to be a leading inflation driver.
September's PCE Price Index, which measures prices of U.S. consumer goods, increased 0.4 percent. Food prices were less of a factor in September, decreasing 0.1 percent. Energy prices, however, increased 4.8 percent in September following a 5.8 percent increase in August but a 0.2 percent decrease in July. Third quarter energy prices rebounded significantly from a steep decline in the second quarter. PCE Energy Price Index data for the second quarter showed three consecutive monthly declines with an average monthly energy price decrease of 2.7 percent.
Energy prices reported by the Energy Information Administration further illustrate the upward pricing pressure currently occurring in energy markets. Domestic oil spot prices increased 0.4 percent in September and showed a monthly average increase of 4.8 percent for the third quarter. Oil prices were up significantly from the second quarter which declined at a monthly average rate of 8.0 percent. Additional data on oil spot prices in 2012 can be found in the table below.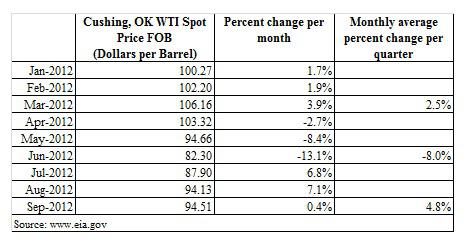 Meanwhile, retail gas prices showed a monthly average increase of 2.93 percent in the third quarter compared to a monthly average decrease of 2.69 percent in the second quarter.
Despite the increase in third quarter energy prices, energy companies Exxon Mobil Corporation (NYSE:XOM) and Chevron Corporation (NYSE:CVX), both reported lower third quarter earnings last week attributed to decreased oil production volumes.
Exxon Mobil Corporation, which comprises 10.5 percent of the Dow Jones Industrial Average, is a leading energy stock investment in the U.S. market. The energy company has retained its leading spot through strategic development in drilling which allows it to consistently produce a steady supply of oil and gas commodities.
Last week, the company reported earnings of $9.6 billion for the third quarter of 2012 resulting in diluted earnings per share of $2.09. The quarter's earnings beat estimates of $1.96 but were $760 million lower than earnings for the third quarter of 2011 and $6,340 million below the second quarter of 2012.
Despite the improvement in oil prices the energy company struggled to meet its 2Q 2012 production volumes pushing third quarter earnings lower. Production volumes in the third quarter were down significantly compared to the company's strong second quarter. Upstream and downstream earnings decreased by 29 percent and 52 percent, respectively, while chemical earnings decreased 46 percent.
Despite lower third quarter earnings, projects in place to improve oil production seem strong and Exxon's ability to capitalize on those projects appear to give it an edge over its competitors in the fourth quarter.
Exxon's stock gained 1.08 percent following its earnings announcement and year-to-date has returned 6.50 percent. XOM has significantly outperformed the Dow Jones U.S. Oil and Gas Index which has returned 2.33 percent YTD.
Third quarter earnings and production volumes were also down for Chevron Corporation which reported quarterly earnings last week as well. Earnings for the quarter were $5.3 billion and resulted in diluted earnings per share of $2.69. Quarterly earnings per share were below the market's estimate of $2.85. Quarterly earnings were also 33 percent lower than 3Q 2011 and 27 percent below 2Q 2012.
Chevron's stock fell 1.70 percent following the earnings announcement and YTD has gained only 1.85 percent compared to the Dow Jones U.S. Oil and Gas Index's 2.33 percent.
For both Exxon and Chevron the third quarter showed lower production volumes which could lead to decreased market supply and further upward pressure on energy market prices in the fourth quarter. While both companies seem to face similar market challenges, Exxon's operational ability and project progressions give it a more positive fourth quarter outlook.
Disclosure: I have no positions in any stocks mentioned, and no plans to initiate any positions within the next 72 hours. I wrote this article myself, and it expresses my own opinions. I am not receiving compensation for it (other than from Seeking Alpha). I have no business relationship with any company whose stock is mentioned in this article.