The big 5 U.S. defense and aerospace companies reported late last month. The current trends for Boeing (NYSE:BA), Lockheed Martin (NYSE:LMT), Northrop Grumman (NYSE:NOC), Raytheon (NYSE:RTN), and General Dynamics (NYSE:GD) continued for the year. Lockheed, Boeing and Raytheon had solid earnings per share and either maintained or increased their full year estimates. The other two continued to show declines. In 2012, defense spending has remained consistent with past years, although the plans for 2013 remain cloudy. The budget will be dependent on the Presidential election, an attempt by Congress to solve sequestration and the overall U.S. budget situation.
The U.S. defense budget will decline in 2013, that much is clear. The big question is whether by only the planned $50 billion or more due to sesquestration. The ending of operations in Afghanistan will see cuts to that portion of the budget. The return of deployed forces and their entry into garrison will require investment in recapitalization, repair rather then new equipment. Overall demand will be less due to the reductions in ammunition expended, miles driven and hours flown. The Army is already reflecting this in their budgets with plans to close the M1 Abrams tank factory run by General Dynamics for two years.
Due to their diverse product base, the larger defense contractors should be able to ride out these types of cuts better then the many smaller ones. These have product lines that have built up over the last 10 years to meet the demands of the two wars. These contractors tend to produce specific products or components, either feeding into more sophisticated systems or services that will no longer be required. The smaller vendors will also have a harder time finding other markets overseas or commercially to offset the loss of military spending. Some M&A involving that part of the market will take place, as bigger companies look to gain their expertise or products.
An example of this already occurring is GD's acquisition of Force Protection. This was at one time a large manufacturer of Mine Resistant / Ambush Protected [MRAP] vehicles. That market peaked in 2008, and due to the lack of recent requirements, slowly has reduced over the last 4 years. Force Protection was able to get some maintenance and overseas contracts, but the stock price declined steeply and it fit in with GD's efforts in armored vehicles.
Here is a review of some of the mid-sized companies and their recent quarterly results.
Alliant Techsystems (ATK)
ATK is a manufacturer of missiles, ammunition, pyrotechnics and aircraft components. They sell both to the defense and commercial market. The stock price peaked at just under $120 a share in 2008 during a time of high demand for military ammunition. As the chart below shows, over the last year it had a period of decline, although during the last quarter, it has gained nicely and is approaching its 52 week high of almost $63.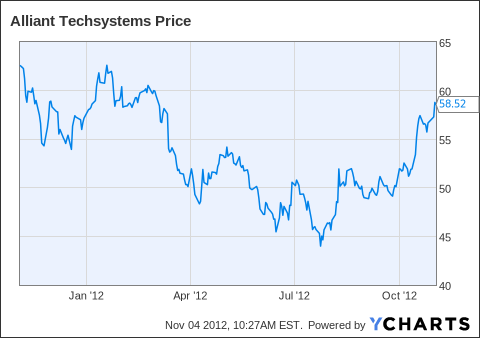 In the last year, ATK lost one of their major contracts managing the Radford Army Ammunition Plant for the U.S. Department of Defense to BAE Systems. This along with a similar contract for the Lake City plant formed the core of their earnings. They successfully fought off BAE this summer to keep that contract. The company has also reorganized, added new leadership and moved their headquarters to the D.C. area. These changes seem to be paying off and have helped in the recent growth of their stock price.
For their most recent quarter, they reported earnings of $1.86 a share which was 38 cents above analyst's expectations. However, this was 6 cents below last year's quarter. Sales were $1.1 billion, down 4 percent year-to-year. The company has raised their estimates for the full year $500 million to $4.1 - $4.2 billion.
Strong growth in their commercial sales has offset about 70% of the decline in the other two sectors. These losses have are due to less sales to NASA and aerospace structures and the loss of the Radford contract. The company has won some defense work with production of a new anti-radiation missile and small arms ammunition sales.
ATK has had good performance over the last 3 months, and this should continue in the near term until the defense budget is resolved. 2013 may see issues continuing, with the chance of dramatically reduced contracts and the effects of moves made this year wearing off. The 52 week high most likely will be touched again in the next quarter.
Rockwell Collins (NYSE:COL)
This company based in Iowa produces aircraft electronic systems as well as providing services to the commercial aviation market and to governments. COL reported its most recent quarter and full 2012 results at the end of October. In the last year, the stock price has traded between the high forties to almost $62 a share. It has, since the summer, increased by almost $10. Rockwell pays a dividend of $1.20 a year and has been recommended as a dividend growth play.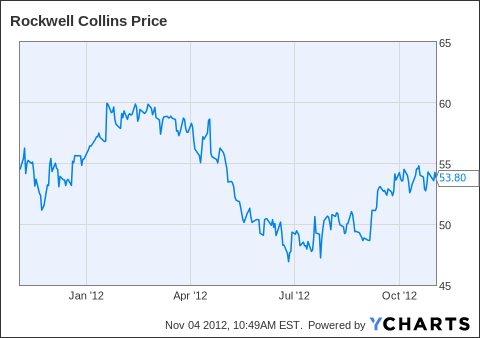 For the full year, the company delivered $4.15 a share or an increase of 5% over last year. This included a charge of 26 cents a share for net restructuring and asset impairment. Sales were down 2% to $4.73 billion mainly due to defense falling 8%. For the quarter EPS was $1.06, 19 cents above estimates on sales of $1.226 billion.
Rockwell as have many other defense contractors continues to buyback stocks and restructure. They estimate they will cut a further 1,250 jobs over the next 9 months or 6% of their workforce. Some of these may not happen depending on how sequestration is implemented. Overall the company is estimating that 2013 will be consistent with 2012 as sales will be in the $4.6-4.7 billion range. Key to this will be continued growth in the commercial market for aviation products.
Even so, Rockwell has struggled to match the market's performance this year. With their projections there might be some improvement in EPS over the next 12 months due to decreased costs, stock buybacks and smaller workforce. This might cause some small bump in the price, but overall, this stock should stay in the current range unless there is a decision to keep defense spending above the proposed sequestration cuts.
These two stocks indicate how broad the defense and aerospace market is. Many of the medium to small companies are more susceptible to changes in defense spending and the commercial aviation industry. Their stock performance has varied over the last 12 months and their attractiveness can be due more to other factors, such as dividends and variability in price.
Both ATK and COL have not matched the market but have had some short term growth. EPS for the year have delivered as have projected revenues. Knowing whether this will continue into 2013 cannot be determined until after the election and the lame duck session of Congress in December. Other sectors of the economy might make better options.
Disclosure: I have no positions in any stocks mentioned, and no plans to initiate any positions within the next 72 hours. I wrote this article myself, and it expresses my own opinions. I am not receiving compensation for it (other than from Seeking Alpha). I have no business relationship with any company whose stock is mentioned in this article.